3 Men Paraded For Allegedly Killing APC Members (PHOTO)
Three men suspected to be  killers were on Tuesday paraded by the Lagos State police command. The Lagos State Commissioner of Police, Kayode Aderanti said the suspects are cultists who specialize in killing rival gang members and residents who 'offend' them.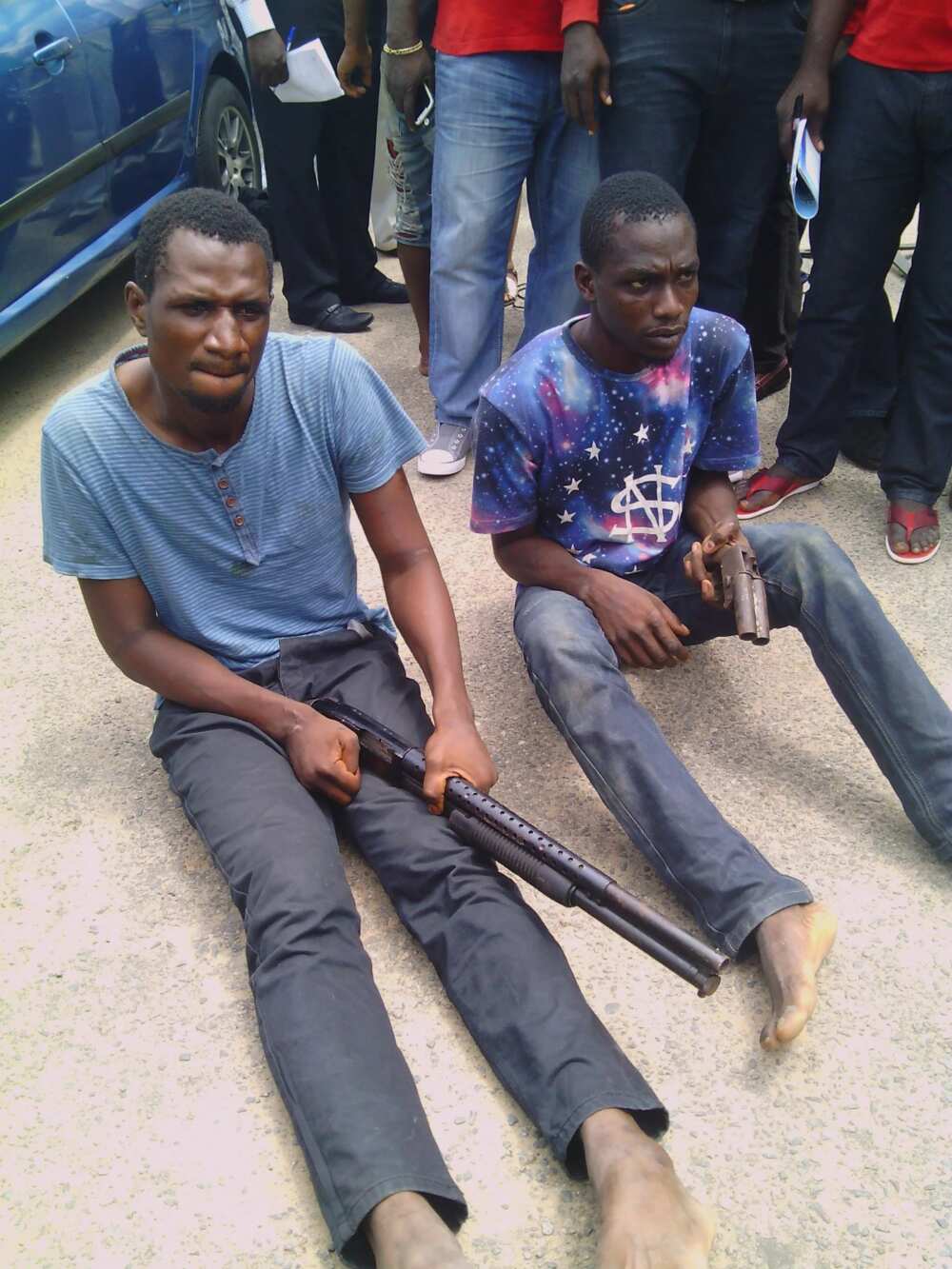 The Lagos State police boss added that the men were among many others  terrorizing residents in the state. CP  Aderanti said the men were arrested following a raid of dark spots on Lagos Island. He gave the names  of the suspects as Adebayo Dipo, 30; Alade Ogbulu, 30; and Kofi Olumide.
READ ALSO: Police In Imo Nab 35 Suspected Cultists During Initiation Ceremony
The Police also recovered from the suspects: a pump action rifle with serial number P. 960667, one single barrel rifle, four rounds of cartridges, two cutlasses and one battle axe. Olumede 21, narrated how he joined the gang.
He said "I was a meat pie seller before I joined the Abija cult group on  Lagos Island. We  have killed about  six people. We worked for the PDP.  Abija is our master. It was Abija who brought all these guns. Abija had so many boys- too plenty to count.
"We shot one person dead  the  day  the P DP held their rally at the TBS. After the rally, some of our boys shot dead one Otun who came with  his boys to engage us in a fight. It was one Layi, our gang member, who shot him. The following day, the APC faction came to Enuwa area  in a reprisal attack and we killed four of their members.
READ ALSO: Oyo State Police Parade Fetish 419 Syndicate
"Dipo one of the suspects who however denied the allegation. "Our  gang did not kill five persons after the rally. It was only Ashake that we killed. The others died during a fight with our gang. Nobody shot at them. We also lost some of our members during the clash."
It would be recalled that there were lots of political attacks in Lagos, especially the period sequel to the 2015 general elections in Nigeria.
Source: Legit.ng