Twin Suicide Attacks Hit Potiskum, 10 Feared Dead (PICS)
Reports just reaching us indicate that two explosions in Potiskum, Yobe State have claimed the lives of 10 people, causing serious injuries to eight.
It was gathered that vigilantes and security agents were reportedly killed in the explosion this afternoon.
According to Presstv.com, the separate blasts took place on Monday. The attacker, who had been arrested after being suspected of theft, killed eight vigilantes after detonating his explosives.
READ ALSO: Suicide Bomber Attacks Cow Market In Maiduguri
The other blast killed two more people outside a bar.
However, speaking to This Day, an eyewitness said that the suicide bomber gained access to the office and detonated the Improvised Explosive Devices (IED) killing eight people on the spot including himself.
The eyewitness (Isa) said: ''A young man came to our office and we insisted that anybody that we would allow to enter must be searched and when he pretended to be opening the bag, he detonated an explosive device."
Isa added that the explosion killed one of the commanders of the vigilante group in the town.
He said: "When everyone was still shell-shocked by the attack, another explosion happened five minutes later at a drinking joint in the same vicinity."
According to him, three persons including the bomber were killed in the explosion.
He said the bomber walked into the drinking joint, pretending to want a drink and detonated the explosive device strapped on him.
Another eyewitness who spoke to the media outfit said that at the General Hospital, Potiskum, eleven corpses were deposited at their morgue.
She also revealed that eight persons were brought to the Accident and Emergency unit of the hospital.
Confirming the report, police public relations officer in Yobe, Mr Toyin Gbadegeshin told the News Agency of Nigeria  in Potiskum that one of the bombers targeted the vigilante office, killing seven persons, while two others died in the second explosion which occurred at Dorowa Ward in the town.
"At about 12.25hrs, twin suicide bombers struck at Dorowa at the vigilante office and near Lara filling station, killing Ado Kwamanda and six of his men."
"Two people, including the bomber, died in the second attack," he said.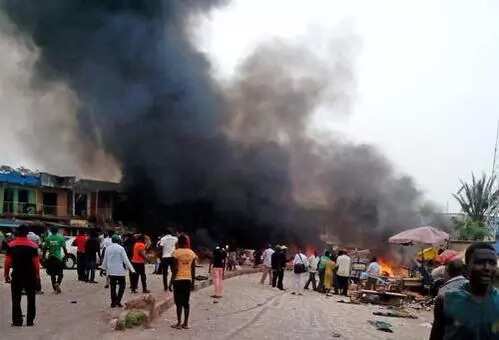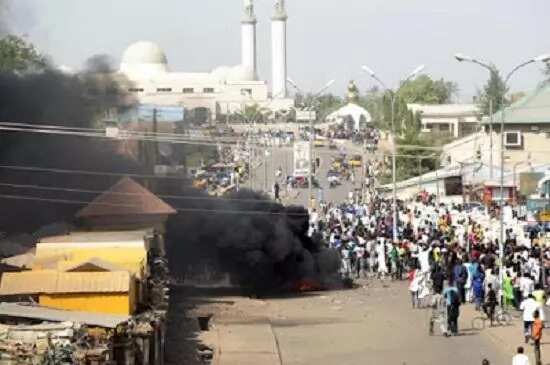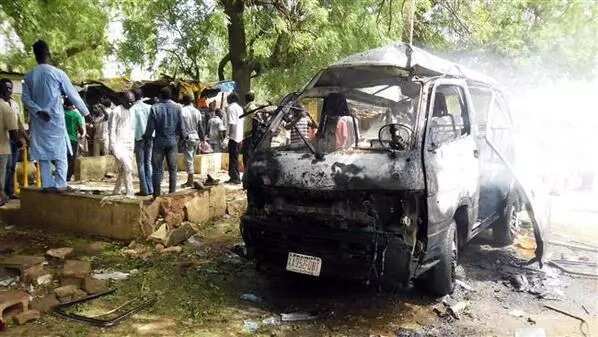 This attack comes just one day after Boko Haram militants attacked Babangida, the headquarters of Tarmuwa Local Government Area of Yobe state.
Source: Legit.ng