Ita Giwa Reacts To Saraki's Senate Presidency Victory
Former Presidential Adviser on National Assembly Matters, Senator Florence Ita Giwa, reacted to the National Assembly elections that produced Senator Bukola Saraki and Senator Ike Ekweremadu as Senate President and Deputy respectively.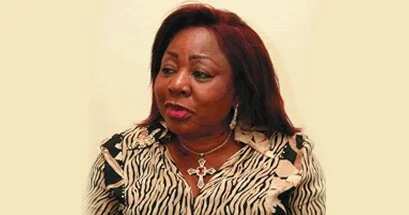 Ita Giwa, in a statement on Tuesday, called the partnership bizarre though she expressed belief the duo would bring their wealth of experience into play in leading the 8th assembly.
She recalled how opposition parties led the Cross River State assembly in 1991, but said it had never happened at national level.
Ita Giwa praised Saraki for keeping his fathers legacy alive noting that his father was a notable and honorable member of the upper chamber.
The statement reads in part on Daily Times:"I fraternal congratulate my brothers and colleagues, Senator Bukola saraki and Ike Ekweremadu as they emerge leaders of the 8th Assembly.
"Their emergence will no doubt reinforce democracy and pave way for necessary check and balances.
"I am confident that with their wealth of experience especially Ekweremadu's would come to bare and Nigerians will benefit from their robust contributions and leadership.
READ ALSO: I Will Not Challenge Dogara's Victory – Gbajabiamila
"I implore them to be all inclusive and ensure every member has a sense of belonging. This is the surest way to make legislative progress and impact significantly on the Nigerian people."
The former senator  was elated that president Muhammudu Buhari did not interfere with the inauguration of the 8th assembly. She also warned the All Progressive Party against any plans to remove Saraki from his position. 
The statement continues on This Day: "As a member of the National Assembly during Okadigbo and Enwerem leadership, I was privy to a lot of intrigues that led to instability then, and Nigerians watched with bewilderment with gale of impeachments characterising that era.
"APC should tread carefully. They should not rock the boat. The consequences may be dire. I urge them to respect the status quo and allow for independence of the legislature by not interfering with their choice of leadership.
"APC should respect the dignity of the lawmakers and allow the sleeping dog lie. Legislators are mature and cerebral individuals. They should be respected."The tension in the national assembly was caused by the election of Saraki and Dogara against the party's wish to have Ahmed Lawan emerge candidate for the Senate presidency.
The APC conducted mock elections and Lawan was touted to become senate leader.
But Saraki went against party directives, contested and won with the support of opposition Peoples Democratic Party lawmakers.
PDP member Ike Ekweremadu retained his post as the deputy Senate president.
Ekweremadu defeated an APC senator, Ali Ndume, who also defied the party's directive by contesting. The APC's anointed candidate for the post was Mohammed Mungono.
Source: Legit.ng