Dangote Makes Plan To Supply Power To Lagos
Chairman of Dangote groups, Alhaji Aliko Dangote, yesterday disclosed plans of his group to supply power to Lagos state through the construction of a gas pipeline.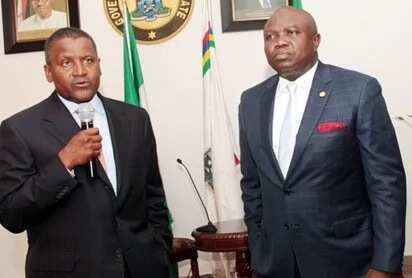 This statement was made to newsmen during a courtesy visit he made to the governor of Lagos state Mr Akinwunmi Ambode.
ALSO READ: Nigerians React To Dangote's Desire To Buy Arsenal FC
He said; "We also assured him that we are going to do a Gas Pipeline from Bonny (River State) to pass under the sea (to Lagos.) When it is completed, Lagos state will never ever experience blackout. There will be electricity 24 hours a day."
He futher said that construction of the largest fertilizer plant of two to three million tonnes of Uranium and Ammonia in the Lekki Free Trade Zone, Ibeju-Lekki was also consideration.
He however restated that all the plans were no easy project.
''We will have challenge in getting people to work there, because at the height of it, there will be close to 38,000 people working at the same location, this is something that we have to partner with the state government.
''Having 38,000 people on one site, not every one of them will be from the community, others will be from other states, there would be cultural issues and all that, we need to integrate everybody to ensure that the whole thing works out fine."
ALSO READ: Obasa to Ambode: Lets Collaborate
In response, the governor of Lagos state promised to strategically make the state a fertile ground for new investors and also aid the growth of existing businesses in order to sustain the development of Lagos state.
The result of all these projects will invariably provide jobs to Lagosians and increase the productivity level of individuals and company that rely on uninterrupted power supply.
Recently, Africa's richest man, Aliko Dangote commissioned a new cement plant in Ethiopia as part of his groundbreaking business plans that cut across the continent.
Source: Legit.ng