Bukola Saraki Endorses David Mark To Spite APC
In a bid to frustrate the leadership of their party over their support for Senator Ahmed Lawan's candidacy for the 8th session of the Nigerian senate, Senator Bukola Saraki and his supporters have devised a new plan. 
Sahara Reporters reports that the senators have now decided to endorse ex-senate president, David Mark for a third term as the senate president.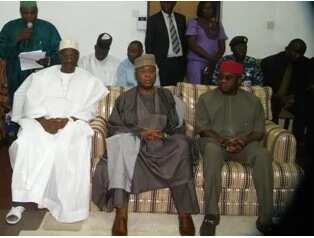 READ ALSO: Senate Presidency: 5 Facts About Senator Ahmed Lawan
The disgruntled lawmakers allegedly reached an agreement with their Peoples Democratic Party counterparts where it was agreed that Mark will be their sole candidate for the election.
It was revealed that Mark himself had plans to retain his seat and so he reached out to the Saraki group where he offered them heads of juicy committees in the upper chamber as a reward for their imminent support for is aspiration.
Another source revealed that some PDP senators took advantage of the desperation of the contenders to demand outrageous sums of money in exchange for their votes.
Just four days ago, Mark had said PDP senators would not contest for presidency in the 8th Senate, giving reasons for his stand, he said: "the position was for the APC which he noted enjoys the majority in the Red Chamber."
Reports had emanated earlier today that the Saraki camp has commenced a discreet plot to take out their rage on the leadership of the APC.
READ ALSO: Mixed Reactions Trail Lawan's Emergence As APC Candidate
Just last week, Saraki expressed confidence that there is high hope for him to emerge as the new senate president.
Source: Legit.ng