Police Discover Ritual Den, Arrest Five In Ondo
The pursuit for riches drives some to embark on the unreasonable. This was recently witnessed in Ago Oyinbo community, Okitipupa local government area of Ondo state.
According to a report by Vanguard, men attached to the state police command have discovered a hideout where suspected ritual killers keep their victims.
The police arrested five persons in the process and investigation shows that the alleged killers had been using the hideout to slaughter their victim's after been kidnapped.
Addressing newsmen, Baale of the Ago Oyinbo, chief Moyebi Okeowo, disclosed that the suspected ritual killers started using the house since 2012.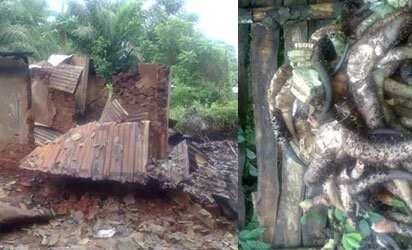 Chief Okeowo said the suspects came to him under pretence that they wanted a location to shoot a movie.
READ ALSO: 22 Die In Rivers After Taking Local Gin
He said:"They came to me to beg for a piece of land to shoot their film. I told them I was not the owner of the land and I took them to the brother of the landlord of the land who then took them to the wife of the landlord in Akure.
"I learnt they were authorised by the wife of the landlord to use the land and since then they have been using the land. I told their leader to go and report their activities to the police and he later informed me that he had done so."
According to Okeowo, he was unaware of the activities of the suspects until last Monday when he was told that the suspects were slaughtering human beings on the land.
READ ALSO: Money Ritual: Herbalist, Prophetess Dupe 2 Bankers
It was gathered that the youths of the community reported the activities going on in the said hideout to the police. Afterwards, they stormed the village and destroyed the building.
However, the state police spokesman, Wole Ogodo, said he has no knowledge about the incident.
There have been strange occurrence of ritual cases in Nigeria as only recently, Demilade Osholonge, accused his parents of engaging in occultism which he alleged was behind the many spiritual attacks he had been experiencing since he was 17.
Source: Legit.ng