Defence Chiefs Discuss Command's Relocation To Maiduguri
President Muhammadu Buhari has met with the security chiefs in Abuja on Tuesday, June 2.
The service chiefs meet with the president to brief him on the actual security situation in different areas of the country. Among them were the Chief of Defence Staff, Alex Badeh; Chief of Army Staff, Kenneth Minimah; Chief of Air Staff, Adesola Amosu; Chief of Naval Staff, Usman Jibrin and Inspector General of Police, Solomon Arase.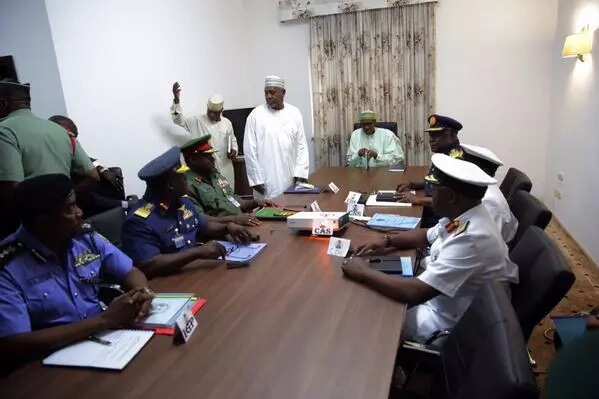 READ ALSO: Governor Shettima, Nigeria Don't Negotiate With Terrorists!
The meeting was held behind closed doors and according to the Chief of Naval Staff, Admiral Usman Jubrin, it was successful. He added: "Since he was inaugurated as the President and Commander in Chief, this is the first time that we are formally meeting him to give a general security briefing of the country.
The military would like to maintain the level of successes recorded against Boko Haram terrorists and sustain it until they are defeated. It would go back and work on the command centre following the President's directive about its relocation to Maiduguri. This won't take too long and we must come back as quickly as possible.
READ ALSO: Boko Haram Launches Fresh Attack On Maidugiri, Repelled By Nigerian Military
The step is for all Nigerians to continue to support us and provide us with the needed intelligence as to the human beings, their movements. Any suspicious movement can be reported to the police and of cause the police will make that available to us. As we continue to put pressure on them in the Sambisa area, they will try to run away from there and then create bombs through Improvised  Explosive Devices (IEDs)."
It would be recalled that Buhari's first decision as the president of Nigeria was  the order to relocate the military command centre from Abuja to Maiduguri, the Borno State capital, as soon as possible. The decision was explained by the inability to achieve victory in the fight against Boko Haram insurgency by concentrating the command and control centre in Abuja.
Earlier today a bomb blast ripped through the popular Maidugiri abattoir market also known as Gamboru Cattle Market in Borno State. The incident which happened around 12.35 pm, according to Omojuwa.com may have killed over 50 people as the bomb was reportedly planted in a toilet facility within the abattoir.
Source: Legit.ng