Buruji Kashamu To Commit Suicide If NDLEA Enters His Home?
Officials of the National Drug Law Enforcement Agency (NDLEA) have reportedly surrounded the residence of the Ogun state senator-elect, Buruji Kashamu.
According to the SaharaReporters, Mr. Kashamu has barricaded himself in the master bedroom of his Ogun State residence as NDLEA agents surround his home. It was learnt that Mr. Kashamu threatens to kill himself if anyone entered his home.
According to Channels TV, the drug enforcers are set to extradite Kashamu to the US to answer to drug charges levelled against him.
Recall that Kashamu Buruji sued the chairman of the National Drug Laws Enforcement Agency and 11 others over an alleged plot to extradite him to the United States of America to face trial on alleged drug-related offences.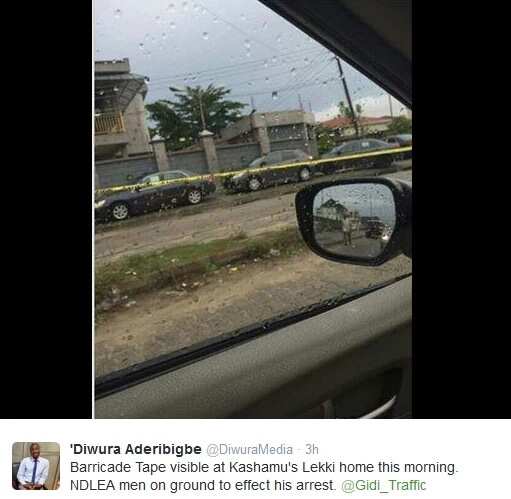 The senator-elect is alleged to have been indicted for drug dealing in Chicago in 1998, a report which he has denied on several occasions.
READ ALSO: Read What Kashamu Has To Say About US Request For His Extradition
Prince Kashamu Buruji is a chieftain of the Peoples Democratic Party and senator-elect for Ogun East senatorial district.
The stand-off has been ongoing for several hours already, and Mr. Kashamu has not contacted the press any more.
Recently, Attorney General of the Federation, Mr. Mohammed Bello Adoke, has stated that the current siege on the home of Senator-elect Kasumu Buruji is not an extra-judicial action.
Source: Legit.ng