You Really Don't Have to Play Squid Game to be a Millionaire!
The foremost online auction company in Nigeria, Kobobid, has now launched its Million Naira Raffle Games to help Nigerians Cashout millions daily. Kobobid raffle is aimed at expanding the company's offerings to its wide variety of winning customers.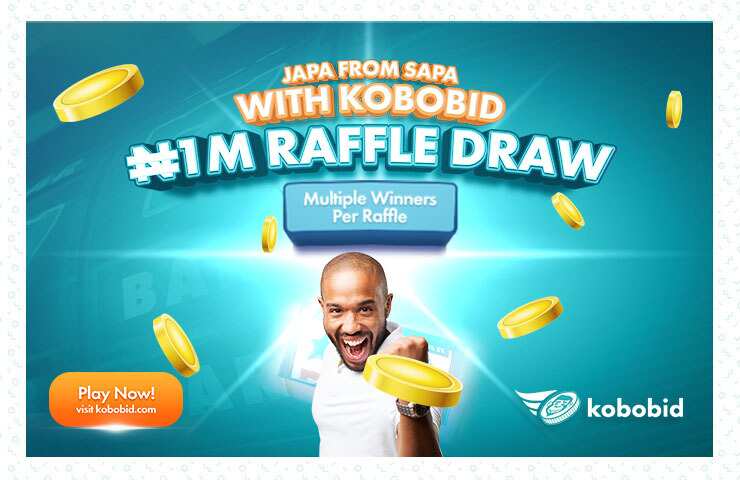 At Kobobid, our major goal is to play a part in Nigerians' journey to financial freedom through winning expensive items like Huge cash prizes, Smartphones, laptops, TVs, & many others for really cheap auction prices.
We have increased the winning odds on Kobobid through the different Million Naira raffle draws irrespective of how much you earn or what you are saving for — be it rent, Dorime or JAPA money.
We have built Kobobid Million Naira Raffle Games for the next phase of our growth and for our customers to enjoy winning plenty cash prizes daily in our Million Naira raffles with multiple winners per Raffle.
What is Kobobid Raffle Draw?
Kobobid Raffle Draw is our online gaming system for users to join multiple cash Raffle draws to win millions of Naira daily. The raffle entry starts from N1,000 Naira with multiple entry options and Users stand a chance to be part of the multiple draw winners per raffle.
How to start winning
Signup here
Enter Raffle with as low as N1000
Multiple Entries allowed per Raffle for users
Multiple winners per Raffle
Don't sleep on it
Visit Kobobid.com/raffles to get started.
[Sponsored]
Source: Legit.ng