Breaking: Member of National Assembly Sponsoring Sunday Igboho, Nnamdi Kanu, Buhari Claims
Buhari has alleged that a serving member of the National Assembly is among those financing separatists in Nigeria
The president said the recent arrest of Nnamdi Kanu and Sunday Adeyemo reveals high-profile financiers including the lawmaker
Meanwhile, the president failed to reveal the name of the lawmaker and people financing the separatist movement
President Muhammadu Buhari claims a member of the national assembly is responsible for the agitation of the breakup of the country.
The president made this known while addressing the country as part of the independence day celebration.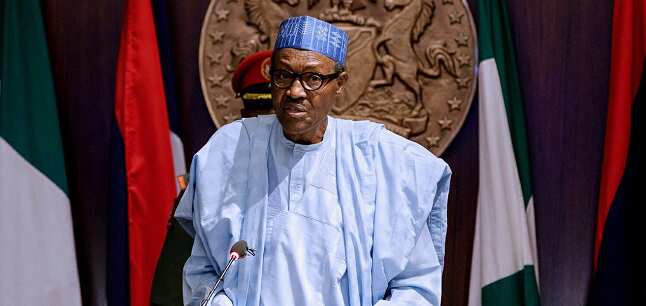 He said:
"The recent arrests of Nnamdi Kanu and Sunday Adeyemo, and the ongoing investigations being conducted have revealed certain high-profile financiers behind these individuals.
PAY ATTENTION: Install our latest app for Android, read best news on Nigeria's #1 news app
"We are vigorously pursuing these financiers including one identified as a serving member of the National Assembly."
Meanwhile, Nigerians on social media called on the president to reveal the names of the people while others blasted him for his statement.
Here are reactions from Nigerians
Umeh Chyzi Festus
"But no lawmakers were caught sponsoring Boko Haram, Boko-Iswap, Fulani Herdsmen and Bandits. They have been quiet since they asked them to name those behind terrorism in Nigeria."
Paul Okpanachi
"I guess this man want to probe senator Abaribe from Abia...but all the same, United Nation has come up and compiled names of Boko Haram sponsor."
Saviour Samuel
"We are tired of hearing this stories, bring the perpetrators to the public and we will congratulate if not for other things, for trying to protect Nigeria from ethnic division."
Chuk Okafo
"You better don't change the narrative because you have no evidence . Name the Bokoharam sponsors lets start from there to repair this country you have already damaged if you are sincerely out to repair this country."
Adekunle Amyzel
"Shameless liars and mischief makers in power. UAE govt recently released list of Boko Haram sponsors all northerner and nothing's done about it but another confusing narrative now. These people writing rubbish for Buhari and controlling him are running out of lying ideas too and the beginning of their shameful end is near."
Nigerians react as President Buhari calls for unity as the country clocks 61
Following President Muhammadu Buhari's call for unity in the country, many Nigerians have taken to social media to react to his statement.
While many people blamed him for the current state of unity in the country which is at its lowest point, others praised him for doing a good job to bring the country together.
Recall that some people in the southeast and southwest have been agitating for the breakup of the country over what they described as unfair treatment from the the north and the terrible economic situation facing the people.
Source: Legit.ng