Live Update: Nigeria's Seat of Power Relocated to Imo? Lawmaker Makes Crucial Announcement
The anticipation is high among people of the southeast region of Nigeria as President Buhari is expected to arrive in Imo state on Thursday, September 9, in grand style with top-notch security.
Buhari's trip to Imo state has officially ended
President Buhari's trip to Imo state has officially ended.
Presidency releases official photos of Buhari's visit to Imo
The presidency has released official photos of Buhari's visit to Imo on Thursday, September 9.
Happening Now: Buhari meets with southeast leaders in Owerri.
President Buhari is meeting with southeast leaders in Government House, Owerri.
BREAKING: Buhari commissions Imo State New Exco Chamber, Banquet Hall
The new exco chamber and banquet hall built by the Uzodimma-led administration has been commissioned by President Buhari.
While commissioning the projects, Buhari eulogized Governor Uzodimma for "standing on the part of posterity with his outstanding performance."
Buhari hails Uzodinma on security, infrastructure in Imo
President Buhari has hailed Uzodimma's administration and expressed confidence that the Imo governor will help Imo fight insecurity both in the state, Punch reports.
He said:
"I have gone round and I am impressed with what I saw. A society without security and infrastructure will not progress and luckily this is where my vision has tallied with the governor of Imo state. I will use my power as enshrined by the constitution to make the governor achieve more."
Breaking: Buhari approves naval base in Imo
Governor Uzodimma has announced that President Muhammadu Buhari has approved a new naval base in Oguta, Imo state.
His words:
''I want to inform the people of the southeast that we have a naval base now in Oguta, Imo state, approved by President Muhammadu Buhari.''
Live update: Nigeria's seat of power relocated to Imo? Lawmaker makes crucial announcement
Rt. Hon. Amarachi Chyna Iwuanyanwu, deputy speaker, Imo House of Assembly, has spoken on the significance and importance of President Buhari's presence in the state.
She said:
''This presidential visit is epochal in different dimensions. Firstly, this is the first time in the last 12 years that we will be hosting the Commander-in-Chief of the Nigerian Armed Force, solely for the purpose of work rather than election or any other social or extra administrative reasons.
''This is to say that for the first time in 12 years, the Nigerians seat of power is fully relocating to Imo state, albeit, for just a day. The far-reaching significance of this cannot be overemphasized.''
Just in: Buhari holds closed door meeting with southeastern leaders in Imo
After commissioning some major projects, President Buhari is said to be currently having a closed-door meeting with southeastern leaders at the Imo state Government House.
Buhari hails Uzodinma after commissioning major tunnel
President Buhari showered praises on Governor Uzodinma after commissioning a major tunnel in the state.
The president said:
"Governor Uzodimma is a man of integrity, that was why I accepted to come and I am very pleased with what I have seen here."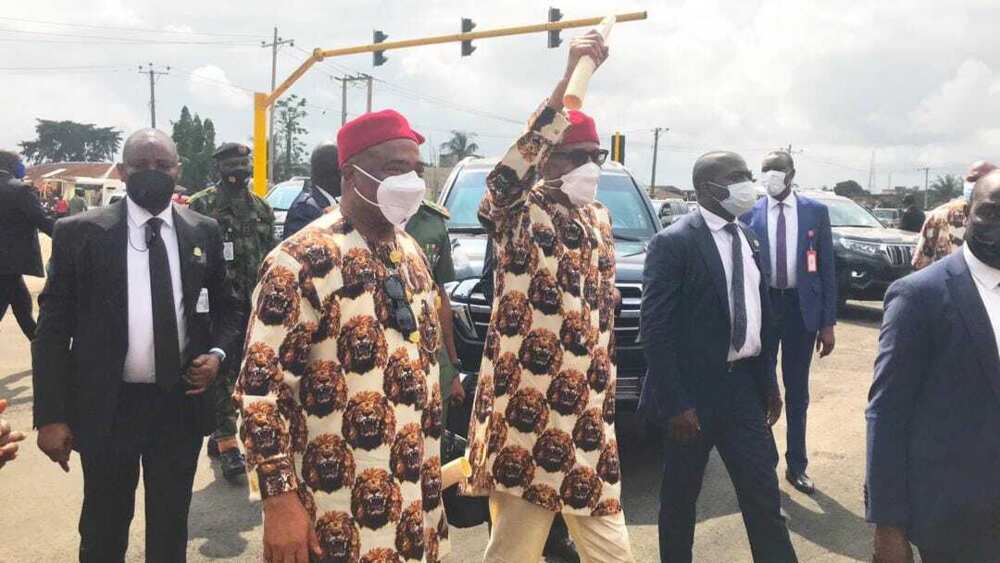 APC youths in Imo welcome Buhari
Youths of the All Progressives Congress (APC) in Imo welcome President Buhari with a street rally.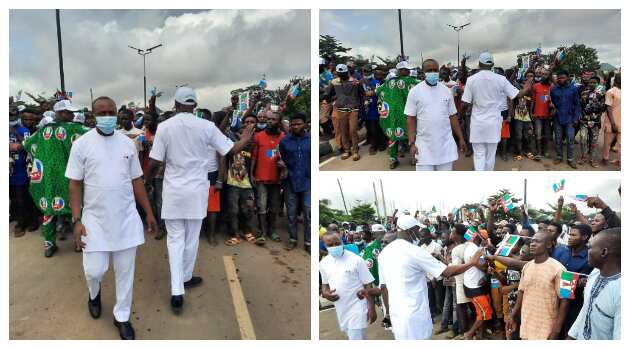 Buhari's cabinet members from southeast, Andy Uba present in Imo for presidential visit
All southeast appointees in the Federal Executive Council (FEC) are present in Imo state for President Buhari's visit.
They include the minister of foreign affairs; Geoffrey Onyeama, minister of science and technology; Ogbonnaya Onu, minister of state for environment; Sharon Ikeazor, minister of states for mines and steel development; Uche Ogah and minister of state for education; Chukwuemeka Nwajiuba.
The APC candidate for the forthcoming Anambra governorship election, Senator Andy Uba is also present.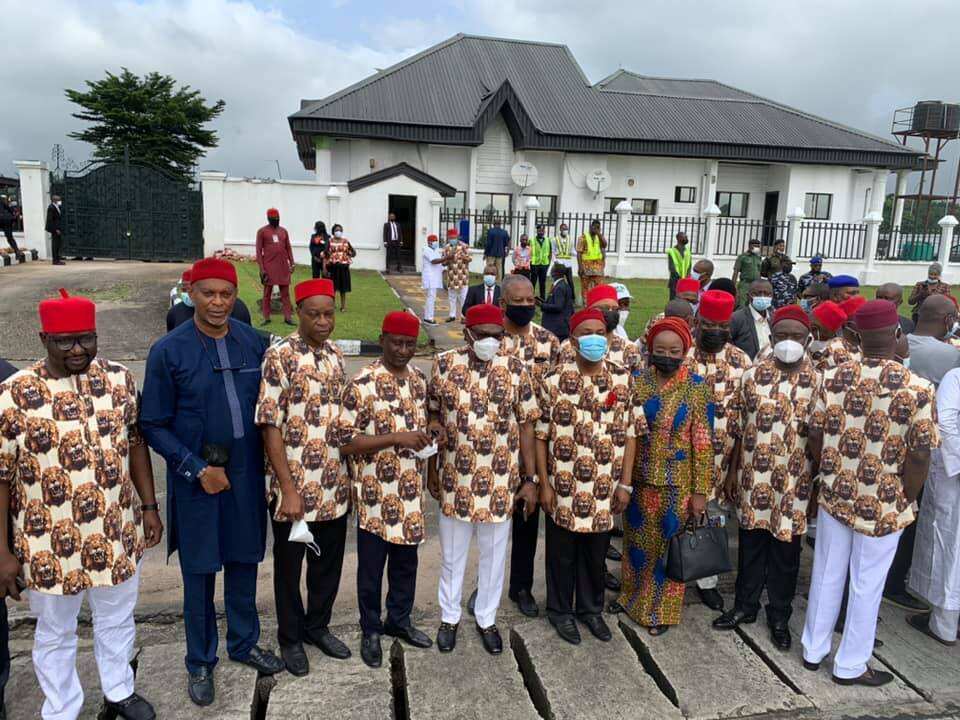 Presidential media aide shares video of Buhari arriving Imo
Presidential media aide shares video of Imo residents waving Nigerian flags, hailing Buhari as president commissions road project in Owerri.
Photos show Imolites lining up the streets to welcome Buhari
Members of the National Union of Imo State Students on Thursday, September 9, welcomed President Buhari.
Also, the National Union of Imo State Students (N.U.I.S.S) has welcomed the president in their state.
In a statement sent to Legit.ng the leader of NUISS, Evans Enyeribe, stated that there is development and progress in Imo, hence the president's visit to the state.
He added:
''We stand solidly by Our amiable Governor and Grand patron, Senator Hope Uzodimma in the development achieved thus far.''
Umahi joins Uzodimma during Buhari's visit
Ebonyi governor, Dave Umahi, on Thursday, September 9, joined his Imo counterpart, Hope Uzodimma during the presidential visit.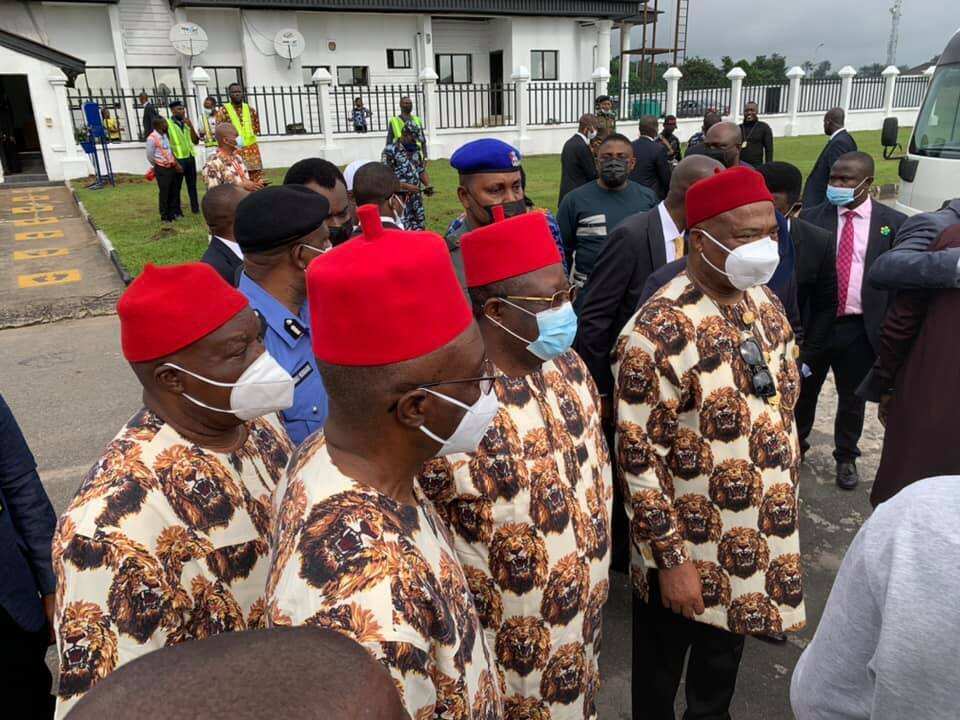 Our Papa don Come - Imo highlife musician hails Buhari
An Imo highlife musician sings President Buhari's praise to high heavens during road commissioning.
Highlife musician praises Buhari as president pumps his fist to the air in excitement.
The musician said in song, 'Baba Ndi Imo state, Baba Ndi Nigeria' as the president pumps his fist to the air in excitement.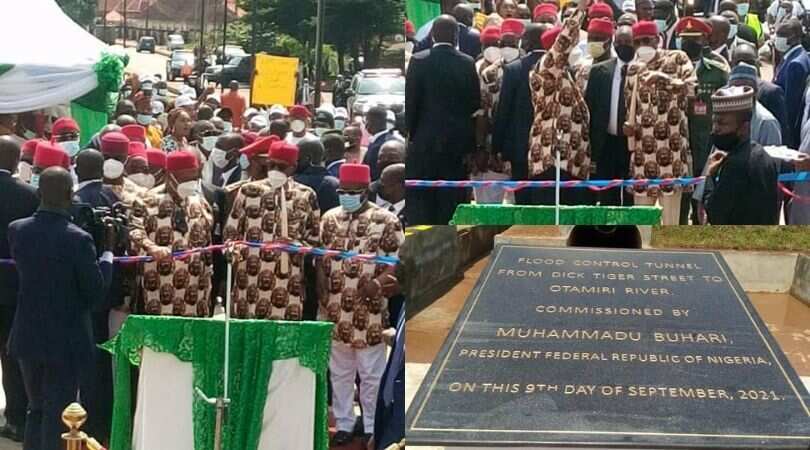 Buhari's visit to Imo: Many banks in Owerri closed
BBC Igbo reports that so many banks in the Imo capital, Owerri, did not open for business as President Buhari visits the state.
JUST IN: Buhari commissions first phase of Naze/Ihiagwa/Nekede/Obinze road
Few minutes after his arrival in Imo, President Buhari has commissions the first phase of the Naze/Ihiagwa/Nekede/Obinze road.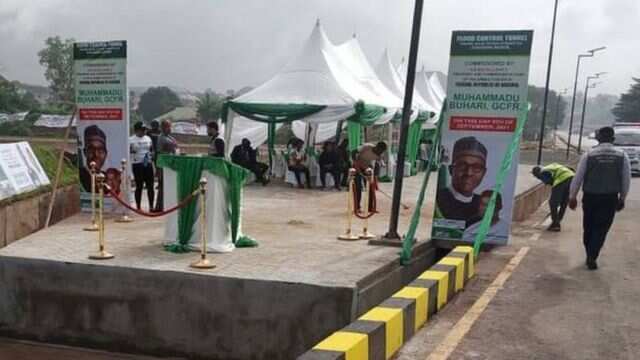 Markets, commercial activities put on hold in Imo ahead of PMB's visit
BBC Igbo reports that markets and commercial activities have been put on hold in Imo state ahead of the president's visit.
Pro-Buhari group warns against sit-at-home in Imo ahead of Buhari's visit
A group, Muhammadu Buhari Vanguards (MBV) has warned the proponents of the sit-at-home order in Imo, saying it is capable of causing a breach of peace and infringement on the rights of citizens in the state.
The MBV stated that presidential visits all over the world are accorded great respect by the hosts.
The group in a statement sent to Legit.ng by its spokesman, Chibuike Nwachukwu, called on the government and security apparatus to deal decisively with anybody who conspires and threatens the peace in the state henceforth.
BREAKING: Buhari arrives Imo in Igbo attire, Ishi Agu
Just as expected, the president has finally arrived in Imo wearing the signature Igbo attire - Ishi Agu. The president was also seen holding a small staff.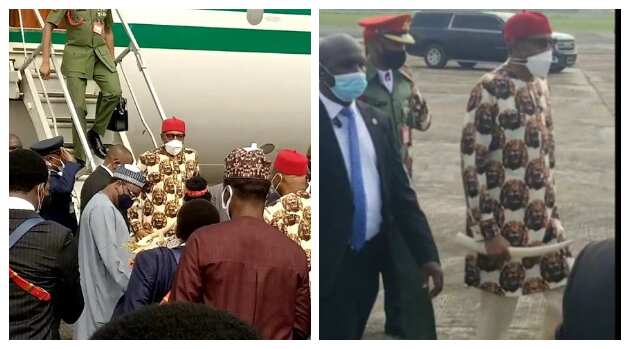 Uzodimma, entourage arrive Sam Mbakwe Airport to receive Buhari
Governor has arrived at the Sam Mbakwe Airport in Owerri to receive the president
Governor Hope Uzodimma officially welcomes Mr. President
The governor of Imo, Hope Uzodinma, has given his welcome address to receive the president in his state.
In his speech, the governor said:
"It is with a heart full of gratitude that I, on behalf of the good people of Imo State, welcome His Excellency President Muhammadu Buhari GCFR to the Eastern Heartland on a working visit to commission some of our completed people-oriented projects.
"Mr President, we are delighted to have you in Imo State on this august occasion despite your tight schedules and it's our pleasure that while in Imo State, you will enjoy the hospitality and conviviality of our people."
President's Buhari's aide reveals his Igbo titles
Reacting to the expectation, Lauretta Onochie, a presidential media aide, has described her principal as Okechukwu Buhari.
On her Facebook page, Onochie listed President Buhari's Igbo titles as follows:
1. Enyi Ndigbo I
2. Odozi Ala Igbo I
3. Ochi Ndi Agha I,
4. Agu Ndigbo Ji Ejemba I
5. Ifunanya Ndigbo I
6. Oganiru Ndigbo I
7. Anwuli Ndigbo I.