Little Hercules' biography: where is the kid bodybuilder now?
Richard Sandrak, also known as Little Hercules, is a Ukrainian-American former bodybuilder, martial artist, stuntman and actor. He rose to fame in 2005 for his muscular physique at a young age. Due to his impressive ability as a child, many are curious to know where Little Hercules is now and what he looks like.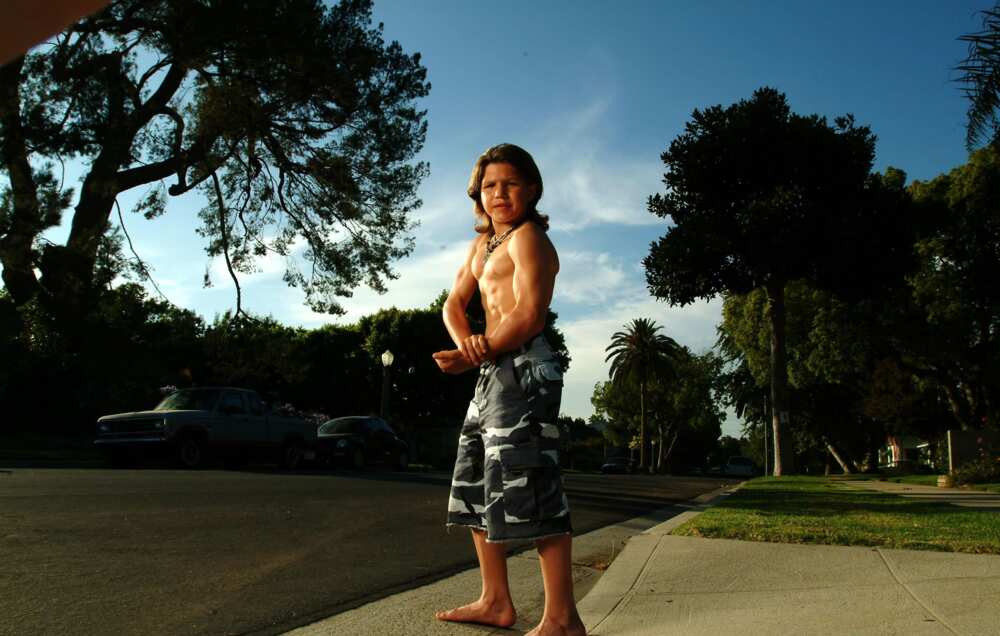 Kid Hercules became famous after his appearance in a documentary titled The World Strongest Boy. Apart from being a young bodybuillder, he used to be an actor and martial artist. Little Hercules travelled across America promoting different types of food. Where is Little Hercules today?
Profile summary
| | |
| --- | --- |
| Real name | Richard Sandrak |
| Nickname | Child Bodybuilder, Little Hercules, Hercules Kid, Kid Bodybuilder |
| Gender | Male |
| Date of birth | 15 April 1992 |
| Age | 31 years (as of 2023) |
| Zodiac sign | Aries |
| Place of birth | Lugansk, Ukraine |
| Current residence | United States |
| Nationality | Ukrainian-American |
| Ethnicity | White |
| Height | 5'9" (182cm) |
| Weight | 168 lbs (76kg) |
| Hair colour | Brown |
| Eye colour | Grey |
| Mother | Elena Sandrak |
| Father | Pavel Sandrak |
| Siblings | 1 |
| Occupation | Former bodybuilder, actor, professional martial artist |
| Net worth | $400,000 |
Who is Little Hercules?
Little Hercules' real name is Richard Sandrak. He was born in Lugansk, Ukraine and grew up in Pennsylvania, United States, with his parents, Pavel and Lena Sandrak.
His father was a former Ukrainian world champion in martial arts, while his mother was an aerobics athlete. He has a sister named Anastasia Sandrak.
The American weightlifter started working out and martial arts at a young age. He could lift 82 kilograms on the standard bench press at six years. Setting a world record, he earned the name Little Hercules. At the age of eight, he was able to lift 95 kilograms.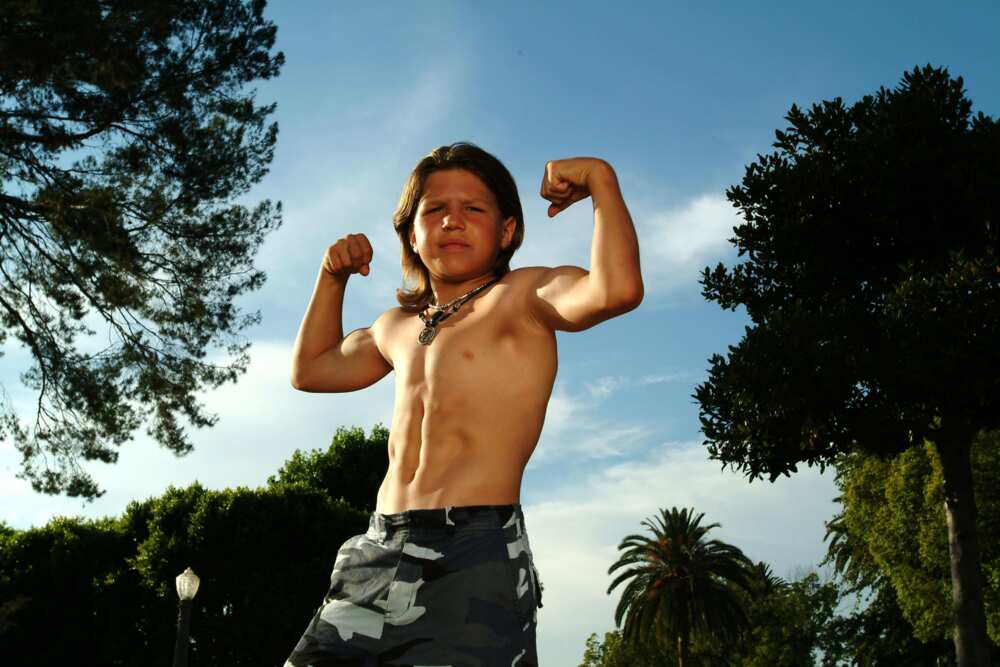 How old is Little Hercules now?
Richard Sandrak is 31 years old as of 2023. He was born on 15 April 1992; his zodiac sign is Aries.
Career
Richard Sandrak began training in martial arts when he was still a child. At the age of six, he was able to lift 82 kilograms on the standard bench press. Setting a world record, he earned the name Little Hercules. At the age of eight, he was able to lift 95 kilograms.
His daily training included 600 push-ups, 600 sit-ups and 300 squats. His parents were very strict about his diet, and he could never eat junk food. In an interview, Sandrak recalled how his father would eat pizza in front of him while he ate lettuce. His father even made him sleep on the floor to maintain a perfect posture.
The former talented bodybuilder also appeared in various shows and documentaries, such as Mr Olympia, Mr USA, and the Emerald Cup.
In 2009, the young actor starred in Little Hercules in 3-D, which arguably brought him the most fame. His other credits include The Legends of Nethiah and Assassin Priest.
What happened to little Hercules?
Speaking to Inside Edition, the talented bodybuilder said he stopped training because it became boring. He state:
No, I don't lift weights. If anything, it just got boring. I'm very proud of my past. It's not something I don't want people to know; it's just that I'm not going to be stuck living in it.
Things got worse after his father got arrested for abusing his mother.
What does Little Hercules look like now?
Although he is not as built up as he used to be, the young man has grown. Richard still does cardio exercises, such as chin-ups, stair climbing and skateboarding. He is 5 feet 9 inches or 182 centimetres tall.
Where is Little Hercules now?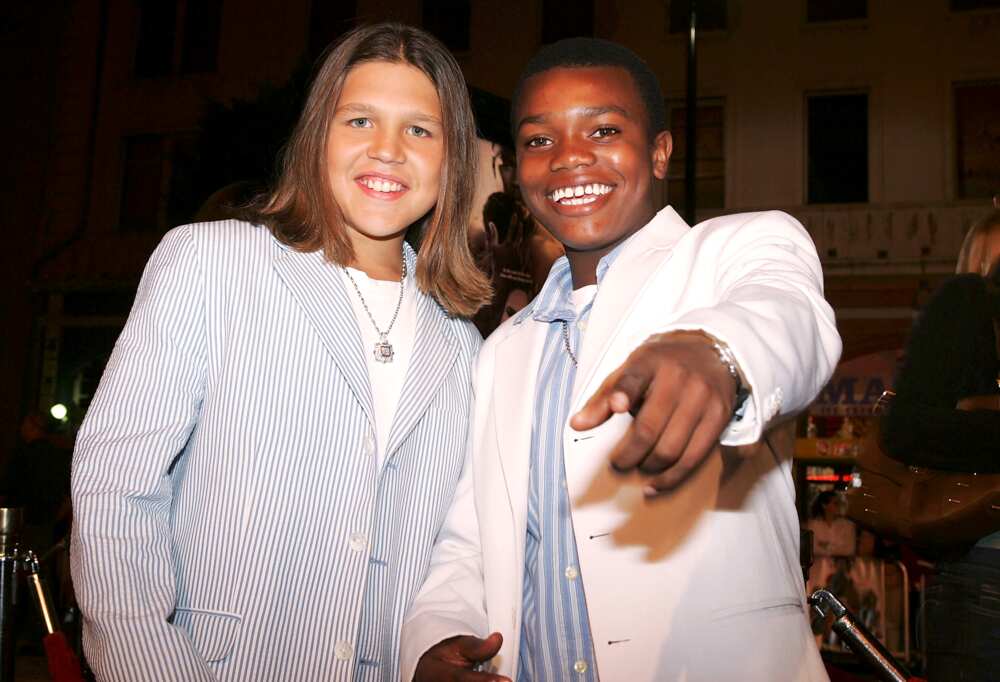 He moved to California to become a stuntman for Universal Studios Waterworld in Hollywood. Nowadays, it is unclear what he has been up to, and the only current photos of him are on his mother's Facebook. Richard also has a Facebook page but does not update it often.
What is Little Hercules' net worth?
According to Celebrity Net Worth, Little Hercules' net worth is around $400,000. He made most of his money from endorsement deals and stunt work.
Fast Facts about Little Hercules
He wanted to become a quantum scientist or an engineer at NASA in 2015.
He wore the Strongest Boy Champion.
Richard's career took off after he was introduced to celebrity fitness trainer Frank Giardina.
Hercules reportedly had less than 1% of body fat, with doctors suspected he used steroids.
Legit.ng recently published an article about Keemokazi's biography. Keemokazi is a famous TikTok star, YouTuber, rapper and social media influencer. He is known for several songs, including Pop Out, Walk-In, and Tuesday.
Keemokazi is a social media influencer with a considerable following on social media. He is known to post prank videos on TikTok. The TikToker features his five sisters and mum in his videos.
Source: Legit.ng