CEO of Farm4Me Agriculture Limited Appointed As MD of Ooni of Ife's Royal African Farm Limited
Adama J Adama, the Chief Executive Officer (CEO) of Farm4Me, has been appointed by the Managing Director of Royal African Farm Limited by the Ooni of Ife, His Imperial Majesty, Oba Adeyeye Enitan Ogunwusi, Ojaja II.
Adama, an award-winning CEO, is the foremost change agent in the Nigerian agribusiness sector. His appointment, many agreed, tallied with the passion of the Ooni of Ife for farming and burning vision to transform the agricultural landscape where youths and women will find wealth and an escape from poverty.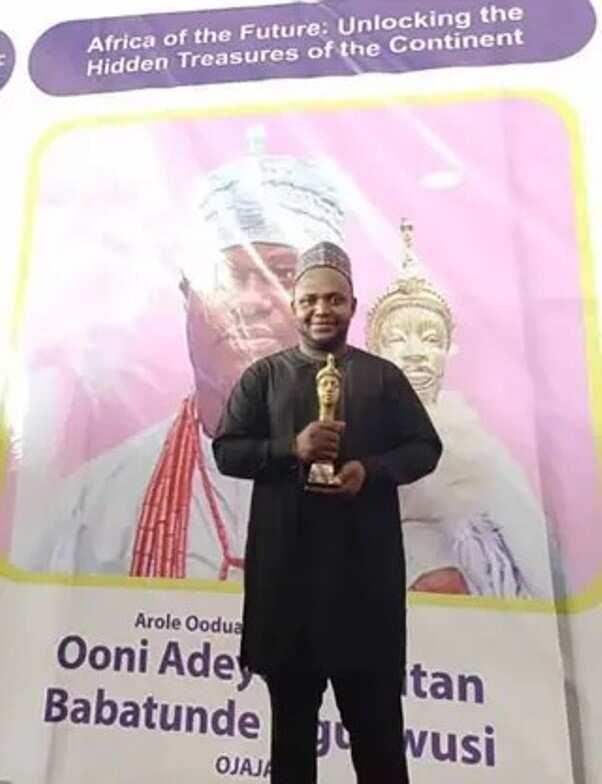 The Royal African Farm which is part of Ooni of Ife Global Outreach, (OIGO), was an initiative geared towards the socio-economic transformation of Africa.
The appointment letter, signed by Dr Ayobami O. Oyedare, the CEO of Royal African Farm Limited, reads in parts: "Your administrative, noble leadership roles and entrepreneurship experience are very vital to the strategic role of the Royal African Farm as its Managing Director. You are uniquely positioned to contribute to the global ambition of His Imperial Majesty (H.I.M) Ooni of Ife as we continue to concentrate on our core strengths and values."
In his new role, Adama will be working with the Ooni of Ife Global Outreach (OIGO) and is expected to "guide, promote, and implement the brand of The Royal African Farm and its products globally."Among other responsibilities, he is to negotiate potential partnerships and collaborations that will benefit the development of Royal African Farm and also help to build market enterprises for its product.
For Adama, the appointment is the latest of the recognitions coming his way and his high-value agribusiness companies having won the Royal African Young Leadership Award, 2021 Africa's Leading Quality Farm Equipment Sales and Rental Service Provider of the Year and West Africa's Best World-Class Digital Agricultural Investment Platform Brand in the past four months.
The appointment took effect from 1st July, 2021 and is subject to review after two years of operation.
[Sponsored]
Source: Legit.ng