NLC Strike: Between Nasir El-Rufai and Kaduna civil servants by Lawal Adewale
Disclaimer: The views expressed in this interview/article are the author's own and do not necessarily represent the editorial policy of Legit.ng. Your own opinion articles are welcome at info@corp.legit.ng — drop an email telling us what you want to write about and why.
Contact us if you have any feedback, suggestions, complaints or compliments. We are also available on Facebook and Twitter.
Editor's note: In this piece, a social commentator and journalist, Lawal Sodiq Adewale, popularly known as Chocomilo, writes about the lingering controversy over Governor El-Rufai's declaration of the NLC president, Ayuba Wabba, and other officials of the union, wanted.
He can be reached via: Adewale858@gmail.com
PAY ATTENTION: Join Legit.ng Telegram channel! Never miss important updates!
Kaduna is not only a testing ground but now a battlefield and must not be abandoned. The executive governor of Kaduna state, Nasir El-Rufai was only fast, naive and obstinate in approach, every state in the federation will follow the same suit if peradventure El-Rufai survives the traps of labour leaders.
As much as the current situation in Kaduna appears to be a declaration of war against the civil service, the governor of the state, Nasir El-Rufai is painting a big picture we must understand. The picture is simple. Nigeria is broke.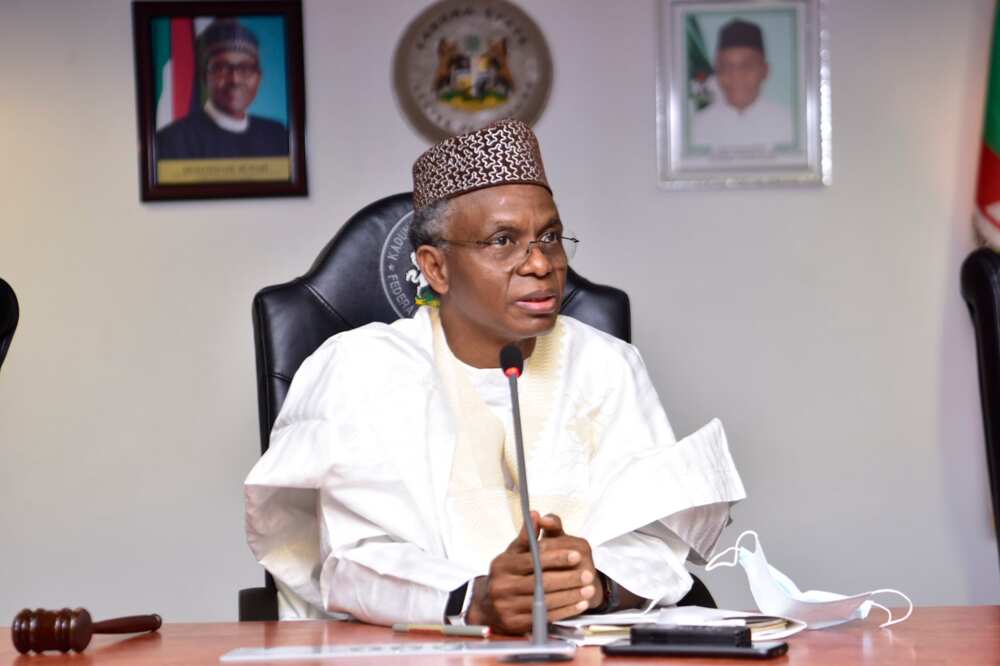 We cannot continue to rebuild the state through projects and still pay the salaries of a large number of civil servants in the state. In El-Rufai's calculations, only the civil servants deserve to be casualties while those who receive the annual total income of a civil servant as monthly salaries deserve no reduction or retrenchment.
El-Rufai is a brilliant chap. He understands the politics, the financial pipelines and business of the civil service. He has probably read the story of Baba Bisi Akande and how he was shamed at the poll for retrenching civil servants.
El-Rufai also knows that no governor has ever fought against the civil service and became victorious. I want to assume that El-Rufai deliberately waited till his second tenure in office. Baba Akande was also obstinate and sacked thousands of civil servants in the state. Till date, the direct victims of such action who were exposed to penury and hardship have not forgiven the former governor.
But his successor, Prince Olagunsoye Oyinlola returned the dismissed civil servants and issued a fresh directive that more people should be employed. Politics and inter-parties manifestoes have made the sustainability of action plans difficult and unrealistic. El-Rufai has less than three years to spend in the office, what is the probability that the new intake will not make a mockery of his action, strengthen the labour to score political points?
The current situation in Kaduna state might look like a declaration of war but I want to assume that it can be an attempt to introduce a new working template that would strengthen the civil service and makes it function well.
As much as I desire a functioning civil service where some workers would not be gossiping, cutting Ewedu leaves among others, I strongly believe that ordinary retrenchment of workers in batches would not strengthen the civil service. Besides, Governor Nasir El-Rufai lacks both the character and intelligence to make it work.
When I read El-Rufai's comments to NLC's protest and his unusual silence towards the attacks, I was rudely shocked. What did he expect from labour leaders when he rudely dismissed thousands of civil servants? A hug or clap. What were his expectations? An award. So far, the labour leaders have reacted well and in some measure.
Government is the highest employer of labour. If political leaders lack basic ideas to widen the institution's capacity and make it productive to allow the intake of fresh minds then it should not be responsible for its collapse. What are the working alternatives El-Rufai puts in place to cushion the effect of the retrenchment?
Even if there are possible positive impacts, the timing is wrong. A nation with a crumbling economy that is still battling with the COVID pandemic should not retrench workers without cautions and plans. Poverty, frustration, increase in crime rate and starvation are possible effects and what plans have El-Rufai made to address these effects?
Government is an employer and has a duty to secure and protect the welfare of its workers. Truly, the civil servants receive the largest share in allocated funds considering the number of workforces but why should they be the only casualty?
What has El-Rufai done to state ministries milking funds without productivity? What has El-Rufai done to reduce the allowances of his retinue of special advisers? What has El-Rufai done to reduce allowances of council chairmen and their excos?
What has El-Rufai done to reduce his own allowances as governor of the state? Has he adjusted the budget of the office of the governor, first lady and friends of the government? What has he done to boost the internal revenue generation of the state?
The retinue of aides, inflation of project funds, security allowances, state functions and programmes facilitated by the state which result in billions of naira, what has El-Rufai done to address these financial gaps?
PAY ATTENTION: Install our latest app for Android, read the best news on Nigeria's #1 news app
There is no argument or action plan that must be greater than peoples welfare. No suggestion or move should displace their welfare and standard of living. I also give kudos to labour leaders for maintaining their stand because if El-Rufai refuses to bow to pressure, it will be bad precedence.
Other states would follow the same suit and it will become a national issue. The irony of all is there is no assurance that these funds would be used to develop states not embezzled.
I say to labour leaders and civil servants across the federation especially the dismissed ones that the Pharaoh they see today, they say see him no more.
Source: Legit.ng