Opinion: El-Rufai Lacks Power to Declare Ayuba Wabba and Others Wanted by Festus Ogun
Editor's note: In this piece sent to Legit.ng, Festus Ogun, a human rights activist and convener of the Civil Coalition for Constitutional Governance, argues that Governor Nasir El-Rufai's declaration of Wabba and others wanted is unlawful.
Governor Nasir El-Rufai of Kaduna State on Tuesday, May 18, declared the President of the Nigerian Labour Congress (NLC), Mr Ayuba Wabba and other union members wanted for alleged "economic sabotage and attacks on public infrastructure" in the State. This came a day after the NLC embarked on its ongoing five-day warning strike commenced as a result of the unfair treatment of workers in the state.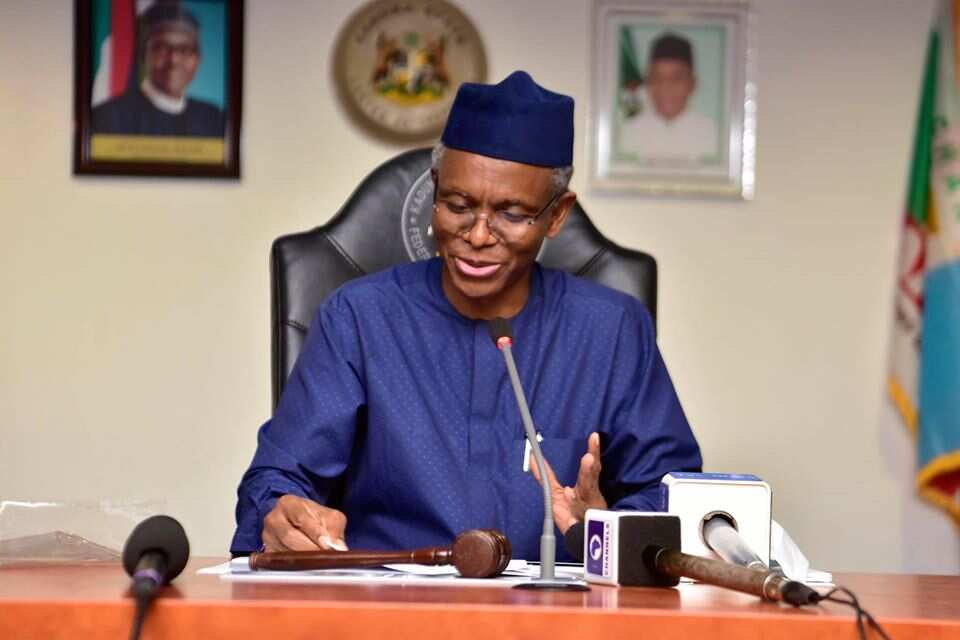 To start with, under the legal framework of Nigeria, Governor Nasir El-Rufai has no such right, power or authority to declare Ayuba Wabba or any person whatsoever wanted.
In my respectful view, the declaration was reckless, authoritarian, ridiculous, vexing and grossly disrespectful to our Constitutional ethos. While this tyrannical disposition remains baffling, the Governor's gut to whimsically declare wanted a labour leader, whose only crime was leading the struggle of the victims of El-Rufai's oppressive policies, shows the level of despotism there is in Kaduna State.
The procedure for declaring a person wanted in Nigeria is quite clear. First, there must have been a warrant of arrest issued by a Magistrate, Judge or Justice of Peace. Neither the Police nor a Governor can issue a warrant of arrest. In effecting the arrest of a suspect, where it can be established that he or she is on the run, hiding, absconding, evading or obstructing arrest, then, the Police can, in partnership with the court, declare a suspect wanted.
Put simply, making conscious and real efforts at effecting the arrest of a suspect, by formal invitation or other means, is a condition precedent to declaring a suspect wanted. Singularly declaring a suspect wanted without fulfilling the condition precedent is arbitrary and has no basis in law. My position is fortified by the provisions of Section 41 and 42 of the Administration of Criminal Justice Act, 2015.
Instructively, in the case of Benedict Peters v. EFCC & Others FCT/HC/CV/23/2017 (Unreported), our court held that EFCC's decision to declare Peters wanted, without first obtaining a court order to that effect or filing a charge against him in court, was a violation of his fundamental rights, particularly the right to freedom of movement. If an anti-graft agency could be restrained from arbitrarily declaring suspects wanted without lawful justification, one wonders where El-Rufai got his fictional powers from.
Apparently, a warrant of arrest has not been issued against Wabba and his comrades – and cannot in fact be issued as a result of courts closure. As much as we know, no formal invitation has been extended to him. He is right there on the streets of the beautiful city of Kaduna; so glaringly that an average man can easily locate him: He is neither hiding nor evading arrest. If all these conditions precedent were not met, why would the Governor go ahead to declare him wanted? That is executive rascality taken too far. Assuming without conceding that the condition precedents were met, it lies not in the mouth of El-Rufai to declare Wabba wanted; only the Police or the security agency concerned can do so having gotten requisite orders. This Gestapo manner of declaring a well-known union leader wanted in the heat of a struggle reminds one of the locust days of Adolf Hitler and the cowardice of baby tyrants.
With the little law I know, what Wabba and other striking workers are doing falls within the purview of their fundamental rights which are well protected and guaranteed under the 1999 Constitution, extant labour laws, regional charters and other international instruments. How can the Kaduna Governor continue to ride roguishly on workers' labour rights and dignity without the expectation of agitations and confrontation? Who will remind the 'accidental public servant' that actions attract consequences? The displeasure of the striking workers is legally valid, morally justifiable and logically acceptable. It is naturally expected that a child violently tortured by the wicked policies of the state would cry. Indeed, only the guilty are afraid of the power of industrial actions.
To embark on strike and agitate for a better working condition and welfare are human rights. It is common knowledge that the Governor himself rode to power through mass actions and public demonstrations. So, hiding under some funny laws to persecute those fighting against oppressive policies harmful to workers cannot stand the test of constitutional validity. The laws El-Rufai relies on to haunt Wabba and others are a mere distraction calculated to dampen the spirit of the labour leaders. For all you care, the greatest economic saboteurs are those perpetually committed to treating workers like a pack of trash. Some of them even hide in the Government House of Kaduna State parading themselves as 'Honourables' and 'Excellencies'.
PAY ATTENTION: Install our latest app for Android, read the best news on Nigeria's #1 news app
Without dilly-dallying, it is important to call Governor El-Rufai to order before he sets his tottering State on fire through his growing lust for highhandedness. The best option to pursue at this juncture is to listen to the voice of reason by yielding to the demands of the striking workers.
The era of Feudal Lord and Serfs is long gone in our political history and no amount of intimidation or oppression can deter a people determined to put an end to his administration's atrocities against workers. The supposed stubbornness of a despot will lie flat in the face of mass action. Ghonim puts it more rightly when he said "the power of people is greater than the people in power". The era of impunity in Kaduna has come to a resoundingly glorious end.
Festus Ogun is a human rights activist and Convener of the Civil Coalition for Constitutional Governance. festusogunlaw@gmail.com
Disclaimer: The views expressed in this interview/article are the author's own and do not necessarily represent the editorial policy of Legit.ng.
Your own opinion articles are welcome at info@corp.legit.ng — drop an email telling us what you want to write about and why.
Contact us if you have any feedback, suggestions, complaints or compliments. We are also available on Facebook and Twitter.
Source: Legit.ng