Insecurity: Afenifere Tells Buhari to Organise Constitutional Conference
- A socio-political organisation, Afenifere, has recommended restructuring as the solution to Nigeria's challenges
- The group said there is a need for the federal government to stem the present high level of insecurity ravaging the country
- Afenifere warned that the situation might worsen if the government does not act fast
PAY ATTENTION: Join Legit.ng Telegram channel! Never miss important updates!
The Yoruba socio-political organisation, Afenifere, has advised the Buhari administration to restructure the country.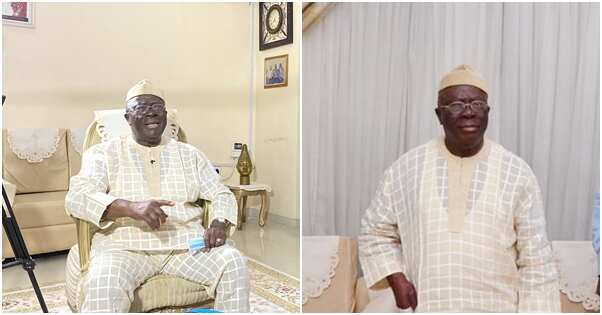 The group in a statement on Sunday, May 3, through its spokesperson, Jare Ajayi, stated that there was a need to return the country to a true federation, The Guardian reported.
Ajayi stated that that Afenifere has become increasingly concerned that Nigeria is on the verge of becoming a failed state due to the problems of insecurity.
He said:
"At the moment, Nigeria seems to be bleeding in its various arteries. Kidnapping, terrorism, herders/farmers' clashes, banditry, socio-economic problems, high unemployment, hyper-inflation and Boko Haram insurgency are the order of the day."
According to Tribune, the group pointed out that different parts of the country have been overrun by bandits and insurgents.
It said:
The problem of insurgency has reached such a peak that some areas in Niger State have been taken over by the bandits according to the governor of the state. This is in addition to parts of Sambisa Forest that the terrorist group has cordoned off. It is also in addition to various kidnapping and slaughtering activities the terrorists are carrying out in different parts of the country."
Afenifere called on President Muhammadu Buhari to, without further delay, set the machinery in motion to organise a constitutional conference that will return the country to a true federation.
Meanwhile, Afenifere stated that the currents happenings in Nigeria have justified its decisions for not supporting President Muhammad Buhari's aspiration during the 2015 and 2019 polls.
The group's leader, Chief Reuben Fasoranti, said on Sunday, May 2, that the decision not to support President Buhari was not only in the best interest of the Yoruba but Nigerians in general, Nigerian Tribune reported.
The Yoruba leader said corruption and nepotism remained the bane of the Buhari government since it assumed office in 2015.
Source: Legit.ng