Why I Visited Buhari Along With Three Men, Father Mbaka Opens Up on Contract Allegation
- Rev Father Ejike Mbaka has reacted to claims that he demanded contracts from President Muhammadu Buhari
- The cleric spoke about the circumstances surrounding the visit to the president which prompted the allegation
- Mbaka insisted that his call for Buhari's impeachment and resignation was justified
PAY ATTENTION: Join Legit.ng Telegram channel! Never miss important updates!
Rev Father Ejike Mbaka has discredited claims by the presidency alleging that he (Mbaka) is aggrieved with President Muhammadu Buhari because the president did not award contracts to him.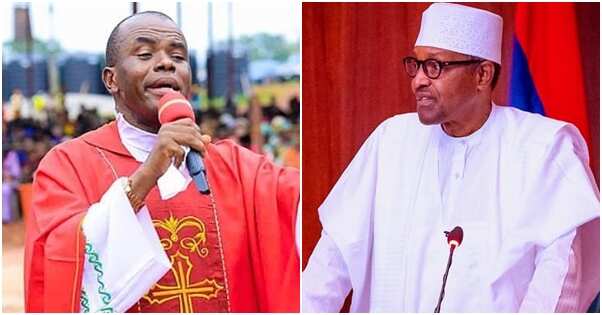 Vanguard reported that the Spiritual Director of the Adoration Ministry, Enugu, in a sermon on Sunday, May 2, described the allegations against him as childish and laughable.
The cleric, however, admitted that he led three men to meet with the president during his first tenure.
But Mbaka explained that the men were security experts who had offered to help in solving Nigeria's security challenges.
He said:
"These men had the platform to end insecurity within one month. This was under Abba Kyari. I just handed them over to government. They only asked me to help them reach government and offered to help insecurity, revive the nation's economy through putting an end to theft of crude oil and providing employment.''
According to The Sun, the religious leader stated that his call for the impeachment of President Buhari was not out of bias, insisting that he spoke strictly under the leading of the Holy Spirit.
Mbaka said:
''I don't want to talk about that because it's a laughable and childish accusation. Whoever is saying that, is a shame to himself and shame to the people he is representing. Fr. Mbaka's voice came from the spiritual. So what I'm saying is unchallengeable.''
Mbaka claimed anyone who says the truth is branded a terrorist by the current administration.
He also stated that no amount of government patronage was capable of influencing his utterances.
Meanwhile, the ruling All Progressives Congress (APC) has criticised Rev. Fr. Ejike Mbaka, over his call for the National Assembly to impeach President Muhammadu Buhari.
Vanguard reported that Yekini Nabena, the APC deputy national publicity secretary, on Friday, April 30, in Abuja, cautioned Mbaka against making statements that could cause instability in the country.
He said it was unfortunate that a man of God who is supposed to deploy spiritual means of averting crisis is the one threatening a democratically elected government.
Source: Legit.ng