MTN Hides Declining SMS Revenue, as WhatsApp, Facebook Messager Takeover
- SMS revenue of MTN Nigeria is no longer made public as the company use to, as it continues to decline
- The growing use of WhatsApp and Facebook messager by subscribers is affecting the SMS revenue
- Two years ago, the association of network providers had called for the regulation of WhatsApp and Facebook messager
PAY ATTENTION: Join a community of CEOs, founders, and decision-makers: subscribe for a free monthly business newsletter Digital Talks and succeed BIG!
MTN Nigeria has released its audited financials for the first quarter of 2021. The company recorded growth across majority of its revenue sources, including Voice, Data, and Fintech services.
But the y'ello network hid its SMS revenue from the earnings breakdown by services. The text message service has been plunging in earnings for years, while other services grow.
SMS earnings has been a dent in MTN Nigeria's total revenue, as more subscribers ignore the service for other massaging services like WhatsApp, Facebook messager, Instagram and Twitter direct message features.
In the last public release of the earnings from SMS, Ripples Nigeria gathered that in full-year period of 2020, SMS revenue was N3.33 billion, failing to surpass the N3.66 billion recorded during the same period in 2019.
SMS revenue remains a crucial part of MTN Nigeria's yearly and quarterly turnover - behind Voice and Data - but it was noted that the feature's earnings was merged into other services revenue.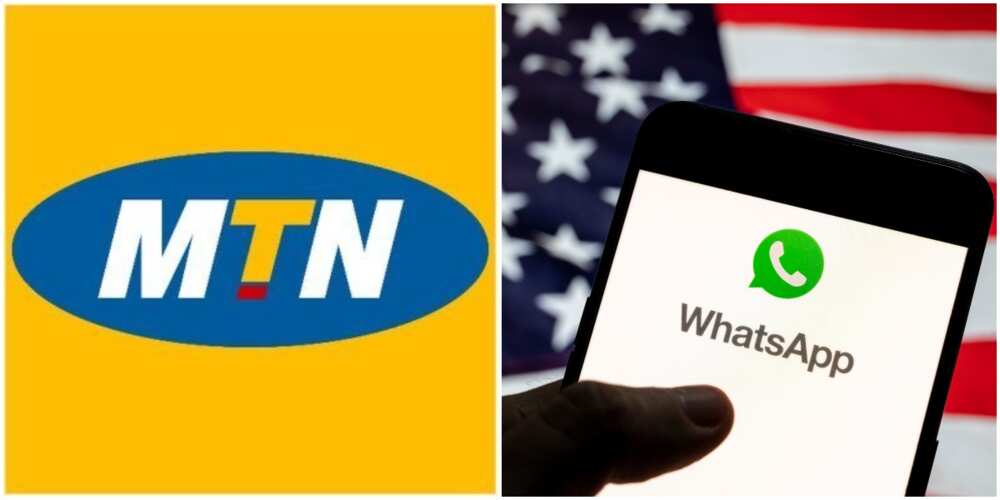 And while explanatory statements were made about growing services like Voice and Data, explanatory notes for text message revenue was omitted by the network provider.
Since their launch, WhatsApp and Facebook messager have disrupted the text message service offered by network providers, and this has been a concern for MTN, Airtel, Globacom, and 9mobile, as telcos have pushed for compensation through a levy from the tech firms.
Because Nigerians no longer use SMS, Gbenga Adebayo, the Chairman of Association of Licensed Telecoms Companies of Nigeria (ALTON), had asked that the social media platforms pay levy. In 2019, Adebayo said there's a social and economic implication from the use of WhatsApp, Facebook and other networks.
Meanwhile, Legit.ng had reported that the Central Bank of Nigeria alerted its employees to possible kidnapping or terrorism attacks, telling the staff to close from work as at when due.
CBN advised against late outings, as the apex bank told the workers to keep low profile and avoid restaurants and public places where drinks are served in order not to be a victim of the attacks.
The workers were also told not to travel by road or air only when necessary, and make sure their security head in other states in Nigeria are contacted for information.
Source: Legit.ng