Tracking Govt Funds: CODE Team Visits Kaduna Federal Lawmaker
- A civil society organisation empowering marginalized communities with access to information is making waves in Kaduna state
- The initiative is making an impact through the creation of an enabling platform that brings citizens and their leaders together for health deliberation
- Led by grassroots campaigner, Hamzat Lawal, Connected Development through its initiative, Follow The Money, is making all the right moves
PAY ATTENTION: Join Legit.ng Telegram channel! Never miss important updates!
As part of its campaign tracking the N1.1billion of the N6billion budgeted for constituency projects for Kaduna state in the 2020/21 budget cycle, a team from a leading civil society organisation, Connected Development (CODE) on Tuesday, April 27 visited the National Assembly.
Led by its founder and Chief Executive Officer, Hamzat Lawal, the team from CODE visited Arc. Ibrahim Hamza, a member of the House of Representatives representing Soba Federal constituency of Kaduna state in the National Assembly.
CODE, through its social accountability movement, Follow The Money, is tracking the funds as part of its community actions which includes mobilizing, advocating, visualizing, and tract governments and international aid spending.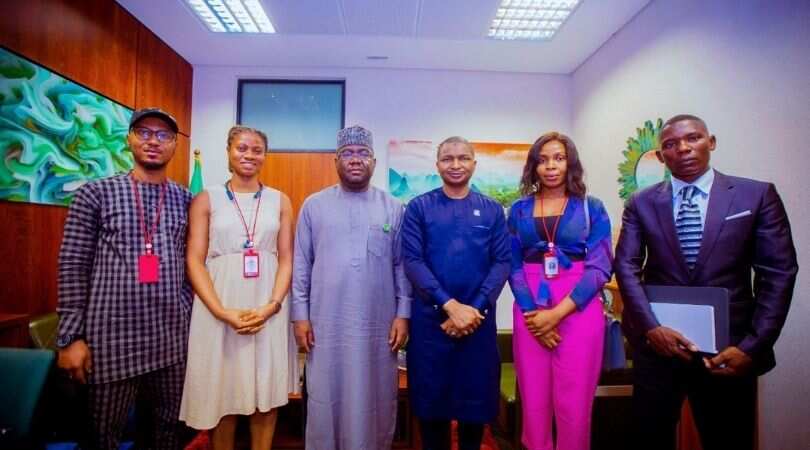 PAY ATTENTION: Join Legit.ng Telegram channel! Never miss important updates!
During the visit witnessed by a Legit.ng reporter, the lawmaker shared insights with the CODE team on his efforts in monitoring projects nominated under his constituency in Kaduna.
Among the projects nominated by Hon. Hamza is the construction of a Primary Healthcare Centre at the of sum N37.5 million by the National Primary Health Care Development Agency.
Also, the construction of a block of 6 classrooms for N12.5 million by the Universal Basic Education Commission as part of over N2.4 billion released for the 2020 constituency projects.
Speaking at the meeting, Hamzat Lawal said:
"We empower marginalized communities with access to information, through the creation of an enabling platform that brings citizens and their leaders together for healthy deliberation. And for the past three years, we have worked with MacArthur Foundation in Kaduna state on tracking the basic spending in education.
"Through our engagement with the Kaduna State Basic Education Board, we were able to successfully track over N2billion Universal Basic Education Fund meant for the grassroots community."
He also shared with the lawmaker the strategy CODE deployed to identify education gaps which led to a high number of out of school children.
He added:
"However, we used the information obtained to engage the executive governor of Kaduna state, Mallam El-Rufai and SUBEB, we got a commitment from the governor to intervene in the current situation at a time.
"These promises he kept and we have seen over 50% of school enrollment across the 609 schools."
Hamzat Lawal also commended the lawmaker's effort to nominate two projects in his constituency, and communicated CODE's intention to collaborate and work with his office to provide oversight on the education project which has got over N12 million naira released for its implementation.
Responding, the lawmaker appreciated the CODE team for its advocacy.
He shared the challenges faced by his constituents especially in the area of health and education and made mention of his effort since his ascension into office in 2019 to ensure positive impacts are made and the people enjoy and benefit from the dividends of democracy through his office.
He also committed to utilizing his expertise as an architect and experience as a one-time Facility Manager to provide oversight on the project and to ensure that materials used for project implementation meet the set standard agreed with contractors.
Recall that four months ago, Follow The Money tracked N96.7 billion COVID-19 funds both at the federal and state levels in Nigeria.
The initiative tracked N1.4billion in Edo state; N1.4billion in Ondo state, N94million in Bauchi state; N28million in Borno state; N230million in Kwara state; N378million in Oyo state; N2.3 billion in Kano state and N330million in Enugu state.
Others are N28million in oil-rich Akwa Ibom state and N12.6 billion in Nigeria's commercial capital, Lagos state.
Around the same period, CODE and BudgIT Foundation launched the COVID-19 Transparency and Accountability Project.
The initiative which has recorded major successes since its launch has been promoting accountability and transparency through the tracking of COVID-19 intervention funds across 7 African countries.
Source: Legit.ng