George Floyd: Family Breaks into Celebration after Court Verdict on His Murder
- A video is trending online of the late George Floyd's family breaking into a momentous celebration as a jury announced Derek Chauvin's verdict
- Chauvin was facing charges of murder for choking Floyd to death on a street as passersby watched and recorded
- Their reactions were testament that justice had been served in a case that attracted global attention and uprising under the Black Lives Matter movement
PAY ATTENTION: Join Legit.ng Telegram channel! Never miss important updates!
The family of the late George Floyd broke into an emotional celebration as ex-police officer Derek Chauvin's verdict over their kin's murder was announced.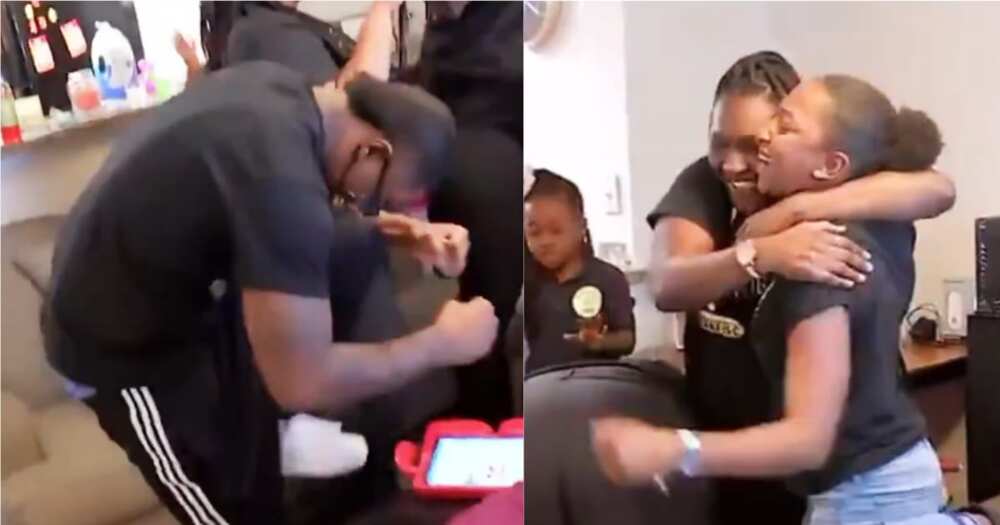 Chauvin was charged with choking the life out of Floyd on May 25, 2020, in the full glare of cameras.
After a 10-hour deliberation by a jury of 12, the court found him guilty on all three charges, two of murder and one of manslaughter.
A video has emerged of the family as they watched the live proceedings on TV, specifically the exact moment the final verdicts were announced.
Donned in black tops written 'Justice for George Floyd,' the family members celebrated and hugged each other emotionally.
Their reactions were testament that justice had been served in a case that attracted global attention and uprising under the Black Lives Matter movement.
Speaking to the media after the sentencing, Floyd's brother Philonise was full of praise for the jury that handled the case.
"Justice for George means freedom for all," he said.
Chauvin's verdict was read on Thursday, April 21, at the Hennepin County Court and streamed on different channels around the world.
Other internationally celebrated personalities who have added voice to the historic ruling include former US President Barack Obama and his wife Michelle as well as media personality Oprah Winfrey.
"Today, a jury did the right thing. But true justice requires much more. Michelle and I send our prayers to the Floyd family, and we stand with all those who are committed to guaranteeing every American the full measure of justice that George and so many others have been denied," wrote Obama.
Oprah added:
"Relieved and emotional in ways I did not expect. I cried tears of joy as each verdict was read. I am grateful to the witnesses and their testimonies."
Meanwhile, Legit.ng had reported that the chief executive officer of Facebook, Mark Zuckerberg sent a message of solidarity to the bereaved family of George Floyd, who was killed by a US ex-police officer, Derek Chauvin.
Zuckerberg in a solemn tone on Tuesday, April 20, expressed hope that the eventual murder charge levied on Chauvin will bring a measure of comfort to late Floyd's family and all who were close to him.
He noted that the court's decision is part of a bigger struggle against racism and injustice rampant in the country.
Source: Legit.ng