How Young, Immature Pantami of Yester-Years Got Hardworking, Scholarly Minister into Trouble
Undoubtedly one of the most hard-working in President Buhari's cabinet, the minister of communication and digital economy, Ali Isa Pantami, is now in a deep mess; for things done/said many years ago which he has now publicly renounced.
PAY ATTENTION: Join Legit.ng Telegram channel! Never miss important updates!
The trouble started with a story published on Sunday, April 11, by the Sunday Independent newspaper claiming, albeit without any reliable source, that Pantami has been placed on a terrorism watchlist by the United States.
The story sparked outrage among Nigerians and within a twinkle of an eye, the name Pantami became the number one on Twitter's trend list as many other newspapers (Legit.ng not involved) also lifted the news from Sunday Independent.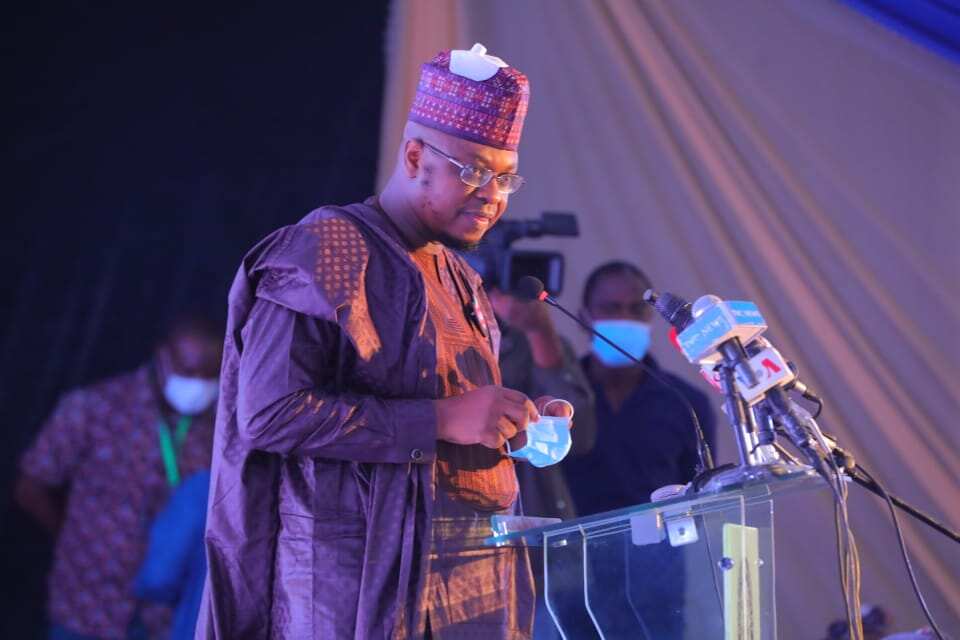 Given the importance of the ministry which Pantami is heading which oversees Nigerians' data, the anger was well justified.
While many called for the minister's resignation and arrest based on the report, many others defended him.
One of those who defended Pantami was Senator Shehu Sani, a former federal lawmaker from Kaduna state.
He said:
"Ali Pantami is not publicly known to be a Cleric who preaches violence or advocates for it in his Islamic activities. Actually, extremists & terrorists disdainfully view him as a moderate establishment Mullah. Those who tagged him otherwise need to objectively review & reconsider."
After a few hours of silence, NewsWire, one of the newspapers that reported the story issued a retraction.
Shortly after, the minister tweeted that he has noted NewsWire's retraction but major publishers of the story will meet his lawyers in the court on this defamation of character.
Hours after, Daily Independent, the publishers of Sunday Independent which originally published the story, also issued a retraction.
"We have since realized that the information contained in the story has not been verified to be true."
Retraction too late
Daily Independent's retraction and apology were too late. Nigerians who were already worried about the development began to scrutinise Pantami's past. And they found some scary things!
In his younger years, Pantami, a respectable Muslim scholar, had made some controversial statements that appear to be sympathetic to the cause of Al Qaeda and Taliban terrorist groups.
As many past videos of him emerge making controversial statements, #PantamiResignNow started trending on social media. Nigerians could no longer have it. They said it's time for him to leave the sensitive ministry.
The calls for Pantami's resignation gained more prominence on Sunday, April 18, when Nigeria's lead opposition party, the Peoples Democratic Party (PDP), lent its voice to the agitation.
The party also called on the Department of State Service (DSS) to quickly investigate Pantami's alleged affiliation with terrorist groups.
Pantami debunks allegations
With past videos of him being unearthed to support claims that he is a terrorist sympathiser, Pantami granted some media interviews to explain his stance.
He explained that context is very important to understand some of his comments which appear very controversial.
Pantami also debunked the allegations that he is anti-Christian.
He said:
"My personal driver is Mai Keffi, a practising Christian. I also have a Christian, Ms Nwosu, as my secretary and Dr Femi, also a Christian, as my technical adviser.
"If I did not like Christians or I did not see them as my brothers and sisters, I would not have been working with them for so long. I employed more Christians than Muslims on my staff because I believe in merit and competence over ethnic or tribal sentiments."
Ahmad Salkida, a respected journalist covering terrorism in the north, also debunked a claim that Pantami was a confidant of the late Mohammed Yusuf, founder of Boko Haram.
The claim gained prominence after a video surfaced showing Pantami and Yusuf speaking in Hausa in a room. It turned out that what many had thought was a friendly conversation was actually a debate wherein Pantami was tackling the Boko Haram ideology.
Salkida wrote:
"I'm not speaking for Pantami, he can speak for himself. He was never a confidant of the late Mohammed Yusuf, founder of #BokoHaram. As a matter of fact, Pantami put the #BokoHaram doctrine to task more than any other Muslim cleric in northern Nigeria.
"Pantami, as a university, Don at the time, had public debates with Yusuf about western education, democracy and some of the issues that the group was preaching against. He's been threatened repeatedly by the same group that you say he has links to."
Pantami's renouncement
Finally, on Saturday, April 17, Pantami renounced some controversial comments he made on Al Qaeda and Taliban.
The minister who said he started preaching as early as when he was 13 said he now knows better about some of the comments he made in the past.
He said:
"Some of the comments I made some years ago that are generating controversies now were based on my understanding of religious issues at the time, and I have changed several positions taken in the past based on new evidence and maturity.
"I was young when I made some of the comments; I was in university, some of the comments were made when I was a teenager. I started preaching when I was 13, many scholars and individuals did not understand some of international events and therefore took some positions based on their understanding, some have come to change their positions later."
The past beclouding the current achievements
Despite all his explanations, many Nigerians still insist Pantami should vacate the office.
A series of allegations orchestrated by a baseless story that has been described as a "journalistic hit job" has now completely beclouded Pantami's impressive achievements as a public office holder.
In September 2020, Premium Times did a review of Pantami's achievements in office as communications minister.
The newspaper stated that its analysis of Pantami's one year in office reveals that the minister's performance appears to tally with Nigerians' expectations.
It was believed that his impressive performance at the National Information and Technology Development Agency (NITDA) where he served as the Director-General landed him the ministerial appointments.
Some of his achievements include re-energising the SIM cards registration policy, suspending telecom USSD charges, cutting-edge digital policies, increased broadband penetration, among many others.
PAY ATTENTION: Install our latest app for Android, read the best news on Nigeria's #1 news app
The conclusion: Nigeria awaits Buhari's action
Pantami's achievements in the ministry of communications and digital economy are undeniable.
Also, up till the time of filing this report, no country (or organisation) has indicted him or having affiliations with terrorist groups.
He has publicly renounced his previous controversial comments on the terrorist groups and explained the circumstances under which those comments were made.
Are these enough for President Buhari to retain him as the communications minister? or will he heed the PDP's advice and sack him? The ball is now in the president's court.
Source: Legit