US President Joe Biden Stumbles, almost Falls again while Boarding Air Force 1, has People Gasping
- Social media users have reacted to US President Joe Biden as he came close to injuring himself on the stairs of his military plane to Pittsburgh
- The US head of state, Biden, was heading to Pittsburgh, Pennsylvania and was seen using the stairs of Air Force One without holding the rails
- At the same time, the video clip of President Biden drew different comments from all over the world while some shared advice on safety
PAY ATTENTION: Join Legit.ng Telegram channel! Never miss important updates!
United States President Joe Biden recently caught the attention of social media users once again after he nearly slipped on the stairs of his private jet.
Biden came close to falling on the stairs as he was boarding the Air Force One aeroplane en route to Pittsburgh, Pennsylvania.
In a video circulating on social media, posted on Twitter by The Hill, the 78-year-old statesman eventually managed to remain on his feet.
The video clip had already amassed 141 retweets plus 857 likes at the time Legit.ng was putting this story together but the comments section was abuzz with some followers saying the leader's age might be catching up with him.
The post was shared on the social media application carrying a caption:
"President Biden boards Air Force One en route to Pittsburgh, Pennsylvania."
Taking a quick look at the comments from the president's admirers, many are delighted he managed to safely climb his way up the stairs.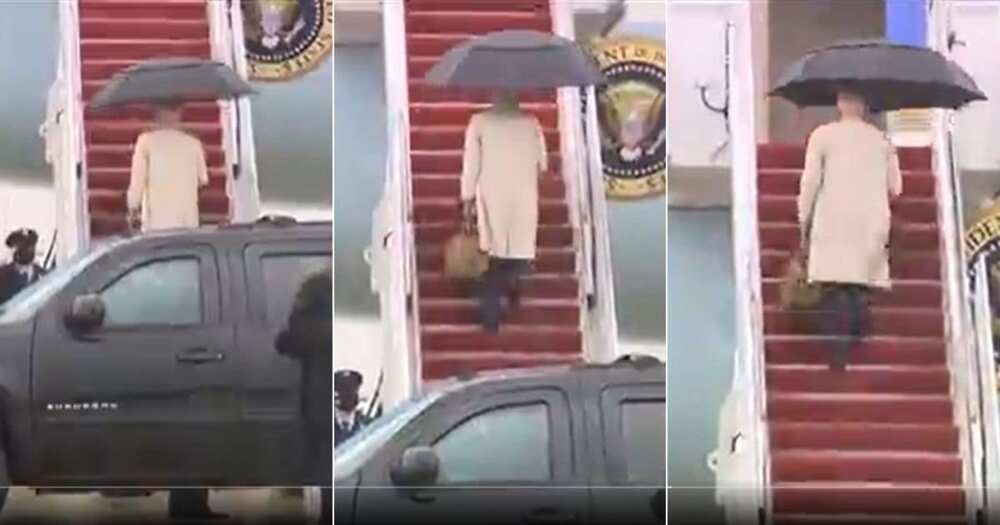 @PaulHal83159238 said:
"Thank God that he made it up the stairs again without stumbling. I cringe every time he climbs up those stairs. Many try to make fun of him and ignore the fact that he's elderly and not as sure of his footing as a young man would be. Give Joe a break and give the criticism a rest."
@JuliasWriter said:
"I was wondering that too. Why do we make the president walk up and down those steps??? It seems like a security risk too since you can't really be well protected by secret service on a narrow staircase."
@Indiscretion suggested that the president needs help when using the stairs:
"He misjudged the height of the step, probably because that big bag obscured the view of his feet/stairs. The problem I see is someone should have taken the bag on board for him."
@CraigCollins used the opportunity to express love for the head of state:
"Lord, please get Joe some help climbing the stairs. What he carrying a bag for balance and now he must hold an umbrella too. I love Joe and voted for Joe but come on man!"
@JamesBabineau questioned the president's decision not to hold the rails:
"Everyone should hold the rail, no shame in that. (Someone else could bring the bag)."
@ColinCambrey is of the view that the measure to curb the spread of the coronavirus pandemic is an issue here:
"That mask is going to kill him before anything else."
Back in November 2020, Legit.ng reported that the projected US president had suffered an injury on his right foot while playing with one of his dogs, his doctor disclosed.
The extent of Biden's injury was discovered after he visited an orthopaedist in Newark, Delaware, on Sunday afternoon, November 29.
Biden's doctor Kevin O'Connor revealed that a scan on the foot indicated that the president was going to wear a boot for several weeks.
Source: Legit.ng