Aliko Dangote, Folorunsho Alakija Became Poorer Under President Buhari's Administration
- Aliko Dangote and Folorunsho Alakija's fortune declined by $18.2 billion combined within six years
- The wealth of Dangote Group founder dipped by $16.7 billion between 2014 to 2020, while $1.5 billion was wiped off Alakija's networth
- The decline in the wealth of both billionaires occurred amid policy uncertainty, rising inflation and weak naira
PAY ATTENTION: Join a community of CEOs, founders and decision-makers: subscribe for a free monthly business newsletter Digital Talks and succeed BIG!
Nigeria has four representatives on the Forbes billionaires' list. Aliko Dangote, Wale Adenuga, Abdulsamad Rabiu and Folorunsho Alakija. These billionaires have been on the list for more than two decades.
Dangote is leading the billionaires' list in Africa, but it is dominated by South African and Kenyan billionaires. The number of Nigerians on the fortune monitor might reduce even more as some of the billionaires are losing millions of dollars under President Muhammadu Buhari's administration.
Since Buhari became president, Nigeria's economy has slipped into recession twice, with the first lasting for one year between 2016 and 2017, while the second being for two quarters; half-year 2020.
High inflation and naira devaluation have hit the country's economy amid policy uncertainty in a hostile business environment which is Africa's largest economy.
Tracking of the Forbes' billionaires watch by Legit.ng between 2014 to 2020 showed the economic conditions under Buhari's administration has not been favourable to Dangote and only female (outgoing) billionaire, Alakija.
Aliko Dangote
Dangote, whose core investment is cement and sugar was worth $25 billion in 2014, a year before Buhari became the president of Nigeria. However, a year after, the founder of Dangote Group lost over $10.3 billion, as the networth fell to $14.7 billion.
In 2016, the figure rose slightly to $15.4 billion, but the next year, his networth declined again to $12.2 billion, before rising to $14.1 billion in 2018. Dangote's networth nosedived again to $10.4 billion a year after.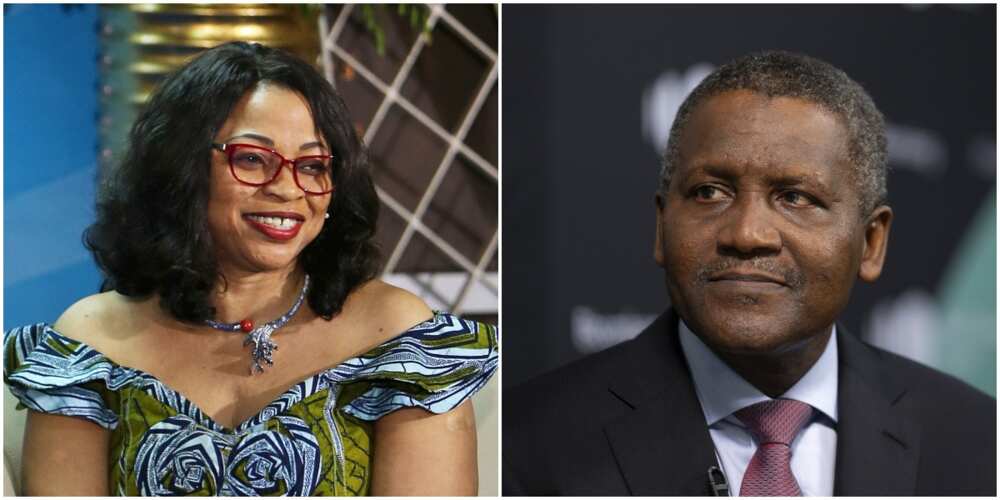 His fortune dipped further to $8.3 billion in 2020. Between the six years period, a whopping $16.7 billion was wiped from his fortune.
Folorunsho Alakija
The only Nigerian female billionaire in US currency has had it worse like Dangote. The dwindling fortune of Alakija cost her the spot on Forbes richest Africans. She was dropped off the Power Women list in 2017.
Again, Alakija was dropped from the billionaires' list in 2020, and this year, she lost her spot on Africa's billionaires' list. All these happened within the space of the past five years.
Just like Dangote, she was riding high at $2.5 billion net-worth in 2014, but her fortune recorded a sharp decline losing about $500 million to settle at $2 billion in 2015. The next year, she lost about $400 million.
In 2016, she was worth $1.6 billion, maintaining the same net-worth a year after. But in 2018, Alakija's fortune slightly dipped to $1.5 billion, before crashing to $1.1 billion in 2019.
As of last year, tracking showed her wealth is now valued at $1 billion. In the past six years, $1.5 billion was wiped from Alakija's wealth.
Meanwhile, Legit.ng had reported earlier that the government plans to fine Nigerian-based companies producing advertisements outside the country. The government said the companies involved will be charged N100,000.
Lai Mohammed made this known during an interview. He said if the company is selling its products in Nigeria, then the advert should be produced within Nigeria.
Source: Legit.ng