Arsenal Hero Thierry Henry Hired Bodyguard to Protect Daughter After Treats for Ireland Handball Goal
- Thierry Henry remains one of the greatest strikers that ever graced the game of football
- The former Arsenal star has stated that he once employed a bodyguard to protect his daughter
- Henry scored a controversial for that ensured France qualified for the 2010 World Cup and Ireland's expense
PAY ATTENTION: Join Legit.ng Telegram channel! Never miss important updates!
France and Arsenal legend Thierry Henry has disclosed that he went as far as hiring a bodyguard for his daughter after he received threats following his goal against Ireland before 2010 World Cup.
The former Gunner was in the middle of a controversy as his goal which appeared to show the ball had come off his hand knocked Ireland out of the qualification for the global showpiece.
Henry admitted regrets about the goal saying he is not proud, but stated that it happens in the game of football just like that of legendary Maradona against England in Mexico '86.
The former Barcelona goal poacher explained that he was concerned about his family especially his wife Nicole Merry and their daughter Tea, who was barely four years old at that time.
Now 43, Henry stated that some Irish fans were furious about his goal during the play-off in 2009 which inspired France to a 2-1 win.
Thierry, 43, said : via SunSport
"Am I proud of it? No. Do I get abused by the Irish fans sometimes? Yes I do.
"But then after that, the abuse that I got - I received letters, death threats, my daughter had to go to school with a bodyguard for two weeks because I was scared: 'We know where you live.'
"I was in Barcelona, don't get me wrong. But my daughter was still here (in England).
"And I'm not trying to make it sound better than what it is because it happened."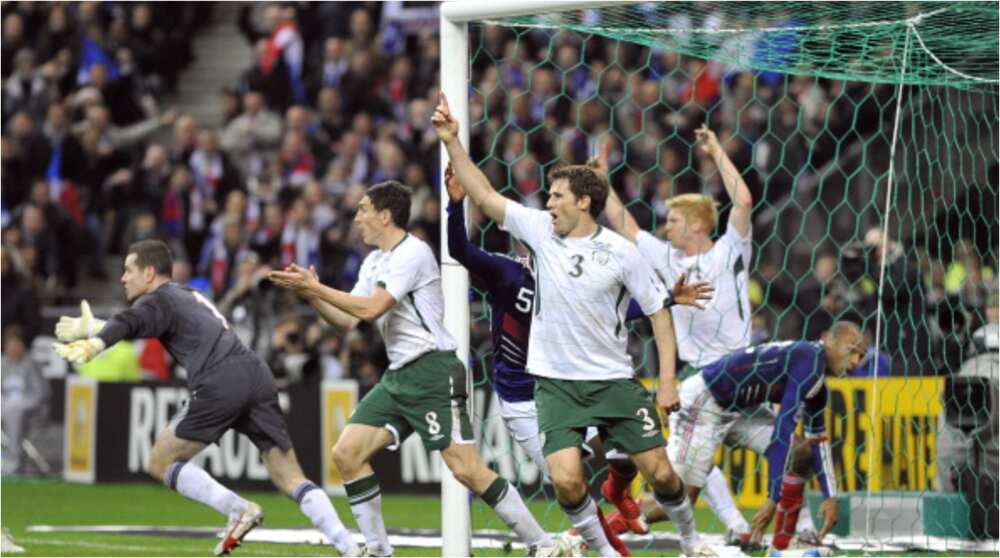 Henry was however named in the UEFA Champions League starting XI of all-time which includes Lionel Messi and his eternal rival Cristiano Ronaldo.
UK outlet BBC shortlisted players who made more than 60 appearances in the competition and have featured in at least one final.
Fans were allowed to vote for their best players in each position to make up a 4-3-3 formation.
Meanwhile, Legit.ng earlier reported that Patrice Evra once disclosed that Arsenal legend Thierry Henry once turned off his TV set when he saw Granit Xhaka as the club captain during a Premier League game.
Xhaka remains a controversial figure at the club and fans have called for the player to be sold after he swore at them when he was substituted during a game against Crystal Palace in 2019.
The incident saw him got stripped of the captaincy and his reputation diminished drastically, but Arteta is attempting to help the player rediscover himself.
Source: Legit.ng