2023: Middle Belt Group Reveals Politicians Pushing for Nigeria's Breakup
- Ahead of the 2023 election, the Nigeria Indigenous Nationalities Alliance for Self-Determination has come out to air its view
- The group made a serious allegation against Nigerian politicians seeking the presidential seat in 2023
- The chairman and secretary of the group claimed such politicians were responsible for the unrest and division in the country
- According to them, any politician seeking to contest under the "unworkable 1999 Constitution" is part of those seeking Nigeria's disintegration
PAY ATTENTION: Join Legit.ng Telegram channel! Never miss important updates!
The Nigerian Indigenous Nationalities Alliance for Self-Determination (NINAS) has alleged that a category of the country's politicians is trying to bring about national disintegration through violent means for their selfish interests.
NINAS said this set of politicians include some of those who are eyeing the presidential seat in the 2023 elections, Punch reports.
The group's chairman, Banji Akintoye, and its secretary, Tony Enadi, in a joint statement made it clear that ethnic nationalities both in the middle belt and in the southern part of Nigeria are making moves to attain their sovereignty.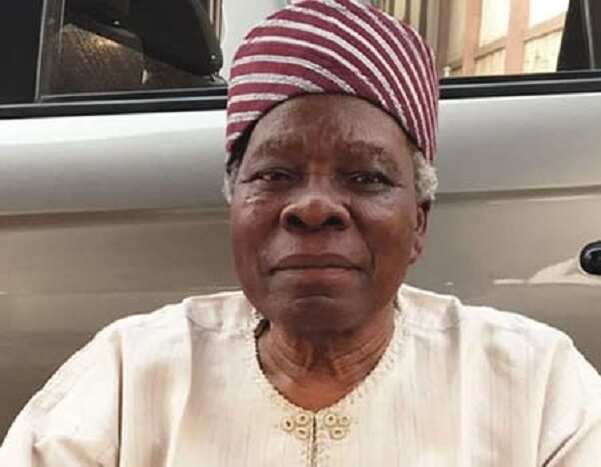 The duo referred to the 1999 constitution as bondage which got its origin from the Lugardian experiment of 1914.
According to The Guardian, NINAS made a five-point demand upon the federal government to begin the remediation of the grave constitutional grievances listed in an earlier declaration, within a period of 90 days beginning from Wednesday, December 16, 2020.
Akintoye and Enadi asserted:
"Those who insist on Governing Nigeria with the imposed, fraudulent and unworkable 1999 Constitution, as well as those who still aspire to contest further national elections under that Constitution, should know they are the ones pushing Nigeria towards a violent disintegration.
"But the ethnic nations currently trapped in the failed Lugardian experiment of 1914 will do everything legitimate under appropriate international instruments to extricate them from the union of death, attrition and backwardness that Nigeria has become for them."
Meanwhile, Legit.ng reported that a former vice president, Atiku Abubakar, could be barred from contesting for the presidency if a suit seeking to disqualify him succeeded in court.
However, the politician had asked the Abuja division of the Federal High Court to dismiss the suit which was seeking to stop him from contesting in future presidential elections.
Onyirioha Nnamdi is a graduate of Literature and English Language at the University of Lagos. He is a Politics/Current Affairs Editor who writes on news and political topics for Legit.ng. He brings into his reporting a wealth of experience in creative and analytical writing. Nnamdi has a major interest in local and global politics.
Source: Legit.ng