Nigeria can be a trillion-dollar economy with little work, says Flutterwave co-founder
- Aboyeji said Nigeria has the potential to outgrow its current economic value to become trillion-dollar GDP
- The growth of Flutterwave in the payment market made entrepreneurs and investors realise $1 billion is possible
- Nigerian tech space is leading investment opportunities in Africa, and coupled with other expanding sectors, can grow GDP
Pay attention: Join a community of CEOs, founders and decision-makers: subscribe for a free monthly business newsletter Digital Talks and succeed BIG!
The co-founder of Flutterwave, Iyinoluwa Aboyeji, said Nigeria possesses the capacity to become a trillion-dollar economy and outgrow its current state. Presently, Nigeria's gross domestic product is valued at close to $500 billion.
With Nigeria leading tech investment flow into Africa, Aboyeji believes if the country harnesses the full potential of the people and takes advantage of market opportunities, growing Nigeria into a trillion-dollar economy would be with little work.
He made his foresight known during Legitng's webinar, Digital Talks, which was held on Thursday, March 11, 2021. He said the revenue grossed by Flutterwave through offering solutions to payment problems made entrepreneurs and investors realise that a billion-dollar could be generated from the payment market.
Aboyeji told Digital Talks:
"This (Nigeria) is a five hundred billion-dollar economy. And I could argue that we could probably be a trillion-dollar economy with a little work, not even a lot. So the whole idea is if you could make it easier fr people to transact without being present, which is what cash is, how much of the economy will that be?
PAY ATTENTION: Subscribe to Digital Talk newsletter to receive must-know business stories and succeed BIG!
"That's at least a billion-dollars, and by the time you have done seven billion-dollars in transactions in a year, it became very apparent to the rest of the world that (they) can get a billion-dollars of value from this company if they have the financing and support."
Nigeria's tech market is nascent in nature, and its potential has been attracting significant capital from foreign investors supporting Nigerian-based creatives and assisting them in becoming a global enterprise.
That financial backing grew Flutterwave into a unicorn after the payment company crossed the $1 billion valuation, becoming the first Nigerian-owned startup to join the unicorn league. The payment sector is a budding market with the likes of Paystack, TeamApt, and Interswitch also competing against Flutterwave.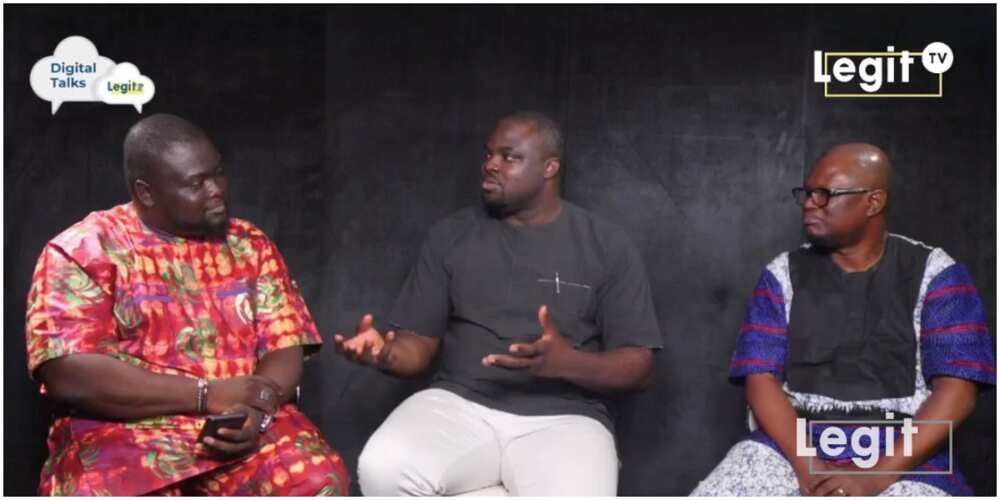 Nigeria's economy is worth more than what is seen on the surface, reason Irish-American financial company, Stripe, paid $200 million to acquire Nigerian-owned Paystack. Last year, over 50 Nigerian startups raised $120 million from more than 100 individual and institutional investors, according to Techpoint report.
This month, Flutterwave raised $170 million, more than the capital raised by 50 startups in 2020 from ten investors. So for Nigeria to become a trillion-dollar economy, the full potential of Nigerians and the opportunities embedded within the country must be harnessed.
With emerging sectors like the tech market booming, and existing sectors like the telecommunications industry expanding, when Nigeria carries out another economic rebasing, the country's GDP is expected to surpass $500 billion.
Meanwhile, Legit.ng earlier reported that YouTube will start taxing Nigerian content creators. The tax will be deducted from revenue made from the views of United States residents.
This means while the likes of Taaoma, Mr Macaroni, Broda Shaggi, movie producers, and singers are working in Nigeria, they will be paying tax to the US government for using the YouTube platform to generate revenue.
Fakoyejo Olalekan is a Business and Financial Journalist with over three years of experience in covering finance and business activities within Nigeria and offshore. Prior to joining Legit.ng, he worked at Nairametrics where he wrote financial and investment analysis articles. Olalekan is a resourceful and result-driven journalist with a track record for conducting extensive research and interviews to produce articles that provide different perspectives to market activities.
Source: Legit.ng