Insecurity: FG, states issue 12 key resolutions to address insecurity in Nigeria
- Governments at all levels are now making efforts to address the mounting insecurity in the country
- Federal and state governments have issued 12 key resolutions on how to address the situation
- Vice President Yemi Osinbajo presided over the meeting which was held at the Presidential Villa
PAY ATTENTION: Join Legit.ng Telegram channel! Never miss important updates!
The federal and state governments in Nigeria have recommitted themselves to addressing the mounting insecurity in Nigeria.
At a meeting of the National Economic Council (NEC) on Thursday, February 18 presided over by Vice President Yemi Osinbajo at the Presidential Villa, the governments agreed to ensure swift investigation, arrest, and prosecution of crime perpetrators.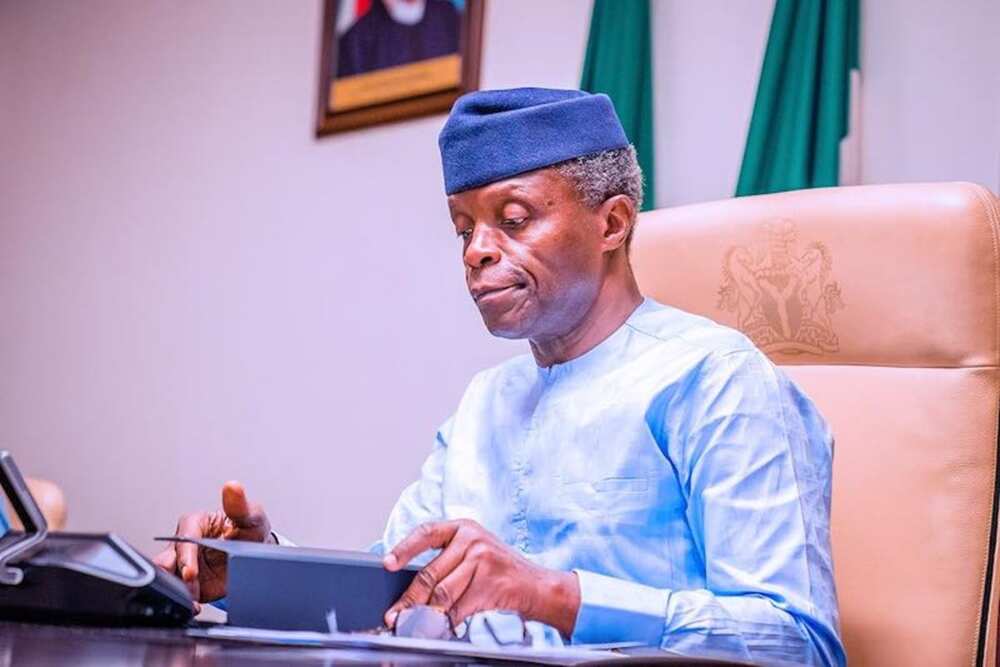 PAY ATTENTION: Install our latest app for Android, read the best news on Nigeria's #1 news app
According to the resolution of the council sent to Legit.ng by Laolu Akande, spokesman of VP Osinbajo, both the federal and state governments should recommit to:
"The protection of all residents of all states including non-indigenous communities and religious and ethnic minorities within state jurisdictions."
The council recommitted to the following principles:
1. The protection of all residents of all states, including non-indigenous communities and religious and ethnic minorities within state jurisdictions;
2. The arrest and prosecution of all perpetrators of crime;
3. In collaboration with federal authorities, the reconstruction of destroyed homes and payment of compensation where appropriate by State authorities for damage to property and livelihoods sustained during targeted attacks on communities within their jurisdictions;
4. Ensuring that deceased victims of such violence are duly accorded dignified burial rites;
5. The immediate public and unequivocal condemnation of all manifestations of hatred, targeted violence, and other hate crimes against ethnic, religious, and minority groups;
6. Ensuring that local security initiatives – whether they are state government law enforcement agencies or local vigilante groups or the community policing programme of the Nigeria Police Force – are inclusive;
7. Ensuring that all state, local, and communal security initiatives operate according to guidelines consistent with state legislation and the Constitution of the Federal Republic of Nigeria and other relevant laws and are subject to rigorous oversight;
8. Ensuring that innocent citizens and entire communities are not slandered, harassed, or victimized for the crimes perpetrated by criminal elements within those communities on the basis of ethnic or religious affiliation.
9. The continued organization of and participation in town hall meetings in the localities where ethnic strife has taken place by governors representing all geopolitical zones.
10. That state governments have statutory jurisdiction over forest reserves and will seek federal support for efforts to eradicate forest-based crime. (Council deliberated on how forests should be better managed and secured against criminals and criminality.)
11.That the National Livestock Transformation Plan is a comprehensive strategy for addressing the farmer-herder conflict developed by the states in collaboration with the federal government and governors will seek its full implementation.
12. The strengthening of border controls to discourage cross-border crimes and the effective observation of ECOWAS transhumance protocols.
Meanwhile, the Inspector-General of Police, IGP Mohammed Adamu has flagged-off a special security action plan, code-named Operation Puff Adder II to reinforce the ongoing fight against banditry, kidnapping, armed robbery, and other violent crimes in the country.
Frank Mba, police spokesman, stated that the new special operation will be intelligence-led and community-driven.
Mba also said the operation will be executed in sustained collaboration with the Armed Forces, the intelligence community, and other sister security agencies.
In a related development, the Nigerian Senate has asked President Muhammadu Buhari to declare a state of emergency across the country with immediate effect.
The demand was part of the Senate's resolution on Wednesday, February 17 as a holistic response to the mounting security challenges across the country.
Jerrywright Ukwu is an Abuja-based senior political/defence correspondent at Legit.ng. He is a graduate of the Nigerian Institute of Journalism, Lagos and the International Institute of Journalism in Abuja. He is also a member of the Nigeria Union of Journalists. He spends his leisure-time reading history books. He can be reached via email at jerrywright39@yahoo.com.
Source: Legit.ng