Jinger Duggar bio: age, siblings, husband, children, net worth
Jinger Duggar is an American reality television personality who is popular as one of the 19 Duggar children. Her family is known for its hyper-conservative views, which were documented in the TLC reality show 19 Kids and Counting. What is known about her life?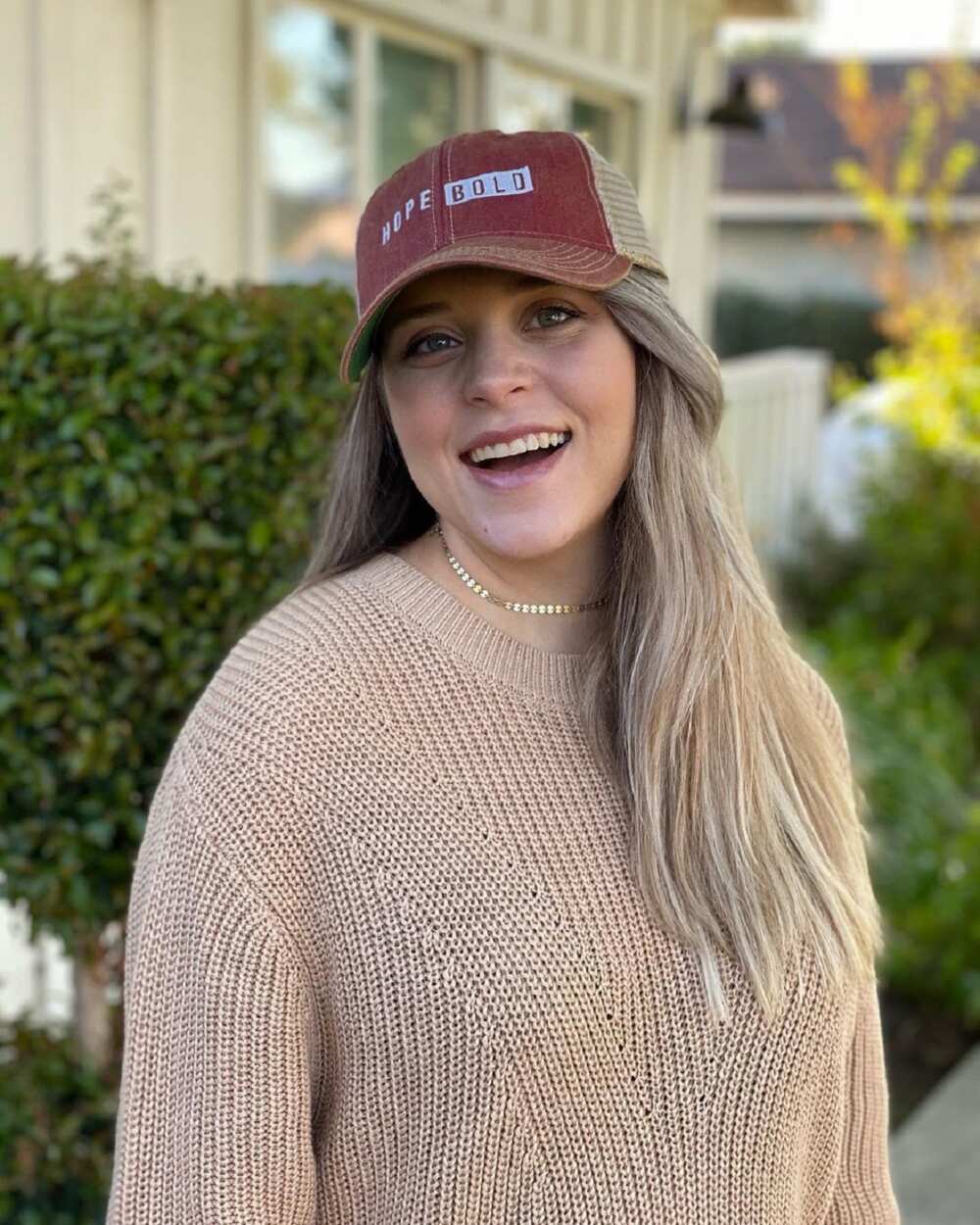 Here is everything you need to know about the famous reality television personality and her family.
Profile summary
Full name: Jinger Nicole Duggar
Date of birth: 21 December 1993
Age: 27 years (as of 2021)
Place of birth: Fayetteville, Arkansas, the USA
Marital status: Married
Spouse: Jeremy Vuolo
Jinger Duggar kids: 2 daughters
Profession: Reality television personality
Net worth: $2 million
Jinger Duggar biography
She was born to Jim Bob Duggar and Michelle Ruark, who got married on 21 July 1984. Her mother was 17 at that time, and her father was 19.
The two gave birth to 19 children, and today, their love is still as strong as it was when they first met.
What is interesting about Jinger Duggar is that she is the only left-handed member in her family.
Jinger Duggar age
She was born in 1993. She celebrates her birthday on 21 December. As of 2021, Jinger Duggar Vuolo is 27 years old.
Siblings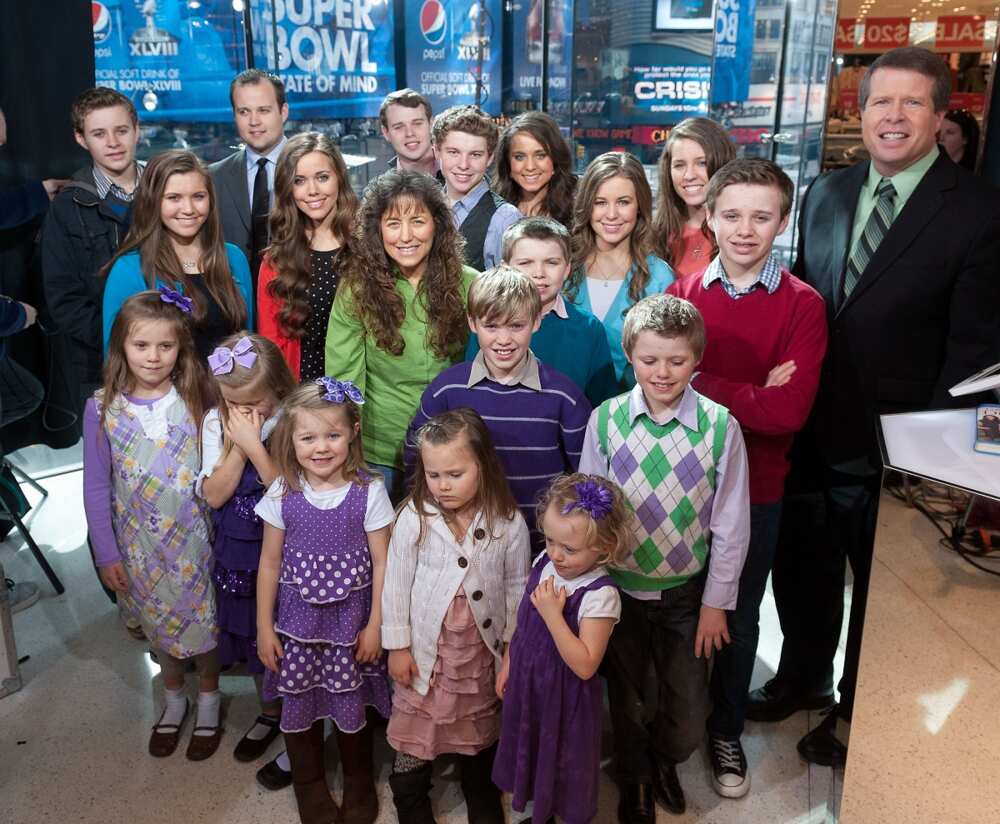 Living with many brothers and sisters is always an exciting experience. As for Jinger, she has 18 siblings. Duggar children's names are:
Jackson Levi (23 May 2004)
Jana Marie (12 January 1990)
James Andrew (7 July 2001)
Jedidiah Robert (30 December 1998)
Jeremiah Robert (30 December 1998)
Jennifer Danielle (2 August 2007)
Jessa Lauren (4 November 1992)
Jill Michelle (17 May 1991)
Jason Michael (21 April 2000)
Johannah Faith (11 October 2005)
John David (12 January 1990)
Jordyn Grace Makiya (18 December 2008)
Josiah Matthew (28 August 1996)
Josie Brooklyn (10 December 2009)
Joseph Garrett (20 January 1995)
Joshua James (3 March 1988)
Joy-Anna (28 October 1997)
Justin Samuel (15 November 2002)
Several of them are already married and have children. Justin Samuel is now engaged to Claire Spivey.
Education
Unlike their parents, none of the Duggar kids went to school or college. Jinger was not an exception. Due to her family's hyper-conservative views, she and her 18 brothers and sisters studied at home.
Michelle – their mom – gave her children religious lessons. In an interview with TLC, she noted:
Our goal has been to do a Christian-based curriculum – one in which there's a lot of character emphasis, character-building like responsibility, honesty, self-control. All those kind[s] of things are woven into the stuff that we use.
She also followed the Advanced Training Institute's lesson plans. Every year, her younger children passed standardized tests, and high school students passed the GED.
Some of them also attended online college courses as part of a program called CollegePlus.
Career
Jinger Vuolo is best known for her appearance in the TLC reality TV series 19 Kids and Counting from 2008 to 2015. She also co-authored the book Growing Up Duggar: It's All About Relationships in 2014.
Recently, she and her husband started their own podcast.
How much is Jinger Duggar worth?
Since she has been on television for years, she has accumulated quite an impressive fortune. As of today, she has a net worth of $2 million. She is the richest among all children born to the Duggars.
Relationship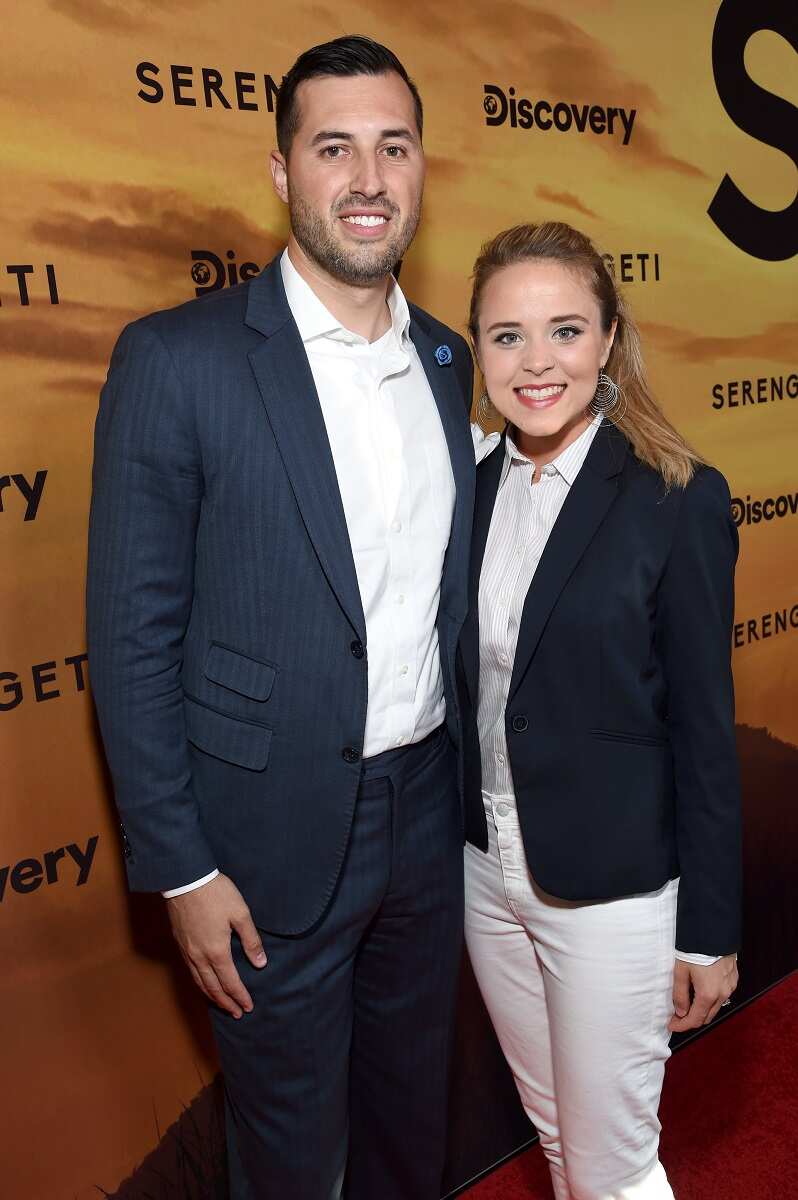 She is married to Jeremy Vuolo. He is a former professional soccer player.
Following three months of engagement, Jinger and Jeremy exchanged their wedding vows on 5 November 2016. It was a royal celebration.
Jinger Duggar wedding ceremony took place in the Cathedral of the Ozarks at Arkansas' John Brown University. The bride wore a gorgeous white dress with a very long train.
The choice of her gorgeous wedding outfit was based on a Bible verse:
I saw the Lord sitting on a throne, high and lifted up, and the train of His robe filled the temple. When Jinger tried on the three protocol dresses, she always looked at the train before she looked at the front, so I knew that was her heart. I wanted the train to be the center of attention [Isaiah 6:1].
The train (by the designer Renee Miller) was later extended to "hit out the ballpark."
How many kids do Jinger and Jeremy Vuolo have?
Jeremy Vuolo and Jinger Duggar daughters
As of today, Jeremy and Jinger have two children. Their first daughter – Felicity – was born on 19 July 2018.
Several years later, the couple revealed details of the miscarriage they had suffered.
Later, Jinger Vuolo pregnant Instagram picture went viral. Then, the couple disclosed the news that they would welcome a second child soon.
Jinger Vuolo baby was born on 25 November 2020. In an exclusive interview with TODAY Parents, Jeremy said:
We've got good news! Jinger is recovering very well, enjoying finally being able to hold her little angel.
Jinger Duggar baby was named Evangeline Jo. "Evangeline" stands for "good news," and "Jo" comes from Jeremy's middle name – Joseph. Jinger's mother was so happy that she could not help sharing the news on social network:
As of today, Jinger Duggar and her husband are working on their relationship. After the second baby was born, the couple felt exhausted and required help. That is why they hired a nanny to help them look after the children.
READ ALSO: Manwell Reyes biography: who is Anjelah Johnson's husband?
Legit.ng recently reported about the life of Manwell Reyes. He became popular as a member of the band Group 1 Crew.
After leaving the band, he began a solo career and appeared in several movies. What is known about his private life?
Source: Legit.ng