Young lady cries out, says Nigeria is not working for her, see why
- Things seem to be going out of place and out of hand for a Nigeria lady despite all her efforts
- The young lady highlighted the difficulty she encountered on the road to getting her driver's license
- She said that Nigeria is seemingly not working for her
PAY ATTENTION: Join Legit.ng Telegram channel! Never miss important updates!
A Nigerian lady has lamented how the country seems not to be working in her favour, not minding the efforts she has put in to making things right.
Taking to Twitter to vent her frustration, the lady identified as Claire decried how institutions of government have become agents of retrogression and discouragement.
Like female anopheles mosquitoes su*cking blood off the skin of an individual, the young lady said her attempts at trying to survive in Nigeria has not been successful.
She narrated how she had gone for data capturing to obtain her driver's license and how it proved abortive as one thing led to another that kept her moving in circles.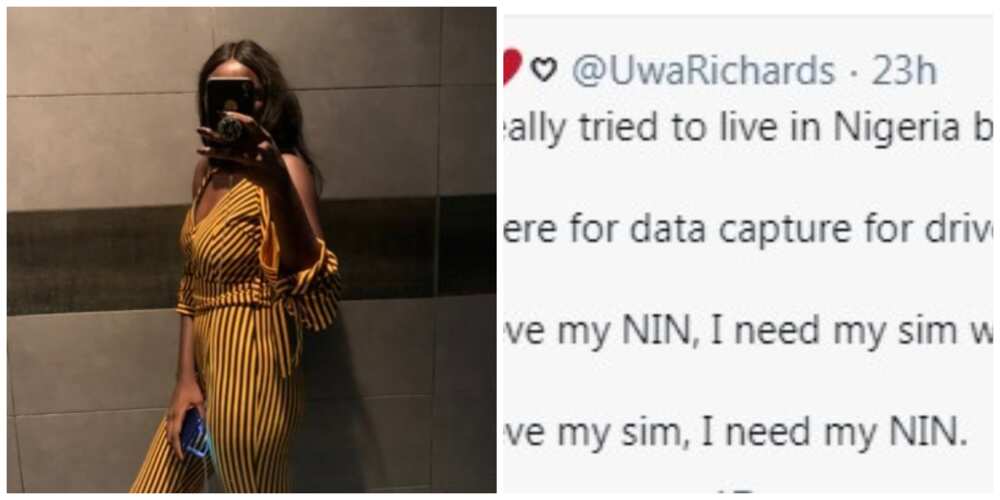 First, she was required to provide her NIN to get the license. However she needed her sim card to retrieve her NIN but unfortunately her phone was stolen along with it.
Again, she needed her NIN to retreive her sim. But that's just the beginning.
She said:
"To retrieve the NIN slip at the NIMC office, one needs to pay 500 for Remittal at the bank and also provide:
"- A valid ID card
"- A sworn affidavit [after providing valid ID]
"- Police report [which cost more than half of minimum wage]
"Then queue up under the sun."
A Twitter user couldn't agree more with her, @Creamberrie said:
"Omo living in Nigeria is hard. GTB made mistake with my friend's d.o.b. To correct it she must bring means of ID. The only one she has is her passport which recently expired. To renew passport she must get her NIN. NIMC said it will cost her 15k and will take 6 months."
@Elvismanutd had a different opinion, he commented saying:
"If you want to japa from Naija go ahead. But don't lie.
"3rd paragraph is a big fat lie! Many ways to retrieve your NIN without your sim or any phone."
@AnasTYusuf said:
"I don't think you need all that bcos I did mine with 3k all in all, in Lagos island."
PAY ATTENTION: Click "See First" under the "Following" tab to see Legit.ng News on your Facebook News Feed!
Meanwhile, Legit.ng had earlier reported how a Nigerian lady lamented after her online shopping went wrong with totally different outfit.
In a Twitter post on Tuesday, December 22, which is a quoted tweet of a post she made on the platform, the lady lamented the fact that she got an entirely different thing from the piece she ordered online.
Source: Legit