Joy as community gifts hardworking man new car after 31 years of working as pizza deliveryman
- A man's hard work of many years has finally been recognised and rewarded in an amazing way
- Robert Peters has served as a delivery man for the Tipton community in Indiana for over 30 years
- The grateful community had opened a GoFundMe account that raised N7.2 million for him within two days
PAY ATTENTION: Join Legit.ng Telegram channel! Never miss important updates!
The diligent years of toil, service and hard work of a man in the United Kingdom has finally paid off after his customers surprised him with a car gift.
Robert Peters has for 31 years served as a deliveryman to the people of the community of Tripton in Indiana and didn't for once waver in his service delivery.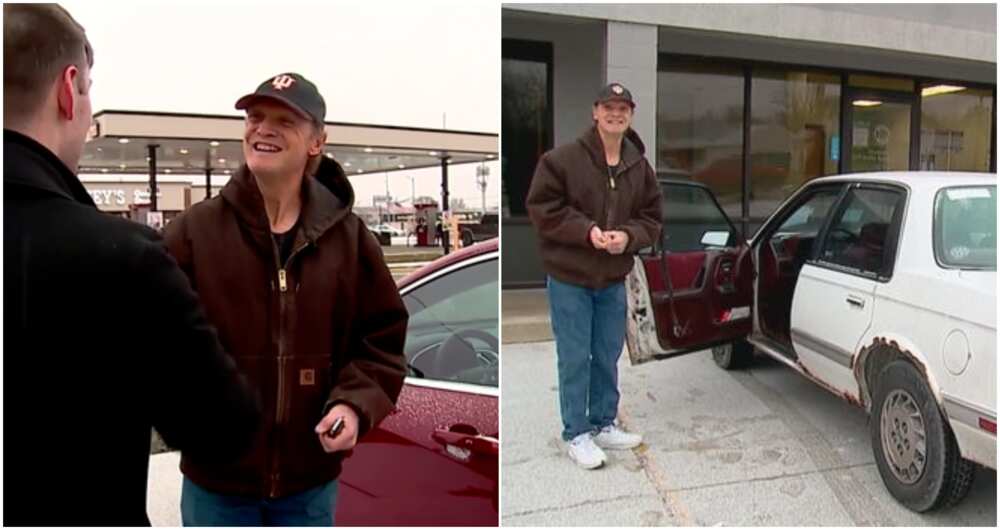 The young man who works with Pizza Hut, according to Insider, has a track-record of customer hospitality and friendliness that has endeared him to his Tipton town customers.
In the words of Tanner Langley, a regular patroniser of his delivery service, Peter has over the years demonstrated his obsessive commitment to customer service without even expecting a reward.
He said the delivery man always made sure his customers get an exact change even if it meant him driving around in search of change.
"He didn't want you to feel like you had to tip him because he didn't have the change."
Touched by the young man's impeccable attitude on the job and character, Langley had started a GoFundMe campaign to raise money to change the deliveryman's Oldsmobile car that has been giving him problems.
In the space of two days, the community had raised about N7.2 million and went ahead to buy him a surprise red 2017 Chevy Malibu car.
The money they raised will also cater for insurance cover as well as gas needed to run the new car.
Overjoyed at the unexpected surprise the deliveryman said it is still a thing of surprise to him.
He said that:
"There were people in my family that were like, 'Maybe you should consider something a little more financially stable.' But it's my purpose in life — trying to make people happy. You know, when you're delivering to somebody, you may be the only face they see all day."
Meanwhile, Legit.ng had earlier reported how a man received a car gift for trekking from Sokoto to Bauchi for Governor Mohammed.
Mustapha Yusuf said he decided to trek for Governor Mohammed because of the success he has achieved in the state.
Nigerians raise money for Airport worker who returned millions after Legit.ng's report | Legit TV
Source: Legit.ng