Trump pardons 73, commutes sentence for 70 others (Full list)
As part of his final acts in office, President Donald Trump has granted pardons to 73 individuals and commuted the sentences of an additional 70 individuals.
PAY ATTENTION: Join Legit.ng Telegram channel! Never miss important updates!
This report provides you with the full list of those who are lucky to receive presidential clemency according to a White House release sighted by Legit.ng.
Here is the full list
Todd Boulanger
Plead guilty to one count of conspiracy to commit honest services fraud.
Abel Holtz
President Trump granted a full pardon to Abel Holtz.
Representative Rick Renzi
Trump granted a full pardon to Representative Rick Renzi of Arizona. In 2013, Renzi was convicted of extortion, bribery, insurance fraud, money laundering, and racketeering.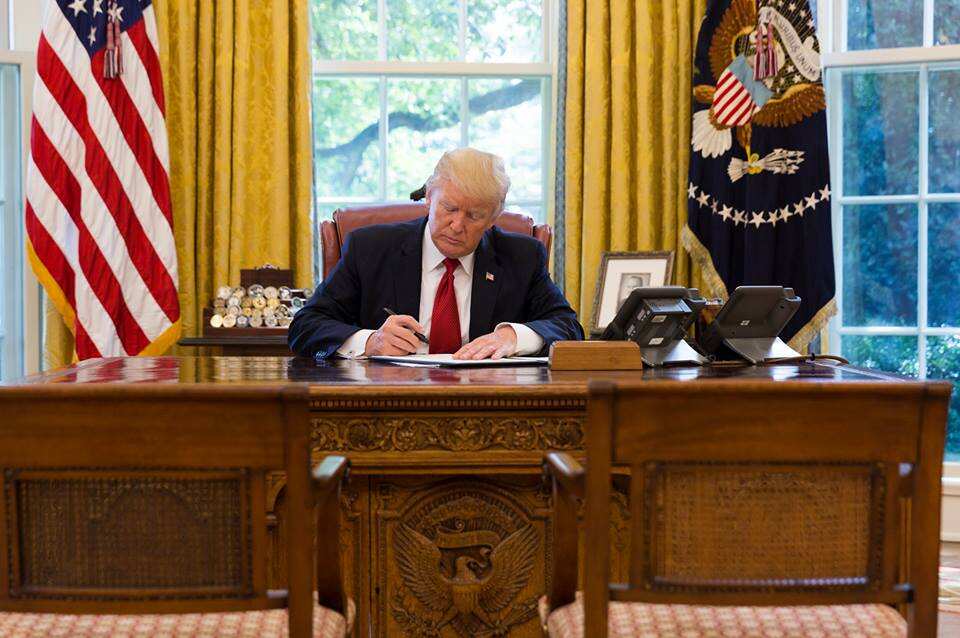 Kenneth Kurson
Trump granted a full pardon to Kenneth Kurson. Kurson was charged with cyberstalking related to his divorce from his ex-wife in 2015.
Steve Bannon
Bannon was charged last year with swindling Trump supporters over an effort to raise private funds to build the president's wall on the US-Mexico border. He has pleaded not guilty.
Elliott Broidy
Broidy pleaded guilty in October to acting as an unregistered foreign agent, admitting to accepting money to secretly lobby the Trump administration for Chinese and Malaysian interests.
Kwame Kilpatrick
The former Detroit mayor was sentenced in 2013 to 28 years in prison following his conviction on two dozen charges including racketeering, bribery and extortion from a conspiracy.
Lil Wayne
Lil Wayne, 38, whose real name is Dwayne Michael Carter, pleaded guilty in federal court in December to illegally possessing a firearm and faced up to 10 years in prison.
Sholam Weiss
Weiss was convicted of bilking $125m from National Heritage Life Insurance and its elderly policyholders.
Casey Urlacher
Urlacher has been charged with conspiracy to engage in illegal ga*bling.
Carl Andrews Boggs
Boggs pled guilty to two counts of conspiracy. Since his release
Jaime A. Davidson
In 1993, Mr. Davidson was convicted and sentenced to life imprisonment in relation to the murder of an undercover officer. Witnesses who testified against Mr. Davidson later recanted their testimony in sworn affidavits.
James E. Johnson, Jr
Mr. Johnson pled guilty to charges related to migratory birds.
Tommaso Buti
Buti was charged with financial fraud involving a chain of restaurants.
Bill K. Kapri
Trump granted a commutation to Bill Kapri. He was sentenced to 46 months in prison for making a false statement on a Federal document.
Jawad A. Musa
Musa was sentenced to life imprisonment for a non-violent, drug-related offense.
Adriana Shayota
Trump commuted the sentence of Adriana Shayota. She was convicted of conspiracy to traffic in counterfeit goods, commit copyright infringement, and introduce misbranded food into interstate commerce.
Glen Moss
President Trump granted a full pardon to Glen Moss.
Anthony Levandowski
Levandowski pled guilty to a single criminal count arising from civil litigation.
Aviem Sella
Mr. Sella is an Israeli citizen who was indicted in 1986 for espionage in relation to the Jonathan Pollard case.
Michael Liberty
Mr. Liberty was convicted for campaign finance violations and later was indicted for related offenses.
Greg Reyes
Reyes was convicted of securities fraud.
Ferrell Damon Scott
Mr. Scott has served nearly 9 years of a life imprisonment sentence for possession with intent to distribute marij*ana.
Below are others who got full pardon or commuted clemency
Abel Holtz
Kenneth Kurson
Casey Urlacher
Carl Andrews Boggs
Dr. Scott Harkonen
Johnny D. Phillips, Jr
Dr. Mahmoud Reza Banki
James E. Johnson, Jr
Tommaso Buti
Glen Moss
Aviem Sella
John Nystrom
Scott Conor Crosby
Lynn Barney
Joshua J. Smith
Amy Povah
Dr. Frederick Nahas
David Tamman
Dr. Faustino Bernadett
Paul Erickson
Gregory Jorgensen, Deborah Jorgensen, Martin Jorgensen (posthumous)
Todd Farha, Thaddeus Bereday, William Kale, Paul Behrens, Peter Clay
Patrick Lee Swisher
Robert Sherrill
Dr. Robert S. Corkern
David Lamar Clanton
George Gilmore
Desiree Perez
Robert "Bob" Zangrillo
Hillel Nahmad
Brian McSwain
John Duncan Fordham
William "Ed" Henry
Randall "Duke" Cunningham – conditional pardon
Stephen Odzer
Steven Benjamin Floyd
Joey Hancock
David E. Miller
James Austin Hayes
Drew Brownstein
Robert Bowker
Amir Khan
David Rowland
Jessica Frease
Robert Cannon "Robin" Hayes
Thomas Kenton "Ken" Ford
Ferrell Damon Scott
Jerry Donnell Walden
Jeffrey Alan Conway
Benedict Olberding
Syrita Steib-Martin
Michael Ashley
Lou Hobbs
Matthew Antoine Canady
Mario Claiborne
Rodney Nakia Gibson
Tom Leroy Whitehurst
Monstsho Eugene Vernon
Luis Fernando Sicard
DeWayne Phelps
Isaac Nelson
Traie Tavares Kelly
Javier Gonzales
Douglas Jemal
Eric Wesley Patton
Robert William Cawthon
Hal Knudson Mergler
Gary Evan Hendler
John Harold Wall
Steven Samuel Grantham
Clarence Olin Freeman
Fred Keith Alford
John Knock
Kenneth Charles Fragoso
Luis Gonzalez
Anthony DeJohn
Corvain Cooper
Way Quoe Long
Michael Pelletier
Craig Cesal
Darrell Frazier
Lavonne Roach
Blanca Virgen –
Robert Francis
Brian Simmons
Derrick Smith
Jaime A. Davidson
Raymond Hersman
David Barren
James Romans
Jonathon Braun
Michael Harris
Kyle Kimoto
Chalana McFarland
Eliyahu Weinstein
John Estin Davis
Alex Adjmi
Noah Kleinman
Tena Logan
MaryAnne Locke
Jawad A. Musa
Adriana Shayota
April Coots
Caroline Yeats
Jodi Lynn Richter
Kristina Bohnenkamp
Mary Roberts
Cassandra Ann Kasowski
Lerna Lea Paulson
Ann Butler
Sydney Navarro
Tara Perry
Jon Harder
Chris Young
Adrianne Miller
Fred "Dave" Clark
William Walters
James Brian Cruz
Salomon Melgen
Recall that Legit.ng reported Trump set the record straight for those who care to know that he will not be attending the inauguration of Joe Biden as the next president of the United States.
Biden's official swearing-in after his victory was certified by the US legislative chambers on Thursday, January 7 - despite the attack on the Capitol Hill - is slated for Wednesday, January 20.
In a historical chain of tradition that is set to be again broken, Trump pulled the trigger in a Twitter rant on Friday, January 8, as he said he will not be available for the inauguration, though the embattled president earlier promised he would ensure a smooth and orderly transition into the new presidency.
Nigerians who shone brightly at the US elections | Legit TV
Source: Legit Nigeria