Adjoa Andoh biography: family, net worth, movies and TV shows
Individuals who earned global praises for their achievements have made daring steps in their past to live their passion. For Adjoa Andoh, she switched to the acting scene from pursuing her studies in Law. It was perhaps the best decision, following as a result of her breath-taking performances in the industry.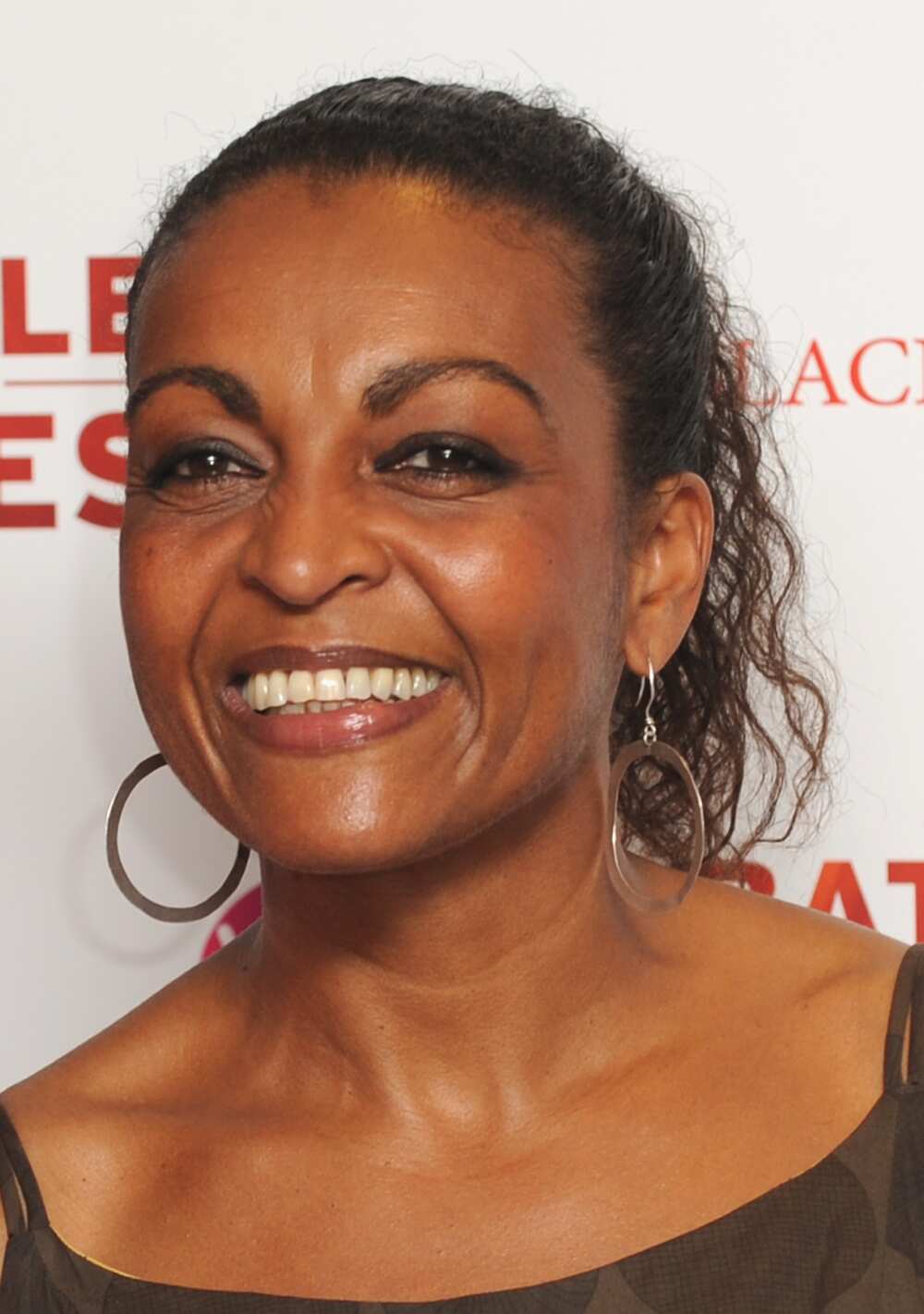 Adjoa is a British actress whose growth to the global stage is credited to her craft's versatility. She has engrossed herself in almost all the forms of entertainment and failed to impress in none.
The talented actress has made appearances with riveting performances in theatres, films, radio, and television. She is also a voice-over artist.
She has indeed left a mark in the creative industry. She is loved by many for her current role in the Netflix television series Bridgeton.
Her lead role as Lady Danbury has left everyone in awe of her acting skills.
Profile summary
Full name: Adjoa Andoh
Date of birth: January 14, 1963
Place of birth: Bristol, England, UK
Age: 58 years (as of 2021)
Nationality: British
Siblings: Yeofi (brother)
Height: 5 feet and 4 inches
Weight: 58Kgs
Marital status: Married
Children: Jesse and Daisy (daughter) and Liam (son)
Occupation: Actress, voice-over artist
Net worth: $61 million
Twitter: @andoh_adjoa
Instagram: @adjoa.andoh
Adjoa Andoh biography
Here is everything you need to know about Adjoa Andoh, including details about her personal life and career.
Background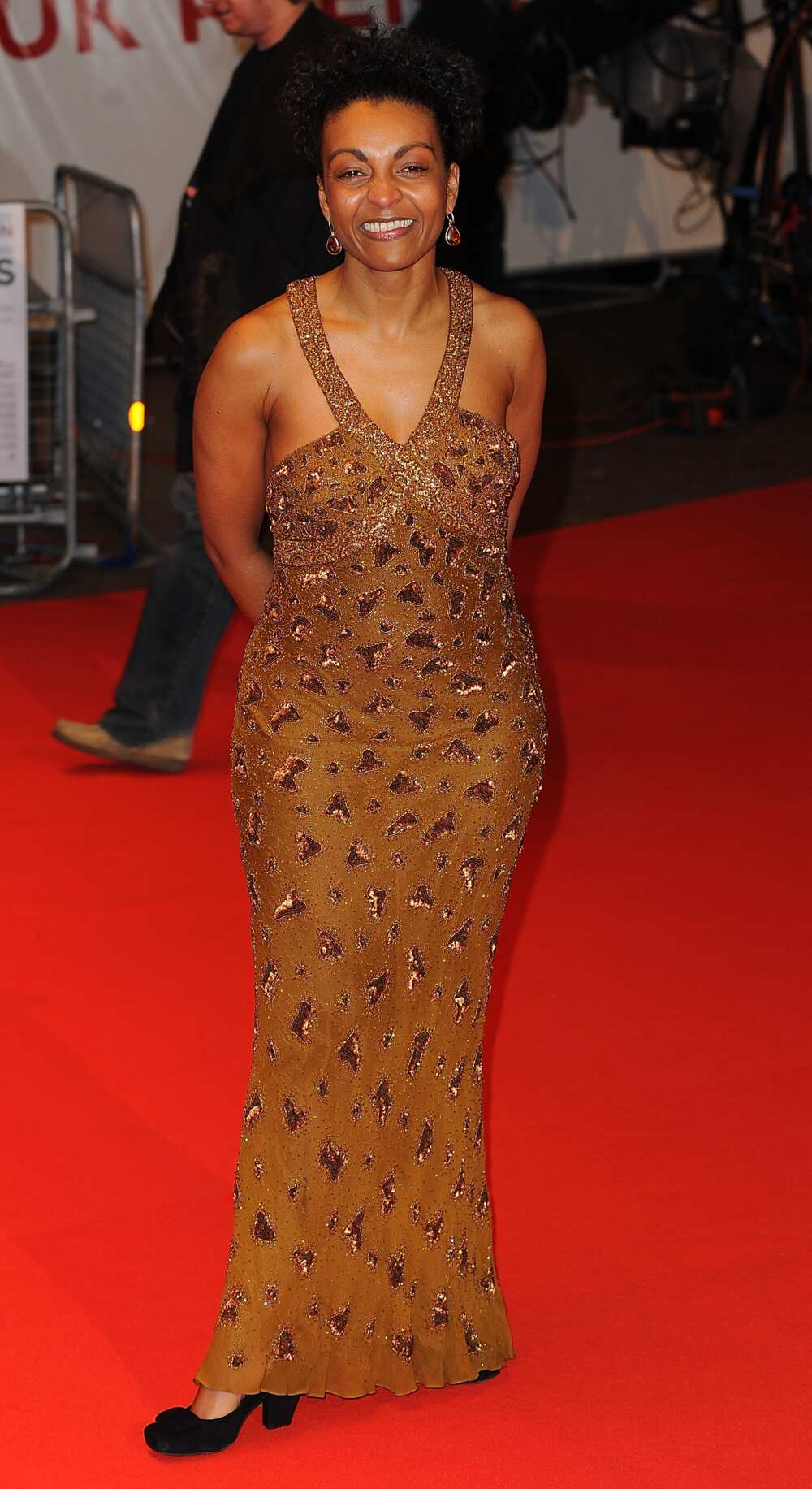 On January 14, 1963, the British actress was born in Clifton, Briston, as Adjoa Aiboom Helen Andoh. She was raised in Wickwar, England, United Kingdom, and has one brother called Yeofi.
Adjoa Andoh parents are of different origins. Her father is a Ghanaian, while her mother, who was a teacher, is English. Her father was a journalist and musician. He also worked for British Aerospace.
As of 2021, Adjoa Andoh's age is 58 years. She's recently celebrated her birthday.
Education
Adjoa Andoh attended Katharine Lady Berkeley's School in Gloucestershire.
She successfully graduated and later enrolled at Bristol Polytechnic, where she pursued her studies in Law before switching to acting.
Career
When she was 16 years old, Adjoa was inspired to pursue acting after visiting the theatres and watching the play Plenty. For the love of acting, she forgot her studies in Law after two years in the course.
She was compelled to pursue acting and quickly moved to Theatre center, Islington, where she kicked off her theatrical works. Although she had no training in acting, she was determined to mold a career in the craft.
Showing aptitude in her acting skills, the British actress soon graced more theatre stages in the United Kingdom. Her meteoric rise is credited to the substantial and spectacular works in the theatres.
After several appearances in theatres, she was ready for the film industry. Adjoa made her television debut with EastEnders in 1990. Her role in EastEnders as Karen was a major boost in her subsequent roles.
Adjoa also utilized her striking voice to reap from the offers of showbiz. She joined the BBC Radio company and starred featured in various radio programs, including The Archer, where she played Fiona Lloyd, Alistair's sister.
Andoh's voice was the acting gift that kept her moving. She further immersed herself in the waters of a voice-over artist.
She has voiced various audiobooks such as Chimamanda Ngozi Adichie's Americana, including children's books.
Andoh was also cast as a voice-over artist in video games. Her voice has been used in over ten video games.
Adjoa Andoh movies and TV shows
Here is a list of movies and TV shows where the famous actress has nailed it in every appearance she had made. It includes other radio programs and video games her voice has been featured in.
Movies
1991: London South West as Marion
1995: What My Mother Told Me as Jesse
2004: Every Time You Look at Me as Mrs. Berry
2007: The Shadow in the North as Jessie Saxon
2008: Adulthood as Mrs. Peel
2009: Invictus as Brenda Mazibuko
2016: Brotherhood as Mrs. Peel
2019: Fractured as Dr. Jacobs
Television shows
1990 – 1991: EastEnders as Karen
1992 – 2004: The Bill as Mrs. Hughes/Diana Holt
1993 – 2003: Casualty as Maggi/Colette Kierney/Griffiths
1994: The Brittas Empire as Reporter
1995: The Tomorrow People as Amanda Jones
1996: Paul Merton in Galton and Simpson's as Defense Counsel
1997: Peak Practice as Dr. Nixon
1998: Close Relations as April
1999: Jonathan Creek as Anthea Spacey
2006: Doctor Who as Sister Jatt
2007: Wire in the Blood as Celeste Davies
2009 – 2011: M.I. High as Head of MI9
2011: Scott & Bailey as Janice
2012: Julius Caesar as Portia
2014: Wizards vs. Aliens as Old Bethesta
2015: Broadchurch as Julie
2015 – 2020: Thunderbirds Are Go as Colonel Casey
2016: Line of Duty as Prosecutor
2018: Death in Paradise as Celeste Jones
2020: Silent Witness as DI Nina Rosen
2020: Bridgerton as Lady Danbury
Theatrical plays
Dark Materials - The National Theatre
Stuff Happens - The National Theatre
The Revenger's Tragedy - The National Theatre
A Streetcar Named Desire - The National Theatre Studio
Troilus and Cressida - Royal Shakespeare Company
Julius Caesar - Royal Shakespeare Company
Tamburlaine - Royal Shakespeare Company
The Odyssey - Royal Shakespeare Company
The Dispute - Lyric Hammersmith
Pericles - Lyric Hammersmith
Julius Caesar - The Bridge
Purgatorio - Arcola
Starstruck - Tricycle
In The Red and Brown Water - Young Vic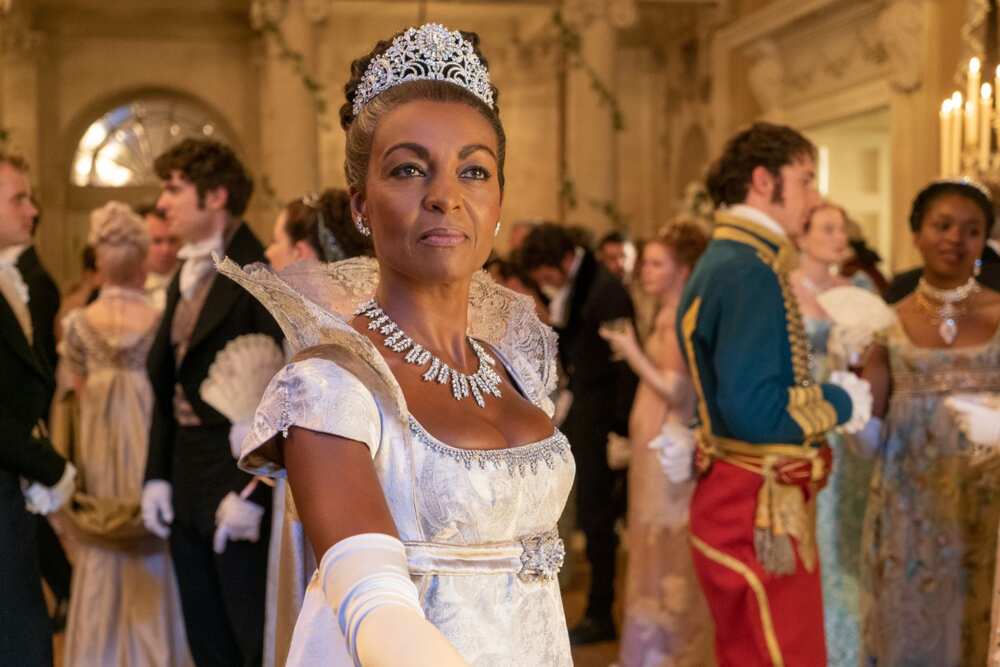 Radio programs
1991: The Blade of the Poisoner as Dorina
2009: Planet B as Narrator of the series
2019: The Archers as Fiona Lloyd
Videos games (voice-over artist)
2001: Wave Rally
2004: Fable
2005: Kameo
2008: Age of Conan
2008: Fable II
2010: Dante's Inferno
2010: Fable III
2012: The Secret World
2012: Fable: The Journey
2014: Dreamfall Chapters
2017: Horizon Zero Dawn
Adjoa Andoh family
Besides her engaging career, Adjoa Andoh is a proud mother and a loving wife. Adjoa Andoh husband is Howard Cunnel. The couple was married in early 2001.
Howard Cunnel is a teacher and author. His recent work is a novel, The Painters House, which premiered in January 2020. He has also previously worked as a research fellow at the university.
The two share a strong connection, which has manifested heavily in how they have been supporting one another in their respective careers.
Adjoa and her husband, Howard, were blessed with children. They have two daughters Daisy and Jesse, and a son, Liam.
The Adjoa Andoh family doesn't live in the same country. One of Adjoa Andoh daughters lives in Chile and works as a teacher of English.
Adjoa Andoh son, Liam, came out as transgender. He revealed he was a boy trapped in a girl.
Adjoa Andoh net worth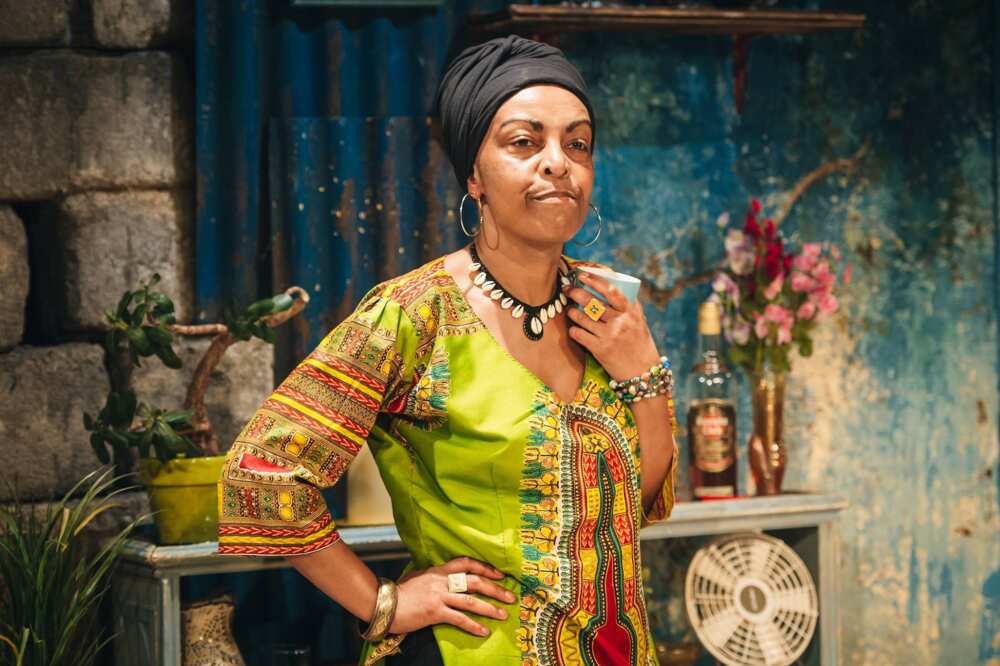 Adjoa Andoh net worth has been on the rise thanks to her versatility. She has transverse across the main forms of entertainment and garnered a rather substantial amount in her worth.
She has reaped abundantly from her career endeavors. Her net worth is estimated to be $61 million.
We love Adjoa Andoh for her spectacular performances. Her charming personality has attracted a considerable following, and her inevitable growth is destined for greatness.
READ ALSO: Golda Rosheuvel biography: age, background, movies and TV shows
Golda Rosheuvel is a Guyanese-British actress and singer who has amassed fame and fortune for her mind-blowing talent in showbiz. The actress is well-known for her theatrical work.
As reported by Legit.ng, Golda Rosheuvel has featured in various movies and TV shows. She has recently taken the entertainment industry by storm through Queen Charlotte's role in the Netflix Original television series Bridgerton.
Source: Legit.ng