New Year message: Major takeaways from Obasanjo's remark on economy, Buhari's administration
Olusegun Obasanjo, two-term former Nigerian president and head of state, on Tuesday, December 29, pulled the trigger again as he did a thorough assessment of the economy, security, and agricultural engagement under the watch of President Muhammadu Buhari.
PAY ATTENTION: Join Legit.ng Telegram channel! Never miss important updates!
The former president, in his New Year message to Nigerians, maintained that it is high time Nigerian leaders worked hard to diversify the economy and improve the worsening security crisis across the country.
Obasanjo, who spoke in a statement from his Obasanjo Presidential Library, Abeokuta, Ogun state, called on the government to centrally engage the agricultural sector in order to provide jobs and make "a glorious 2021."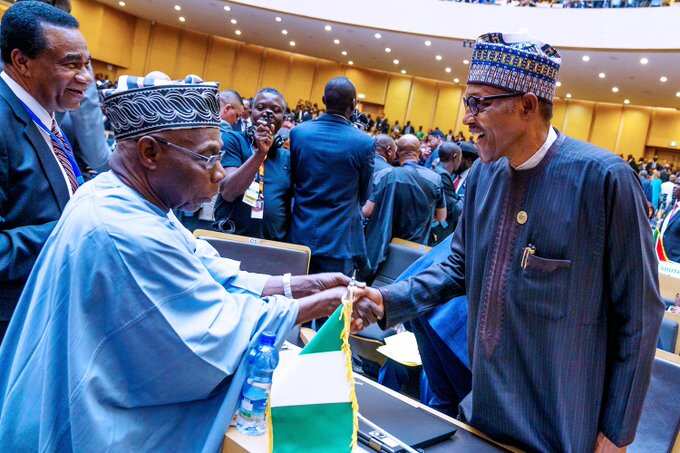 Meanwhile, Legit.ng highlights major takeaways from the former president's speech as sourced from The Punch.
1. Prayer must go with work
Obasanjo said if Nigeria must achieve a glorious year in 2021, the Buhari-led government must stop adopting the wrong strategies to tackle economic challenges.
According to the former president, it is wrong to pray alone without putting more efforts into hard work.
"Prayer must go with work and work must go with prayer. And I believe we need to work hard in this country as we pray hard so that the coming year, the year 2021 will be a glorious year for us."
2. No Nigerian must go to bed hungry
Obasanjo said with the available resources in the country, no Nigerian is expected to be poor and go hungry.
He further stated that Nigerian leaders must stop blaming God for the woes of the country, adding that a better Nigeria "will not happen without work."
3. Security and bad economy
According to the former president, Nigeria is putting embers on its roof with the security of lives and properties being daily endangered.
Obasanjo lamented that many people "have gone to the great beyond" due to tumbling economy and collapse of the security architecture.
4. COVID-19
He also expressed a clear standpoint on how the coronavirus pandemic has affected the country but expressed hope in 2021 being a good year.
"We have gone from one form of insecurity to bad economy and on the top of it is the COVID-19. Some people, either for insecurity or for bad economy or for COVID-19 have gone to the great beyond."
PAY ATTENTION: Download our mobile app to enjoy the latest news update
Meanwhile, Legit.ng reported that Obasanjo addressed the claim by Senator Anthony Adefuye that his ancestry is not Yoruba but Igbo, with the former president maintaining that his "two parents were from Owu in Abeokuta."
In his book titled 'My Watch Volume 2: Political and Public Affairs', the former president had traced his ancestry to the Yorubas, maintaining his parents are from Abeokuta, Ogun state.
The former president who ruled between 1999 and 2007 said as a Yoruba man, he has the tribal marks of Owu, settling the specks of dust on his race.
Obasanjo and Jonathan are good | - on Legit TV
Source: Legit.ng