If not for Tinubu, APC would have lost 2015, 2019 polls, says Bakare
- The truth about how the APC got its victory in the 2015 and 2019 presidential polls is finally out
- Pastor Tunde Bakare has revealed that it was majorly through the political craftiness of Bola Ahmed Tinubu
- Bakare was reacting to talks by some persons who are more interested in challenging Tinubu's lineage
Pay Attention: Join Legit.ng Telegram channel! Never miss important updates!
Pastor Tunde Bakare of the Citadel Global Community Church has replied persons who have challenged the ancestry of Asiwaju Bola Ahmed Tinubu, a former governor of Lagos.
The outspoken Christian cleric called All Progressives Congress (APC) national leader's detractors to look to the life of Jephthah in the Bible and see how he secured massive victory for the Israelites despite family background, Vanguard reports.
Pastor Bakare in his opinion said it goes beyond argument to say that God does not need anyone's permission to Tinubu in his hall of fame.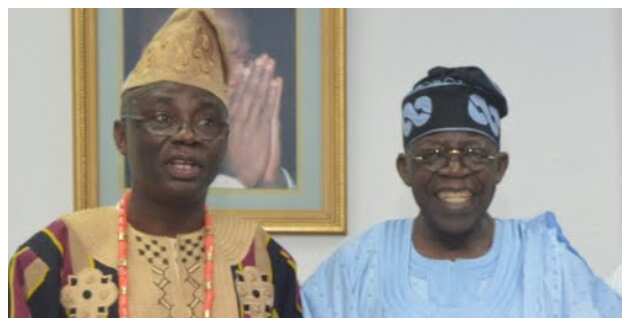 He added that like Jephthah, the APC leader, through his political dexterity and cooperation, achieved victory for the ruling party during the 2015 and 2019 presidential elections, amid obstacles and difficulties he faced.
Bakare said:
"Despite his growing up challenges, the dents and the detours of his life, he like Jephthah delivered Lagos state and nearly all the southwest states from the onslaught of the PDP from 1999 to 2007.
"Truth be told, without his cooperation and political dexterity, the APC victory at the polls in 2015 and 2019 would have been impossible."
Bakare added that those who are envious of Tinubu's power slot and desire to take his place should get busy with adding value to themselves instead of ranting about his lineage.
The cleric said:
"Those who are envious of him and those who desire to take his power slot should stop their useless talk about him, and busy themselves with what can add value to society.
"Like Jephthah the Gileadite, he has fought many battles on behalf of the Yoruba people and won despite his rough beginning and God does not need anybody's permission to put such in his hall of fame despite their past deeds and ancestry."
Meanwhile, Tinubu had been urged to drop the presidential ambition for 2023.
The appeal was made on Wednesday, December 23, by a former lawmaker and Senate chief whip, Roland Owie.
Owie further explained that justice was to allow other regions to produce President Muhammadu Buhari's successor since the zoning arrangement began from the southwest.
2023 election: Why a northerner should be President again - Shettima | Legit TV
Source: Legit