Blasphemy: Kudos to Ganduje for promising to sign execution order by Aanu Adegun (Opinion)
Editor's note: In this satirical piece, Aanu Adegun writes on Governor Ganduje's response to the death sentence against a singer from Kano who was accused of blasphemy.
Read below: Click "See First" under the "Following" tab to see Legit.ng News on your Facebook News Feed!
The governor of Kano state, Abdullahi Umar Ganduje, has finally spoken and he has vowed to sign the death sentence passed on that Kano singer for blasphemy.
Specifically, here is what this great governor said: "I will not waste time in signing the warrant for the execution of the man who blasphemed our holy prophet of Islam. If he does not appeal within the 30 days, I, Dr. Abdullahi Umar Ganduje, the executive governor of Kano, will sign the death warrant. If he exhausts his appeal at the Supreme Court, I will not waste a minute to sign the death warrant."
This is really commendable. As a matter of fact, this is how normal governors should act in situations like this, I mean governors that fear God. Governors who were anointed and chosen by the almighty.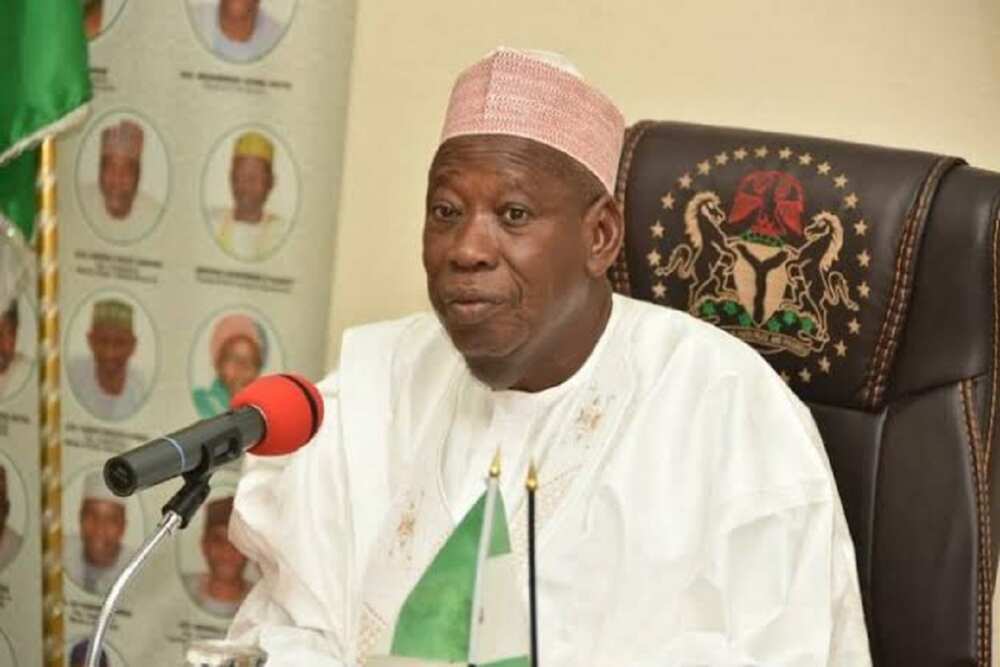 I honestly want to urge the unblemished governor, if it is possible, to quickly sign the death warrant now and keep it somewhere while awaiting judgement of appeal and Supreme Court. What is wrong is wrong and the governor must make a statement with this and let everybody know that Kano state will not take rubbish from anyone. No sinner must be allowed in Kano.
I understand that some people are not happy with this. I understand some people claim it is wrong to sentence someone to death in a country where terrorists are being forgiven. Well, let us put sentiments apart, blaspheming is more serious than terrorism. Terrorism is bad, but blaspheming is more 'badder'. And we must fight blasphemy just as we are fighting terrorism.
Here are 4 reasons why I am in support of Governor Ganduje on this blasphemy issue.
1. Governor Ganduje himself is a God-fearing man
Have you ever heard any bad thing about Governor Ganduje? No! the governor is God-fearing. He is impeccable. He has never, since his birth, done anything against the tenets of Islam, Kano state or Nigeria.
2. He is religious and a defender of the faith
Since he came to power, Governor Ganduje has defended the Islamic faith rigorously. That is the reason there is no crime in Kano. It is also the reason all worshippers in the state have committed no sin. It will also interest you to know that as a person, the governor has not committed any sin since the beginning of last year.
3. He is also principled
One thing is certain, Governor Ganduje is a principled man. He will always do the right thing at all times. If the law says, kill him, he will kill the person without a second thought. He is a no-nonsense man that Nigerians should respect more. There is no need to talk about mercy here. It is about respecting and upholding the law of the land.
4. Ganduje is not doing it for support of anybody
Some people might think the governor is doing this because he wants support from the clerics. This is a lie. Ganduje is in his second term in office. He needs nothing from no one. After all, he has nothing to be afraid of after tenure.
Disclaimer: The views and opinions expressed here are those of the author and do not necessarily reflect the official policy or position of Legit.ng.
Your own opinion articles are welcome at info@corp.legit.ng— drop an email telling us what you want to write about and why. More details in Legit.ng's step-by-step guide for guest contributors.
Contact us if you have any feedback, suggestions, complaints or compliments. We are also available on Twitter.
Ex Bishop David Abioye's driver quits Living Faith Church, converts to Islam | Legit TV
Source: Legit.ng