- A 69-year-old woman, Mojisola Odegbami, has represented Nigeria well as she featured in Beyonce's Black Is King visual album
- The Nigerian earlier travelled to the US for medical treatment and never thought that her fate would change for good
- Mojisola's encounter with a 7-year-old child actor, FJ, linked her up with Beyonce's staff and contributed to how she landed the role
PAY ATTENTION: Click "See First" under the "Following" tab to see Legit.ng News on your Facebook News Feed!
A 69-year-old Nigerian grandma, Mojisola Odegbami, never thought she would appear in a music video by one of the world's top artistes, Beyonce.
CNN reports that when she travelled to America, a thing like featuring in Beyonce's Black Is King album was not in the picture.
According to the singer, the album was to show clearly that "black is regal and rich in history, in purpose and in lineage".
The Nigerian woman appeared in one of the tracks called Bigger, portraying the character of an African queen. In Mood, she was elegant in African traditional print as she tied gele.
In speaking with CNN, the woman said that her journey to America was for a medical purpose. It was during that trip that she met one Folajomu "FJ Akinmurele who was an actor.
"I was staying with my daughter's friend, and this friend of hers has a 7-year-old son. The son, FJ, is the main character in "Black Is King," she said.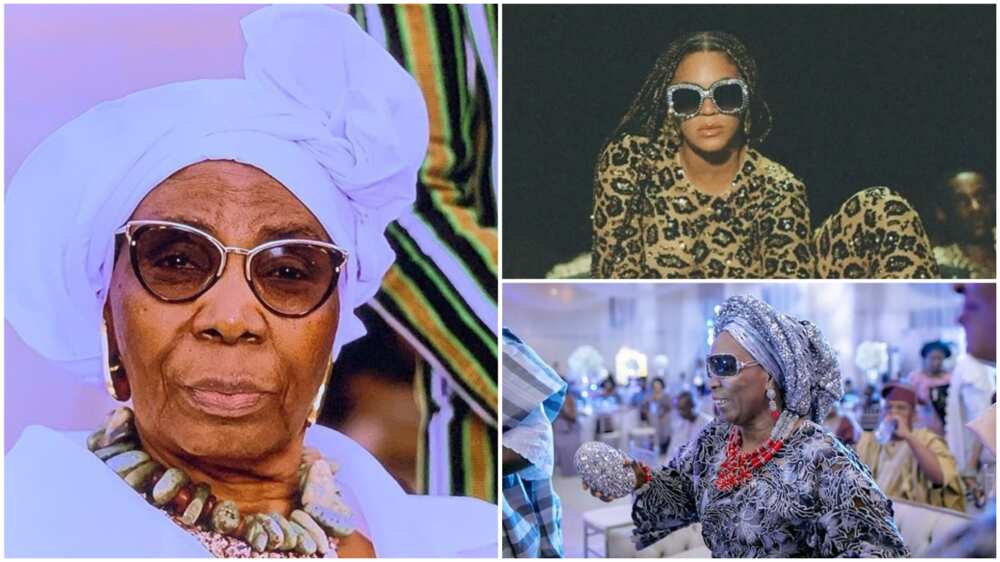 She added that she was the one that was always driving the actor to practice because his mom was not around.
Odegbami said that she became known by Beyonce's staff as grandma Moji. Despite her frequent presence during rehearsals, she was never cast until FJ's mom signed her up with a talent agency.
"I was out shopping one day and she called me, and asked that I come home immediately. I was scared, you know. She said "Grandma, it's very important I need you to please come back home.
"That was how I found myself on the way to L.A that same day for a part in the album. I initially didn't want to go but she kept begging me, so I agreed," she said.
From there on, everything happened so fast and after her audition, she was handed a role in the album.
PAY ATTENTION: Download our mobile app to enjoy the latest news update
She could not take photos with Beyonce on set because cameras and phones were not allowed and she was also made to see an agreement that forbids her from revealing details about the album before release.
Odegami said she was really happy to have represented Nigeria and Africa at large on the album as she thanked her daughter's friend for the great opportunity of signing her up when she did.
Meanwhile, Legit.ng earlier reported that one of the directors from the album is a Ghanaian called Emmanuel Adjei.
While Beyonce takes credit as the main director for the project, she had other 'professionals' helping her and Adjei happened to be one of them.
Meet Madam Abimbola Idowu, the 71-year-old model | Legit TV