Editor's note: Lagos-based public affairs analyst, Abiodun Adekunle, writes on the style of the former national chairman of the All Progressives Congress (APC), Comrade Adams Oshiomhole when it comes to campaigns.
PAY ATTENTION: Click "See First" under the "Following" tab to see Legit.ng News on your Facebook News Feed!
It may not be out of the context of a sincere analysis of the Edo political space to assume that the former national chairman of the All Progressives Congress (APC), Comrade Adams Oshiomhole is a major issue in the September 19, 2020 governorship election.
Apart from the two major contestants, Governor Godwin Obaseki of the Peoples Democratic Party (PDP) and Pastor Osagie Ize-Iyamu of the APC, the other person directly linked to the two is Oshiomhole.
It was Oshiomhole, who brought in Obaseki in 2016 and sold him to the people of Edo. But to convincingly market him, he had to destroy his main challenger, Ize-Iyamu. The aftermath of those scathing words, left in the trail of the pastor's destruction, is yet to subside.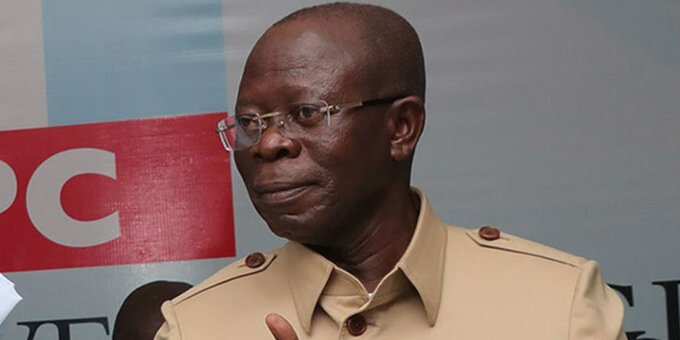 Interestingly, four years after, the situation has changed. Oshiomhole no longer wants his beloved friend, Obaseki, who had done everything humanly possible to destroy his benefactor without as much as a reason other than blackmail. And, in his place, Oshiomhole would rather choose the man he claimed was a no-good some four years ago.
Today, on both sides, Oshiomhole comes handy as a principal campaign tool. While the PDP thinks the former APC chair had done sufficient reelection work for them four years ago with his strident de-marketing of the pastor, the APC is struggling to explain that his words do not hold true of the person of the pastor.
It is, however, smart and strategic, that the APC has tried to let those things remain in the past and refusing to engage the opposition on a cheap character debate. But are the words of a campaigning politician in an election really bankable, especially, those that have not been subjected to scrutiny or a thorough fact-check?
A renowned political blogger in the US, Kathleen Kelly Reardon, disagreed a bit because of the misinterpretation that seems to be adduced to it often, not much could be taken away from it still.
The truth is that Oshiomhole is not duplicitous as the writer fears in her submission, but simply campaigning in poetry by putting his best foot forward, only for election purposes, which of course, turned out as he envisaged. And to be honest, this has always been Oshiomhole: campaigning in poetry!
What Reardon did not envisage, also, is the inanity of the opposition to misapply mere campaign rhetoric for thoughtless mischief. Unfortunately, for the PDP, the Obaseki they are desperately hawking to sell to the Edo people, they also condemned just months ago, alleging he had stolen all of Edo's money.
Therefore, if in their reckoning, all they were doing at the time was play politics, in what slant are they going to dismiss the obvious that Oshiomhole, four years ago had only campaigned in poetry without meaning a line of what he said about Ize-Iyamu, more so that none of those things could pass a simple test?
It is public knowledge that Oshiomhole talks too much and does not always filter the words that proceed out of his mouth. This does not change the fact that Oshiomhole is by all standards a good man, who means well for his people of Edo state and in Nigeria in general.
On the contrary, the PDP and the Edo people must be wary of the nature of Obaseki, who history has vindicated today as coming from a family of traitors that hold no loyalty to friendship or reciprocity of good deeds. He delights only in his greed. He had said far too many kind things about a man, who made him what he is today than to turn around and deny himself.
PAY ATTENTION: Download our mobile app to enjoy the latest news update
This is why we will rather pay attention to a man, whose worldview and philosophy are deserving of a serious study, owing largely to his underpinning historical character traits and whose treachery should not be entertained or tolerated by anyone worth his salt, especially those who boast enviable upbringing.
Thus, in the September election, the problem is not what Oshiomhole said four years ago and which have been found to be untrue. The problem lies in the fact that a certain Governor Obaseki is today living true to the warnings handed by Oshiomhole when he mooted the idea of fielding him as his successor. If there's anyone who is duplicitous and undeserving of the votes of the Edo people, it is the double-faced Obaseki, whose unconscionable nature is irredeemable.
Disclaimer: The views and opinions expressed here are those of the author and do not necessarily reflect the official policy or position of Legit.ng.
Your own opinion articles are welcome at info@corp.legit.ng— drop an email telling us what you want to write about and why. More details in Legit.ng's step-by-step guide for guest contributors.
Contact us if you have any feedback, suggestions, complaints or compliments. We are also available on Twitter.
NWC dissolution: I remain loyal to President Buhari - Oshiomhole | Legit TV