50+ happy belated birthday wishes and messages for forgetful folks
A forgotten birthday can be a contentious issue, especially among friends or lovers. If you ever forget a particular person's birthday, there are numerous sincere happy belated birthday wishes that you can always send after the special day to let the concerned person know that you were thinking of them.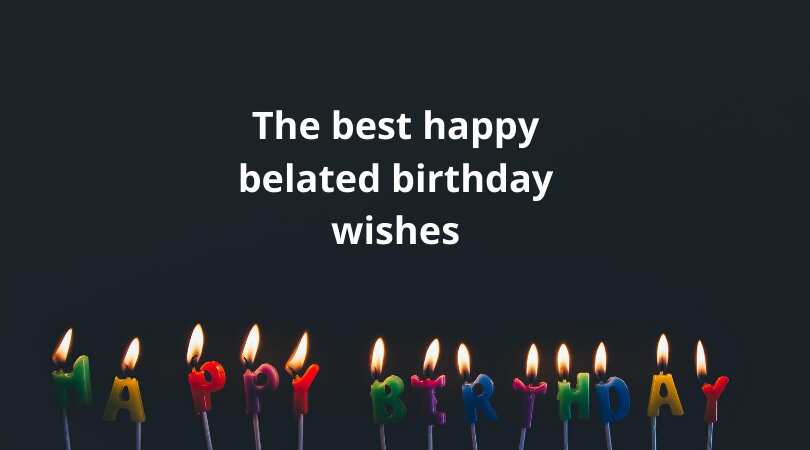 There are often so many distractions in life that can easily make one forget special occasions concerning their friends, lovers, or family. Nonetheless, one is never too late to send some well-thought happy belated birthday wishes.
A person's special day lights up even brighter when it is remembered by those who matter. Take the chance to let that particular person in your life know that you remember their big day.
The best happy belated birthday wishes
In case you happen to forget your loved one's birthday, here are some fantastic happy late birthday messages. Depending on your relationship with the person in question, the messages can vary between hilarious, sincere, and downright profound.
Happy belated birthday funny messages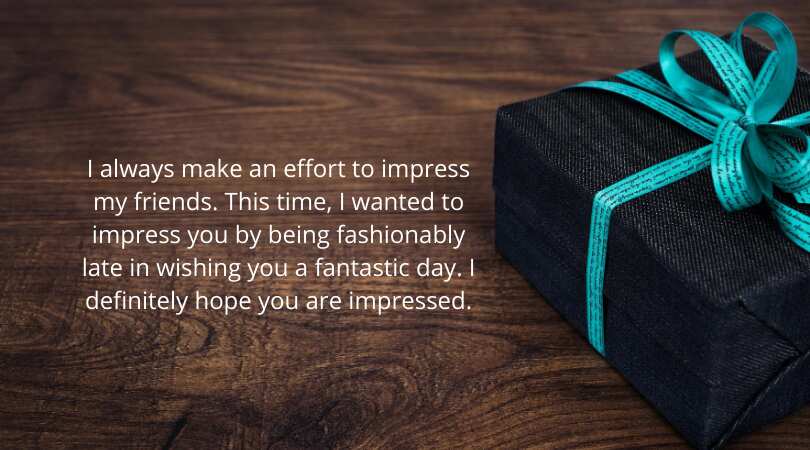 Here are some outrightly funny happy birthday belated messages. These are particularly perfect if the recipient has a sense of humour.
I always make an effort to impress my friends. This time, I wanted to impress you by being fashionably late in wishing you a fantastic day. I definitely hope you are impressed.
Wishing happy birthday on-time is just too mainstream. So, I decided to be a little late. I hope you had a great day!
I am probably the last person to wish you a great birthday this year. Perhaps it is true what they say, that you save the best for last.
If you were not always one step ahead of me, I would just wish you at the right time! It is not my fault, anyway. Happy belated birthday!
Compared to you, I live my life a little bit slower. That is why you are always ahead of me in celebrating your day.
As I get older, it gets harder to remember important dates. Now that you are a year older, maybe you can understand. I hope it was a good one.
Hello my friend, yesterday I went out shopping to get you some fantastic gifts. Like my wish, the gifts ran late so here I am, wishing you a fabulous belated birthday.
I have a funny feeling something important just happened, and I missed it. Was it your special day? I hope it was a good one and that you have a great year to come.
Do not take my belated wish to mean that I forgot about you; I only wanted to give you a surprise.
Do not worry. I did not miss your day; I just wanted to be fashionably late!
Sincere belated birthday wishes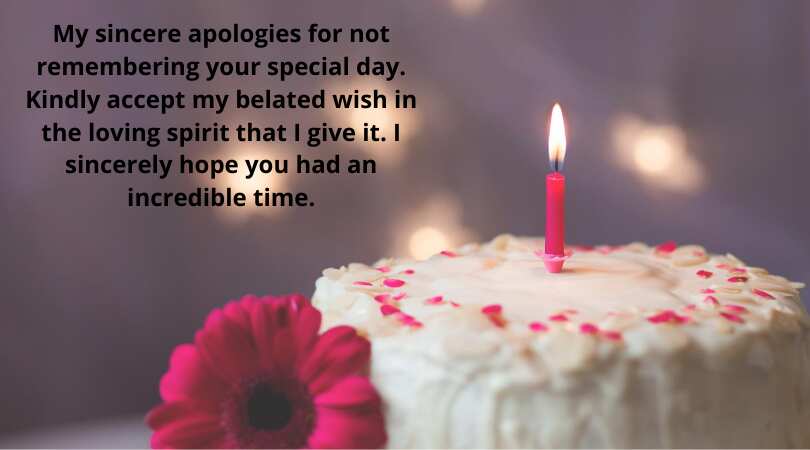 Sincerity is arguably the best virtue to use after forgetting someone's special day. Here are a few heartfelt messages to let the person know that you never forgot.
Keep in mind that while you might get away with forgetting a loved one's special day once, doing it again will make it seem like you do not think much about them.
I would like to wish you a fantastic belated happy special day before any more time passes. I apologize for missing your day, but I promise to make it up to you the next time we meet.
I wish a bit late, but it does not mean that I love you less. Take my apologies for the delay; I really hope that you had a wonderful time!
My sincere apologies for not remembering your special day. Kindly accept my belated wish in the loving spirit that I give it. I sincerely hope you had an incredible time.
Somehow, I lost track of time, and I seem to have missed your special day. I am so sorry. I hope that it was spectacular.
Every once in a while, I inadvertently forget a momentous occasion. Unfortunately, your special days happened to be one of those occasions. Accept my apologies and sincere happy wishes.
I cannot believe that I forgot your special day. Please accept my sincere apologies, and I wish you a blessed and happy year to come.
My guilt for forgetting your day is insurmountable. I promise to make it up to you soon as I can but until then, accept my happy birthday wishes.
Do not, for a moment, think that I forgot your day. You are a fantastic person who deserves to celebrate a special day more than once per year.
Birthdays are special days, but you are special to me every single moment. I hope you had a blast.
I wanted my special day wishes to stand out by not sending them on the same day as everyone else.
Even though this greeting has come to you a bit late, it is full of love, positivity and good wishes. Belated happy birthday!
Best friends do what nobody else can do. Since the entire world has already wished you a happy birthday, it is now my turn. I wish you endless smiles in your life.
A special happy day to my dear friend, although a little late. I hope that you enjoyed it. I am sending you my best wishes and blessings for a happy and prosperous year to come.
Emotional belated birthday greetings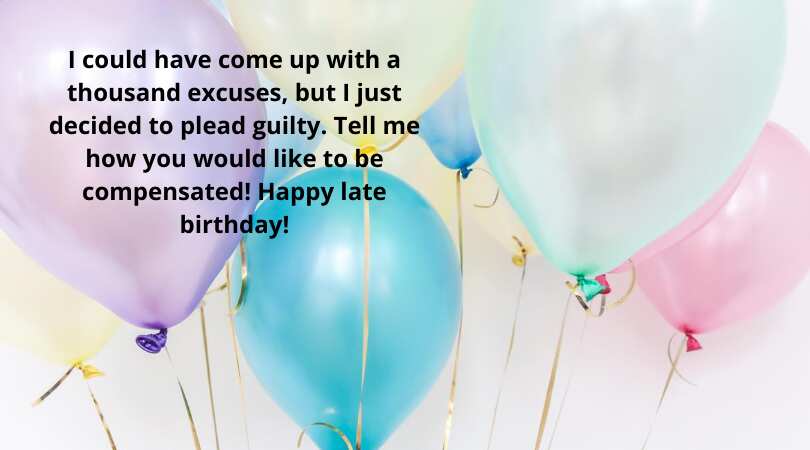 The thought behind a sincere belated wish is as important as the wish itself. The person sending the message should convey some emotions to go with it. Such emotions might include remorse, joy, and an expression of love.
Here are some excellent after-birthday emotional wishes.
I can only hope that you had a fantastic event. No matter how old you turn, you never seem a day older than you did years ago. Well, that makes it hard to remember your special day.
I wish you a late birthday because I believe this will make you feel younger. I do care for you so much.
It is hard to believe that I forgot my pal's special day. I hope you can find it in your heart to forgive me and accept my belated wishes.
I could have come up with a thousand excuses, but I just decided to plead guilty. Tell me how you would like to be compensated! Happy late birthday!
It took me an entire day to decide whether to call you, text you, email you, or send you a Facebook message. By the time I decided, I had realized your birthday had already passed.
You will always be my family, so belated happy birthday wishes to you.
I hope you had lots of fun on your birthday despite me not having wished you a great day.
I know I am a little behind on celebrating your day. Maybe the reason is you live a speedy life, and mine is a little slower.
While I may have forgotten your birthday, keep in mind that you always have a special place in my heart, happy belated birthday!
I meant to wait so that you could extend your day just a little bit longer. The moments go by way too fast if it is only one day.
I forgot to wish you a happy special day. On the bright side, that gives us a reason to celebrate it all over again. We should even do it for an entire week or month.
It took me some time to believe that you are getting older. But then I thought, you are getting wiser too!
My wish may be late, but it is undoubtedly genuine. From the deepest part of my heart, I sincerely wish that you encounter love, happiness, and immense joy.
It is apparent that you have been blessed with many things on your special day. Unfortunately, a punctual message from me was not one of them. Hope you had a fantastic day!
I simply do not believe that you age at all. This makes it impossible to remember your birthday. I hope you had an amazing time.
Just when I felt my life was organized, I totally missed your special day! You are a great friend, and I feel terrible for my forgetfulness. Please forgive my absent-mindedness.
Profound belated birthday wishes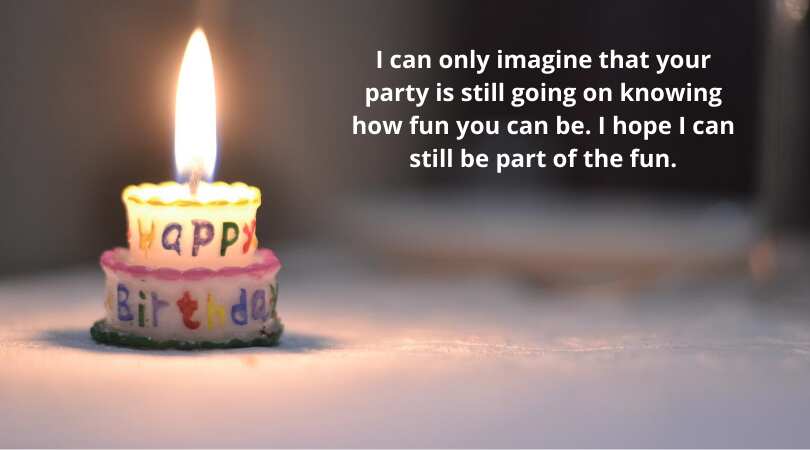 After forgetting someone's special day, the worst you can do is send a haphazardly composed message. This will create the sense that you did not put much thought into the message.
Here are some well-thought belated birthday messages to send to that person you care about.
I can only imagine that your party is still going on knowing how fun you can be. I hope I can still be part of the fun.
Maybe my greetings are not on time, but our beloved thoughts are always similar and are on time. You are so special to me.
Memories last forever, but moments will come and go. I thank you for everything you have ever done for me, and I wish you everything good in life.
My sincere, but belated, wishes for happiness for your special day. I am also sending prayers for blessings and prosperity in the year to come.
I cannot even try to forget your special day. I was only late in sending you the day's wishes.
Please accept my belated wishes for your special day. I hope that you had a lovely time and that your dreams come true in the year to come.
Do you know when Cher wished she could turn back the hands of time? Well, I wish I would too now that I forgot your special day. Have a happy one!
Sorry I am late in wishing you a happy birthday. Lately, I have been living more on a lunar calendar than the solar one.
My late wishes were entirely intentional since I heard that the last wishes are always the best ones. Happy belated birthday friend!
The great thing about being friends is the ability to be honest with one another about anything and everything. I would honestly like to wish you the best belated birthday ever.
We all know that the best things always come to those who wait. My dearest friend, happy belated birthday to you!
When the registered attendees showed up to your party, I am sure they thought I was locked out for misbehaving. Belated birthday wishes!
The last few days have been quite busy for me, and I unintentionally forgot to send you birthday wishes. I hope you really enjoyed it.
You need to look older than last year before you expect me to wish you a happy special day. How else am I supposed to know it is your special day?
My wishes for you might be late, but they will always be sincere. I hope your birthday was the best one you ever had.
Happy belated birthday images
Besides sending your friend, lover, or family member a message, you could also send them a happy belated birthday image such as the ones below.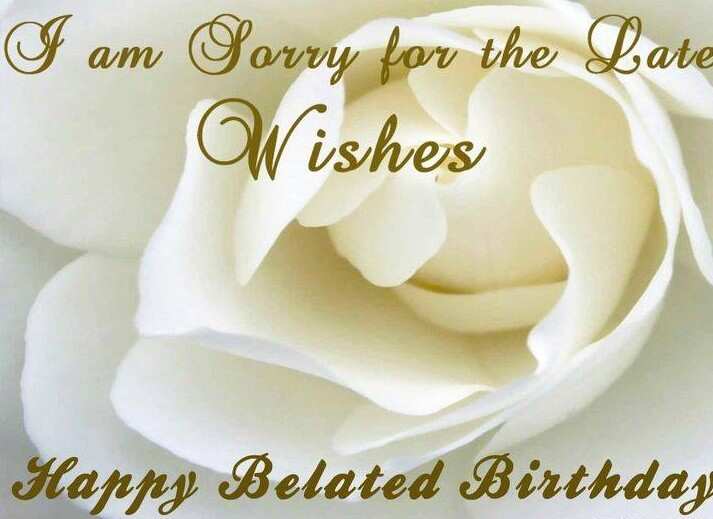 An excellent and sincere belated birthday wish.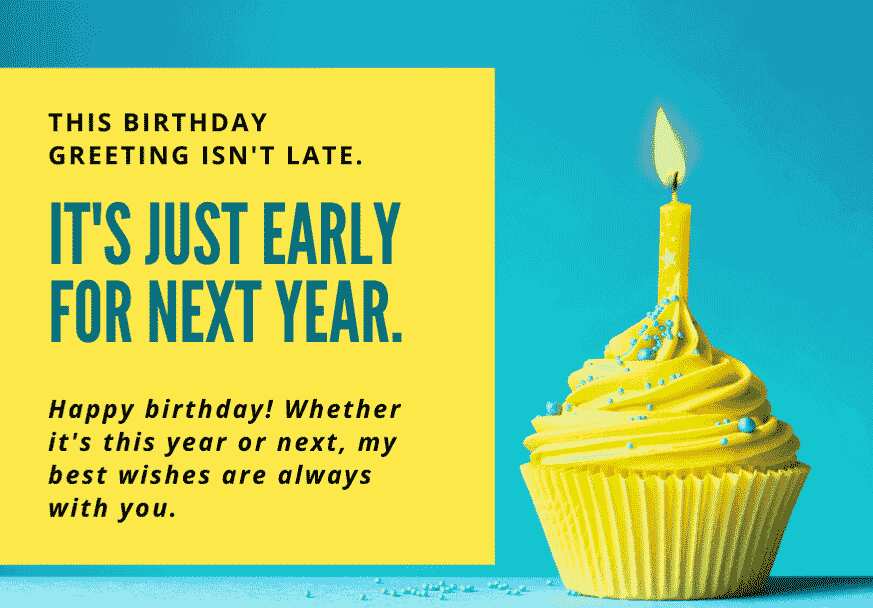 Is it okay to say happy belated birthday?
When you are late to send your wishes for someone's special day, you have plenty of options for expressing your apology and that you still wish them a happy birthday.
While it is quite common to come across the phrase 'happy belated birthday,' the best way to use the word 'belated' is in the phrase 'belated happy birthday.'
If you have been looking for the perfect happy belated birthday message, the above collection has got you covered. Feel free to send one of the wishes to your loved one.
READ ALSO: Happy birthday wishes for husband
Learn how to lift your husband's spirits on his special day by sending him one of these fantastic wishes from Legit.ng. This message might pretty well be the difference between a gloomy and bright day for him.
Crafting the perfect message for your lover's special day can be quite daunting. Well, rest assured that the guide has you covered.
Source: Legit.ng