Woman gets N22m in return after donating N38k to wounded policeman
- A single mum who had just lost her job amazingly won a $100 (N38,800) lottery ticket
- Shetara Sims donated the winnings to a police officer who was shot in the line of duty
- Her generous act resulted in a GoFundMe campaign being set up for her
- The campaign raised $57,000 (N22,116,000) overshooting the original goal of $10,000 (N3,880,000)
PAY ATTENTION: Click "See First" under the "Following" tab to see Legit.ng News on your Facebook News Feed!
Shetara Sims of Kansas City, Missouri, is a single mum from the United States who is a dedicated Christian. She did something truly amazing.
She lost her job a month ago and was down on her luck when she found a dollar bill in the parking lot outside a grocery store.
Shetara bought a lottery ticket with the dollar bill and miraculously won $100 (N38,800).
Legit.ng learnt that her 12-year-old daughter was with her and suggested when she found out that her mum had won, that she donate the money to a worthy cause.
"Mom, we should give that to the police officer who got shot," the girl said, according to a GoFundMe page that was set up for the family.
The Kansas City Missouri Police Department posted the news of her donation on Facebook:
"Today, Shetara and her daughter Rakiya came to meet some of the coworkers of the officer who was critically wounded.
"They also were there during the shooting. Shetara and Rakiya are the ones who had little money, but after finding a dollar in a grocery store parking lot used it to buy a lottery ticket that ended up winning $100 and then decided to donate it to the wounded officer."
Her act of kindness set a series of amazing things in motion, people were so moved by her donation that they set up a GoFundMe account for her to help her out. It was a bit tricky to track her down but they did, according to Western Journal.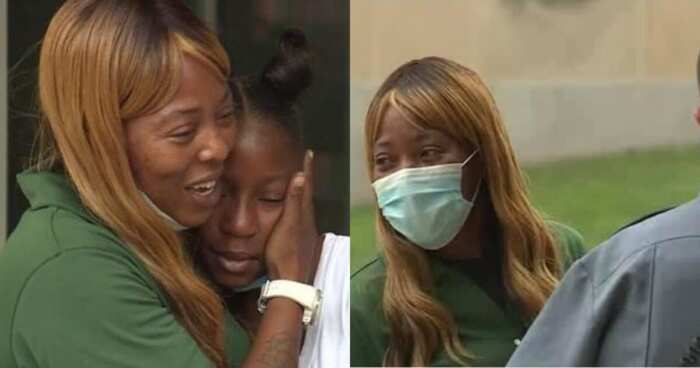 Even after she was told about the crowdfunding campaign for her, she was concerned that the officer's family would need it more than her.
"It took a while to find them, but we're so glad we did, and we're so glad they got to meet the wounded officer's coworkers and friends. (And because so many people reached out wanting to help Shetara and her daughter, we set up this GoFundMe page: gf.me/u/ygr4ya)," the post continued.
PAY ATTENTION: Install our latest app for Android, read the best news on Nigeria's #1 news app
The campaign ended up raising an impressive $57,000 (N22,116,000) at the time of publishing, far exceeding the original goal of $10,000 (N3,880,000).
In other news, a pregnant woman has been blessed by a stranger who accosted her on the road and gave her $10,000 to take care of herself, her son and the baby she's expecting.
The stranger stopped to ask the woman a few questions and the woman told him she was pregnant, after which he extended the cash gift to her.
My life has changed! Female shoe cobbler says after getting help through Legit.ng| Legit TV
Source: Legit.ng News