Riley Roberts bio: Who is Alexandria Ocasio-Cortez's boyfriend?
Who is Riley Roberts? He is a popular American internet entrepreneur and web developer who is well-known for being in a relationship with Alexandria Ocasio-Cortez (AOC), an American activist-politician serving as the U.S. Representative for New York's 14th congressional district.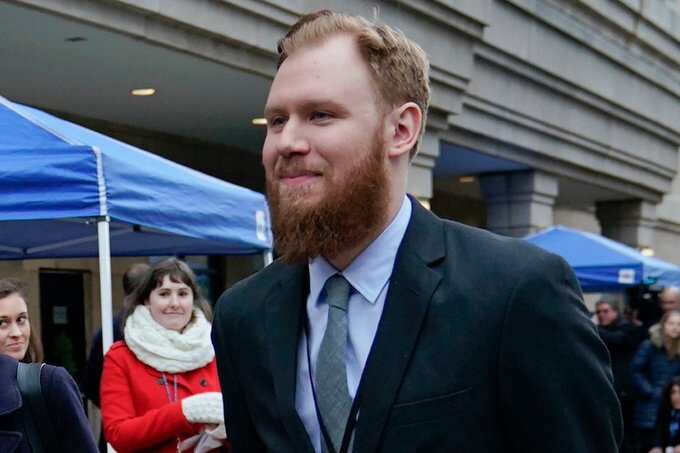 Alexandria Ocasio-Cortez partner is skilled in different aspects of business consultation, such as conversation optimization, user experience design, and digital marketing. Riley is also well known for his ability to implement excellent practices to promote start-ups across the internet. Through his techniques, he has been helping many companies get and maintain their treasured clients and generate more revenue.
Profile summary
Full name: Riley Roberts
Year of birth: 1988
Town of birth: Arizona, United States of America
Nationality: American
Career: Web developer
Ethnicity: White
Girlfriend: Alexandria Ocasio-Cortez
Riley Roberts biography
The technology consultant was born in Arizona, the USA in 1988.
He is an alumnus of Chaparral High School. After graduating from high school, Alexandria Ocasio Cortez boyfriend joined Boston University, from where he graduated with a B.S in Business Administration and Management and a B.A in Sociology.
He also has a DigitalMarketer certification in Ecommerce Marketing Mastery and another in Conversion Funnel Mastery.
Body measurements
How tall is Riley Roberts? His height is 5 feet 11 inches (1.80m). He weighs 79 kgs (174 lbs). His chest, waist, and hips measurements are 42-32-37 inches, respectively.
His hair is light brown while his eyes are brown.
Career
AOC's boyfriend started his career in 2012, immediately after graduating from Boston University; he began working at Riley UX as a UX growth consultant.
After one year, he shifted his focus to working independently for subscription start-ups after realizing that this was an excellent way to show his internet potential.
Ocasio Cortez boyfriend joined HomeBinder in January 2014 as the head of marketing. HomeBinder is an online home management platform that makes it easier for modern homeowners to maintain and manage their homes properly.
AOC boyfriend's work in the company entails managing the company's website and looking for the best social media marketing strategies. The internet entrepreneur is also part of the founding team of this SaaS start-up.
In 2017, he was awarded certificates for e-commerce marketing and conversion funnel. The certificates were issued by DigitalMarketer, a leading online community for digital marketing specialists.
Over the years, AOC partner has assisted firms in getting reliable customers, clients, and revenue. So far, the web developer has helped over 60 start-ups improve their digital marketing strategies, user-experience design, and landing pages.
Relationship
Riley and Alexandria met at Boston University during a weekly conversation which had been hosted by the dean of the university.
Alexandria Ocasio-Cortez Riley Roberts relationship made Robert move from Arizona to the Bronx to be with AOC.
The couple was featured in the Netflix documentary Knock Down the House.
AOC is popular for making history as the youngest woman to serve in Congress. The congresswoman is tight-lipped about her personal life, and so the Riley Roberts Alexandria Ocasio-Cortez relationship is low-key.
Random facts about Riley Roberts
Roberts has a budding career of his own.
He met his girlfriend, Alexandria, in college.
Riley has always been AOC's biggest supporter.
He was present during AOC's swearing-in as a congresswoman.
Roberts made AOC'S mother his biggest fan due to the support he gave AOC during her campaign
He occasionally appears on AOC's social media platforms.
Riley Roberts controversies
In February, conservative podcast host Luke Thompson tweeted a picture of Roberts's email, claiming in the caption that the freshman representative AOC was paying Roberts to be a member of her staff. His tweet read,
"While you were having a nice Valentine's Day, @AOC decided to put her boyfriend on staff - drawing a salary on the taxpayer's dime. Nice to see her adapting to the swamp so quickly."
However, the screenshot, which included Roberts' phone number and email address, was temporarily taken down and was said to be a violation of Twitter's terms of service.
AOC quickly clarified that Riley had obtained an official House email address to get access to her calendar.
Alexandria Ocasio-Cortez boyfriend net worth
Riley Roberts AOC's boyfriend has accumulated a lot of wealth over the years. All of his wealth is from his career as an internet entrepreneur. As of 2020, Riley Roberts net worth is approximately 1.5 million USD.
Riley Roberts is an American internet entrepreneur famous for dating Alexandria Ocasio Cortez. AOC boyfriend Riley Roberts' dedication as a web developer and technology consultant has played a critical role in promoting the growth of many start-ups across the internet.
Source: Legit