If George Floyd had done his DNA, he was probably from Nigeria - Abike Dabiri
- NIDCOM and NCAC bosses, Abike Dabiri-Erewa and Otunba Olusegun Runsewe, have come together to mourn Goerge Floyd
- The NIDCOM boss, Abike Dabiri, charged all black people across the world to come together and invest well in Africa
- On his part, Runsewe said the solidarity conference is a show to the world that enough is enough to the black people maltreatment
PAY ATTENTION: Click "See First" under the "Following" tab to see Legit.ng News on your Facebook News Feed
Nigerians in Diaspora Commission (NIDCOM) and National Council for Arts and Culture (NCAC) came together to mourn the passing of George Floyd, the black American man who suffered police brutality.
During a press conference, NIDCOM boss, Abike Dabiri-Erewa, spoke on the need for black men around the world to make a spiritual connection with Africa, their motherland.
She said that if the Chinese and others could invest in the continent, then black people all around the world need to do the same and make Africa great.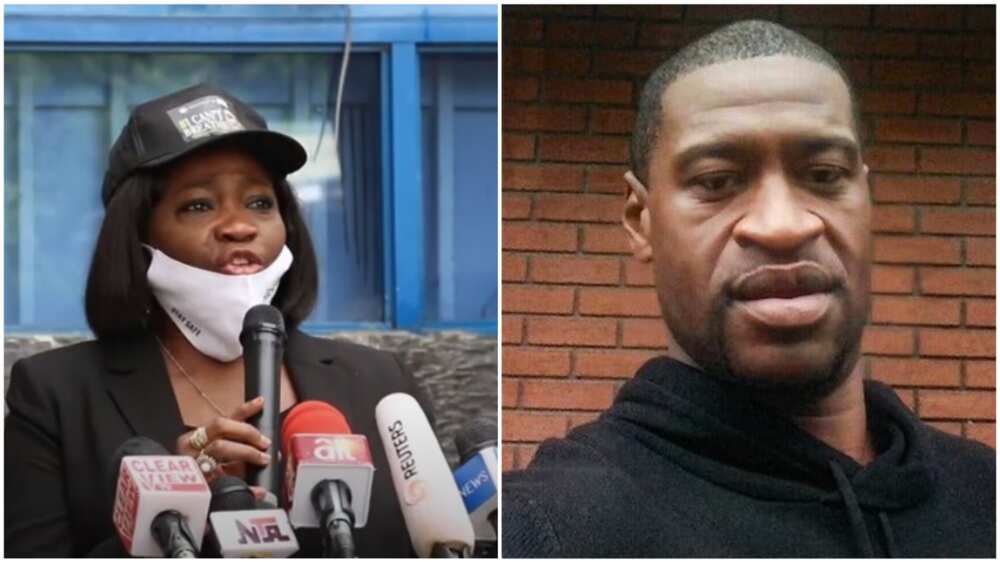 "If George Floyd had done his DNA, he was probably a Nigerian by birth. A lot of African-Americans had tried to do their DNAs and you know what, a lot of them came from Nigeria.
"This kind of thing that happened (referring to Floyd's death) is not acceptable anywhere in the world," she said.
She added that the world would continue to look down on black people as long as Africa remains underdeveloped.
The director of NCAC, Otunba Olusegun Runsewe, said that though we live in a wicked world, our culture is of love and respect for human dignity.
He said the two organisations coming together in the solidarity gesture is "a new message to the world that enough is enough".
Watch the video below:
Meanwhile, Legit.ng earlier reported that Reverend Al Sharpton, one of the foremost human rights activists in the US, gave a very moving eulogy at Floyd's funeral service in Houston on Tuesday, June 9.
He said that God looked at an "ordinary brother from the Third Ward, from the housing projects" and made him the face of a movement that would child the world.
PAY ATTENTION: Download our mobile app to enjoy the latest news
Sharpton said that what happened to the late black American man was not "just a tragedy" but that "it was a crime".
In pointing at the hypocrisy of some people in authorities, he said that though they are standing and grinning in front of cameras, they are the people who are going to try to slow the justice process and Floyd's family down.
"If four blacks had done to one white person what they did to George, they would not have to teach social lessons…, they would send them to jail. Until we know the price for black lives is the same for white lives, we're gonna keep coming to this situation over and over again," he said.
George Floyd: I was also arrested, handcuffed wrongly - Nigerian in Minneapolis | Legit TV
Source: Legit.ng