Best Uncle Iroh quotes from the Avatar: The Last Airbender
Uncle Iroh is the wisest personality on "Avatar: The Last Airbender", and a lot of people wish they had a mentor figure like him to grant them his life lessons. This adorable man won people's hearts due to his charisma and kindness. Here are the most famous Uncle Iroh quotes that have the potential to inspire you.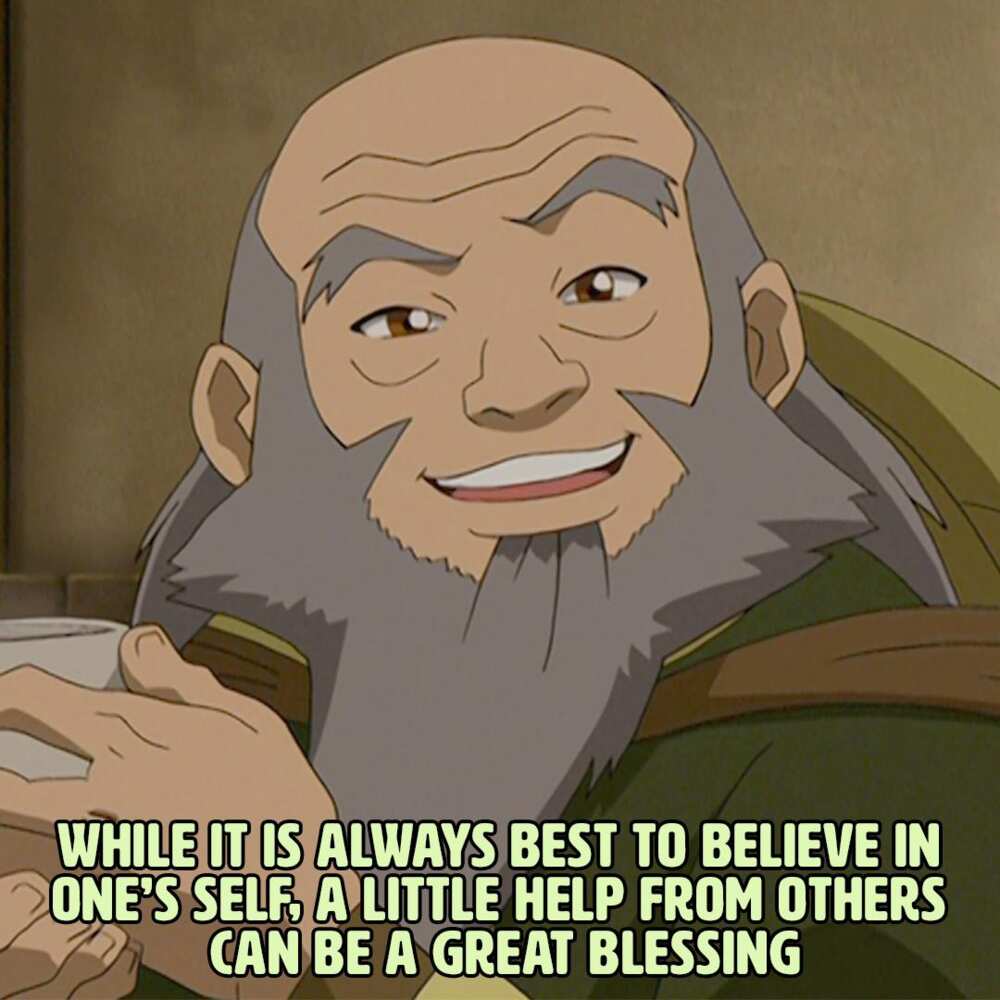 The widely known animated show"Avatar: The Last Airbender" is universally loved by children and adults. It teaches a lot of valuable life lessons and passes some positive messages about friendship, family, and peace in the world.
One of the most beloved characters from this show is Iroh, Prince Zuko's uncle and mentor, who treated him with special kindness and care after losing his own son. Through his wise lessons and advice, he hoped to instill the right values in his nephew and bring him closer to his true destiny.
Best Uncle Iroh quotes about life
The wise mentor has a lot of different views on life. Due to his tremendous experience, he is able to share his ideas about the meaning of life with youngsters, especially his beloved nephew Zuko.
"Sometimes, life is like this dark tunnel. You can't always see the light at the end of the tunnel, but if you just keep moving... you will come to a better place."
"Life happens wherever you are, whether you make it or not."
"Destiny is a funny thing. You never know how things are going to work out. But if you keep an open mind and an open heart, I promise you will find your own destiny someday."
"There are reasons each of us are born. We have to find those reasons."
"There is nothing wrong with a life of peace and prosperity. I suggest you think about what it is that you want from your life, and why."
"You must never give into despair. Allow yourself to slip down that road, and you surrender to your lowest instincts."
Avatar the Last Airbender Iroh quotes
Many of the iconic Avatar quotes come from Iroh, mainly because he has been through a lot in his life and has retained both his wisdom and sense of humor.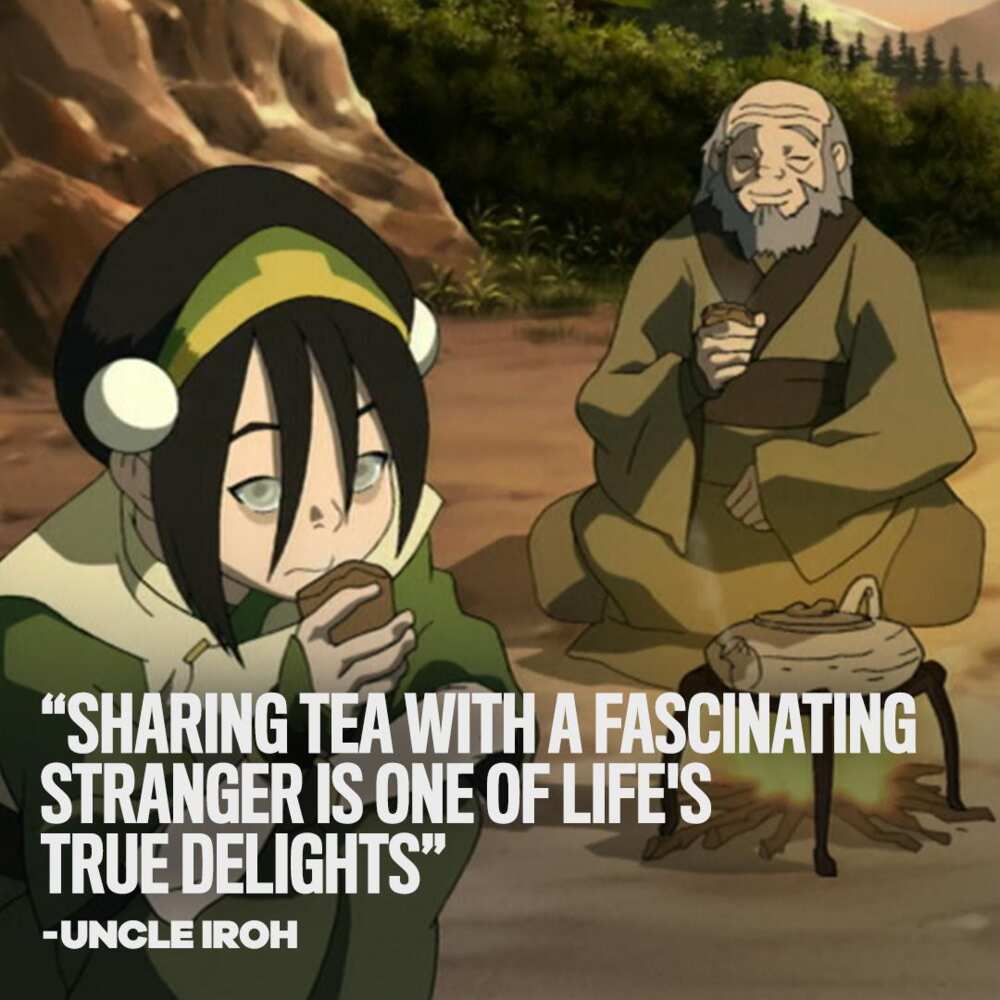 "Sometimes, the best way to solve your own problems is to help someone else."
"Protection and power are overrated. I think you are very wise to choose happiness and love."
"Are you so busy fighting you cannot see your own ship has set sail?"
"Sharing tea with a fascinating stranger is one of life's true delights."
"In the darkest times, hope is something you give yourself. That is the meaning of inner strength."
"Pride is not the opposite of shame, but its source. True humility is the only antidote to shame."
"You sound like my nephew, always thinking that you need to do things on your own without anyone's support. There is nothing wrong with letting people who love you help you."
"Be careful what you wish for, Admiral. History is not always kind to its subjects."
"Many things that seem threatening in the dark become welcoming when we shine a light on them."
"Even in the material world, you will find that if you look for the light, you can often find it... But if you look for the dark, that is all you will ever see."
General Iroh quotes about bending
Bending, or performing elemental magic, is a key theme of the series. Some children are born with the magic of fire, air, water, or earth, and can put their powers in use.
However, there are a lot of things the characters needed to remember before they started bending, such as achieving the right state of mind so that magic is performed properly. Otherwise, it can lead to mistakes.
Some of the bending-related quotes are a great analogy to real life. Due to Iroh's lessons, Zuko managed to achieve balance within himself.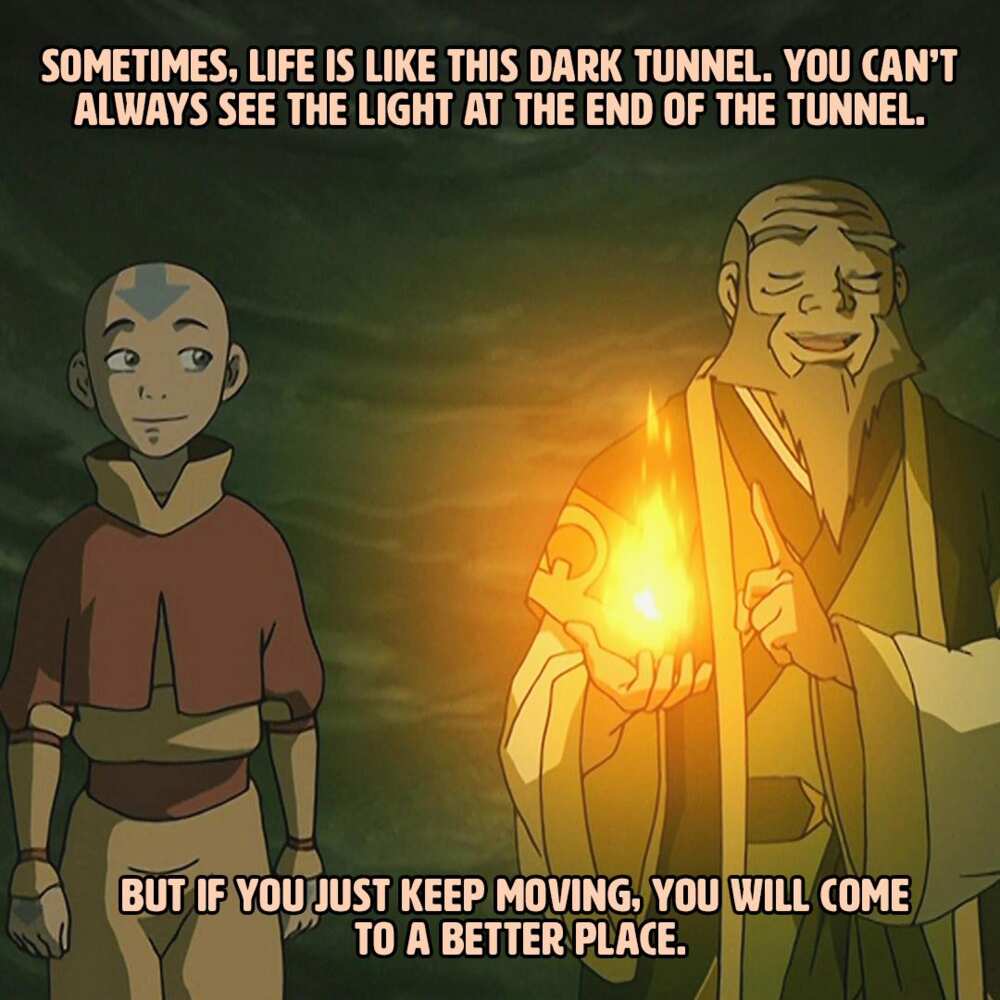 "It's important to draw wisdom from many different places... If we take it from only one place, it becomes rigid and stale."
"Understanding others, the other elements, the other nations, will help you become whole."
"It is the combination of the four elements in one person that makes the Avatar so powerful. But it can make you more powerful too."
Uncle Iroh quotes funny
Aside from being a great mentor, this nice old man is also quite hilarious. Every time we watch Avatar, we laugh at his antics, especially his love for tea and the way he can talk about it in every situation.
"I know you're not supposed to cry over spilled tea, but it's just so sad!"
"More tea, please!"
"Ick! This tea is nothing more than hot leaf juice!"
"Sick of tea? That's like being sick of breathing!"
"So I was thinking about names for my new tea shop… how about… the Jasmine Dragon? It's dramatic, poetic… has a nice ring to it."
Uncle Iroh wisdom
It seems like every time this lovable mentor appears on the screen, he grants the viewers a new kind of wisdom. These Avatar Iroh quotes can help you out in difficult times, as they provoke a lot of thoughts and are easy to relate to.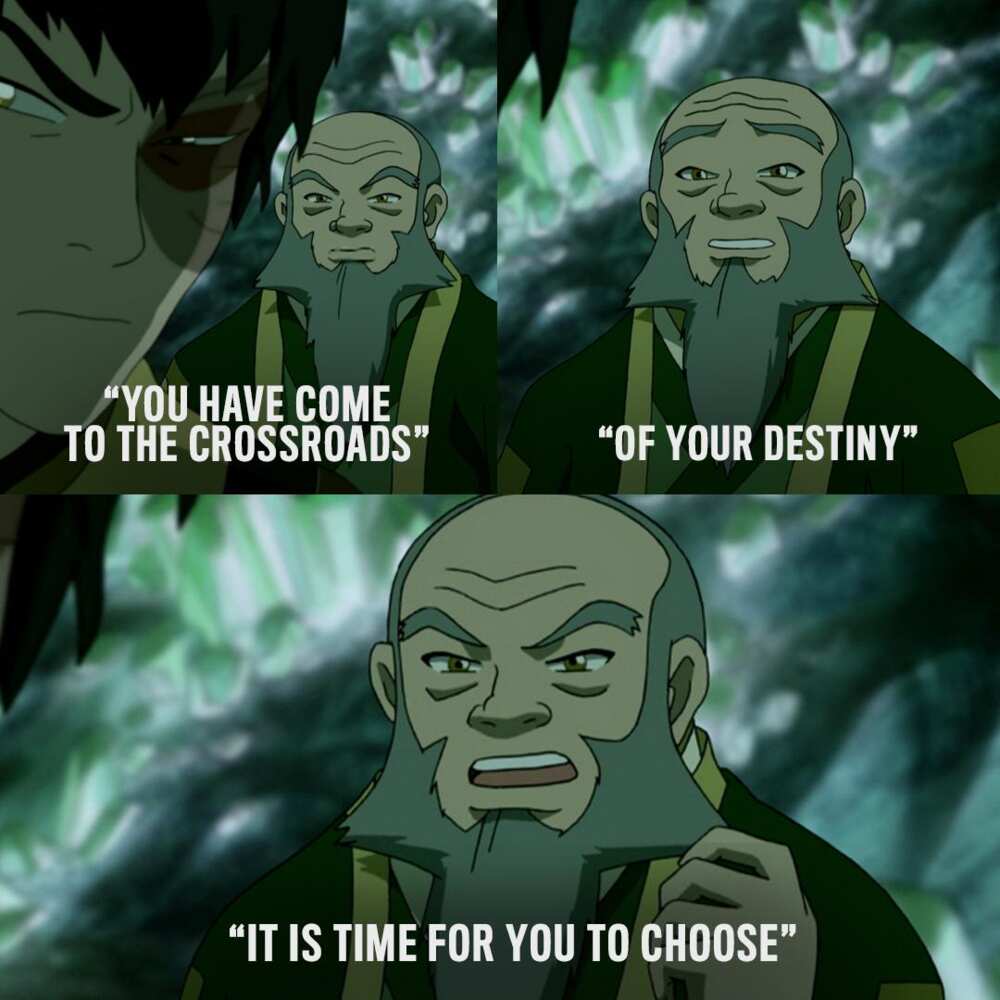 "Good times become good memories, but bad times make good lessons."
"Failure is only the opportunity to begin again."
"Follow your passion, and life will reward you."
"At my age, there is only one big surprise left, and I'd just as soon leave it a mystery."
"When you're in your darkest place, you give yourself hope, and that's inner strength."
"You have light and peace inside of you. If you let it out, you can change the world around you."
"While it is always best to believe in one's self, a little help from others can be a great blessing."
"And now you have come to the crossroads of your destiny. It's time for you to choose. It's time for you to choose good."
"It is usually best to admit mistakes when they occur and to seek to restore honor."
"I was never angry with you. I was sad because I was afraid you'd lost your way."
Why Uncle Iroh is the best
This sweet old man is widely considered to be one of the most heart-warming characters in children's animated shows. Even after he has been through the horrors of war and lost his only son, he managed to channel his energy into helping his troubled nephew find his way and become a better person.
People still share Iroh quotes because they are sincere and inspiring. This adorable tea-loving character has found a place in many hearts, and every uncle Iroh quote has a special meaning.
Which iconic Iroh quote is your favourite? Share your opinion if you consider these Uncle Iroh quotes delightful and inspirational.
READ ALSO: 50+ compassion quotes that will inspire you to help others
Compassion and kindness are important things in this world. Even during the most challenging times, when people seem divided, we must stick together and be supportive of each other.
Legit.ng reported about the most touching compassion quotes that will evoke some inspiration in you. They will help you understand other people's perspective better and be more mindful of their struggles.
Source: Legit.ng