30+ famous basketball quotes to help you get your head in the game
Did you know that when basketball was still a new sport, dribbling was not allowed and that Michael Jordan paid fines for wearing his shoes? While these are quite interesting facts about the game, what is equally interesting is how far the sport has come and all the basketball legends we have come to love, from Kobe Bryant, Michael Jordan, and of course, Kareem Abdul-Jabbar. But wait, what about the basketball quotes uttered by these legends? Are they as good as their sayers' performance on and off the court (for the coaches)? Here are some amazing basketball sayings that will increase your love for the game (if this is even possible).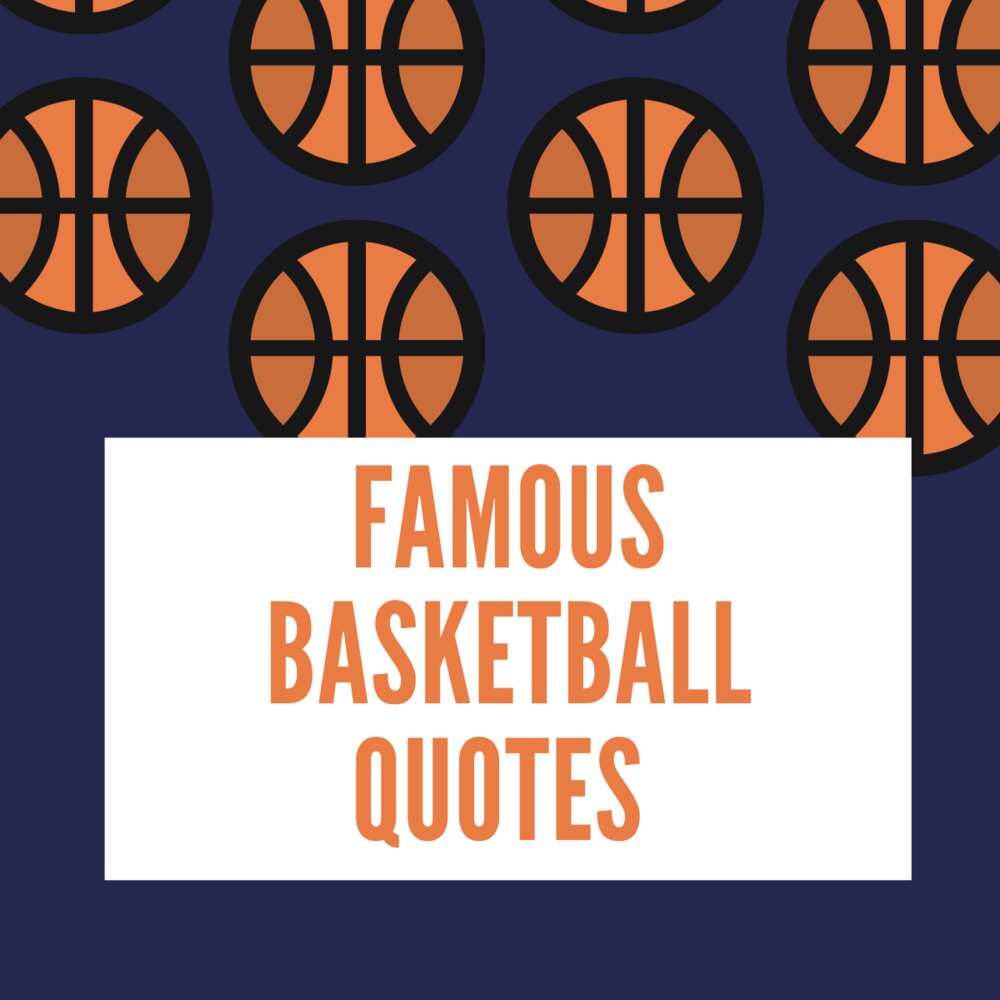 Check out this compilation of the most inspirational basketball quotes and sayings uttered by players and coaches.
Famous basketball quotes
Check out these cool basketball phrases:
The invention of basketball was not an accident. It was developed to meet a need. Those boys simply would not play 'Drop the Handkerchief.' — James Naismith
There is no such thing as a perfect basketball player, and I don't believe there is only one greatest player either. — Michael Jordan
Once you are labeled the best you want to stay up there, and you can't do it by loafing around. If I don't keep changing, I'm history. – Larry Bird
Everything negative — pressure, challenges — are all an opportunity for me to rise. — Kobe Bryant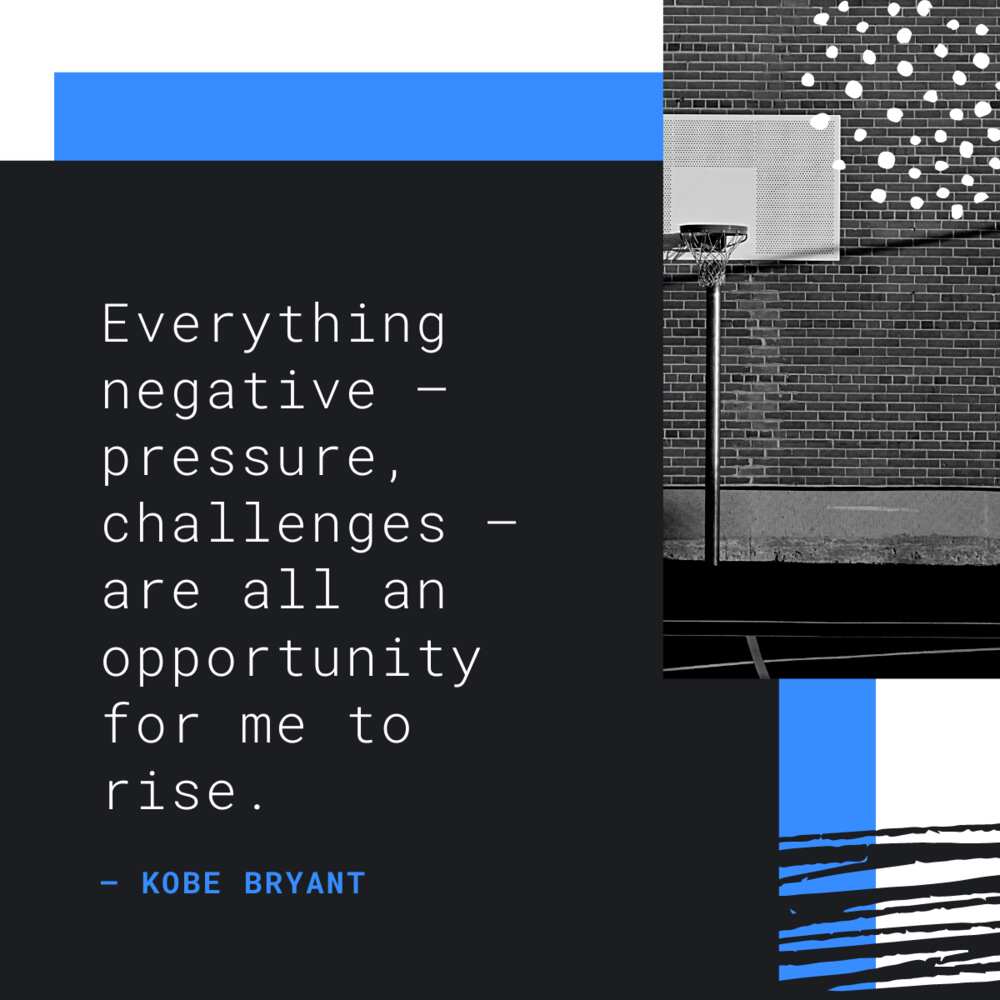 Discipline is doing what has to be done, when it has to be done, as well as it can be done, and doing it that way all the time. – Bob Knight
I really get motivated when I have doubters. — Shaquille O'Neal
Obstacles don't have to stop you. If you run into a wall, don't turn around and give up. Figure out how to climb it, go through it, or work around it. — Michael Jordan
I would tell players to relax and never think about what's at stake. Just think about the basketball game. If you start to think about who is going to win the championship, you've lost your focus. — Michael Jordan
Basketball is a lifelong game. You continue to learn from the game day in and day out, and all along the way, you get better. — Scottie Pippen
There is a lot of basketball beyond our control, but a player should never let anyone try harder than he does. – Dean Smith
What distinguishes a great player is his presence. When he goes on to the court, his presence dominates the atmosphere – Bill Russell
Good players want to be coached… Great players want to be told the truth – Doc Rivers
To go from where you are to where you want to be: you have to have a dream, a goal, and you have to be willing to work for it – Jim Valvano
Commitment separates those who live their dreams from those who live their lives regretting the opportunities they have squandered – Bill Russell
When I lose the sense of motivation and the sense to prove something as a basketball player, it's time for me to move away from the game. — Michael Jordan
You can't get much done in life if you only work on the days when you feel good. – Jerry West
If you are afraid of failure you don't deserve to be successful! — Charles Barkley
The game honors toughness – Brad Stevens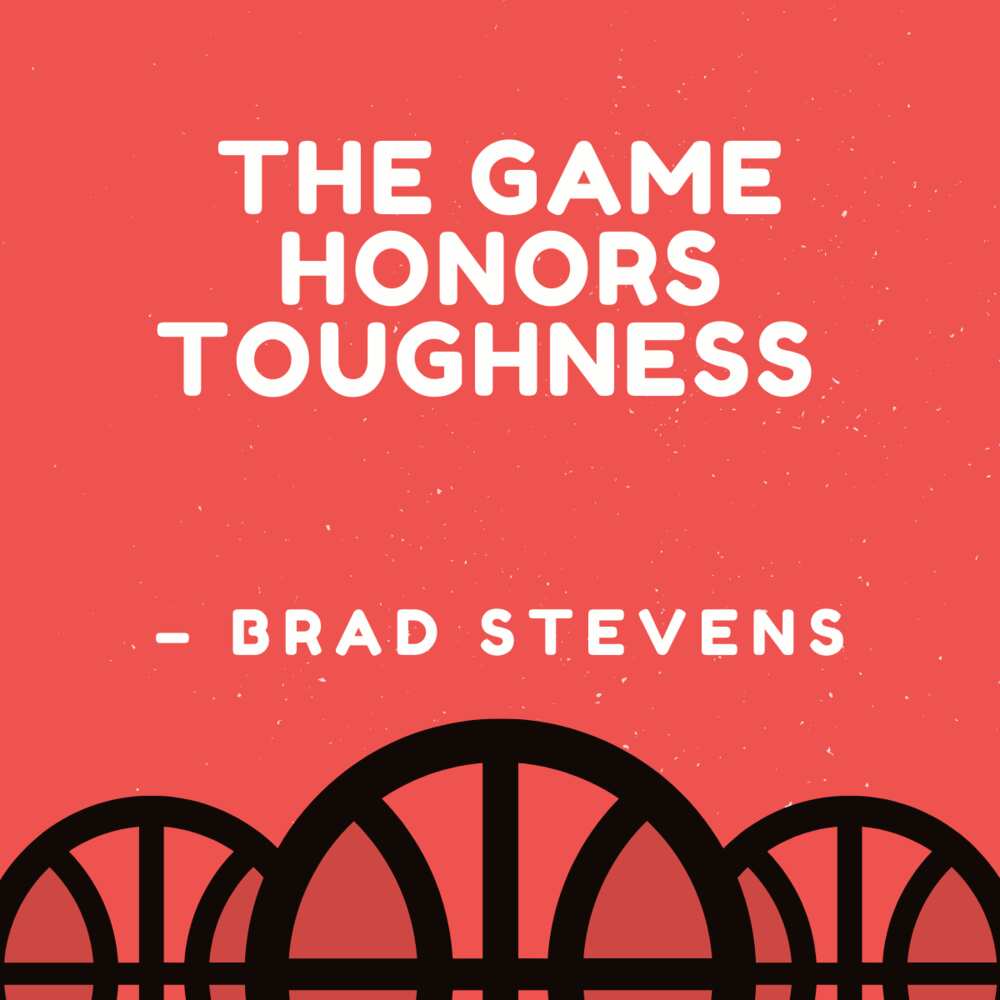 When you're not practicing, someone else is getting better. — Allen Iverson
You can pick captains, but you can't pick leaders. Whoever controls the locker room controls the team. – Don Meyer
Discover your gift, develop your gift, and then give it away every day. – Don Meyer
Remember that basketball is a game of habits. If you make the other guy deviate from his habits, you've got him – Bill Russell
Other people go to the office. I get to coach. I know I've been blessed – Jim Valvano
You don't play against opponents; you play against the game of basketball. – Bob Knight
I've missed more than 9000 shots in my career. I've lost almost 300 games. 26 times, I've been trusted to take the game winning shot and missed. I've failed over and over and over again in my life. And that is why I succeed. - Michael Jordan
The greatest sin a coach can commit is to allow kids to slide by. This goes for the classroom as well as the court – Hubie Brown
I just love the game of basketball so much. The game! I don't need the 18,000 people screaming and all the peripheral things. To me, the most enjoyable part is the practice and preparation – Bob Knight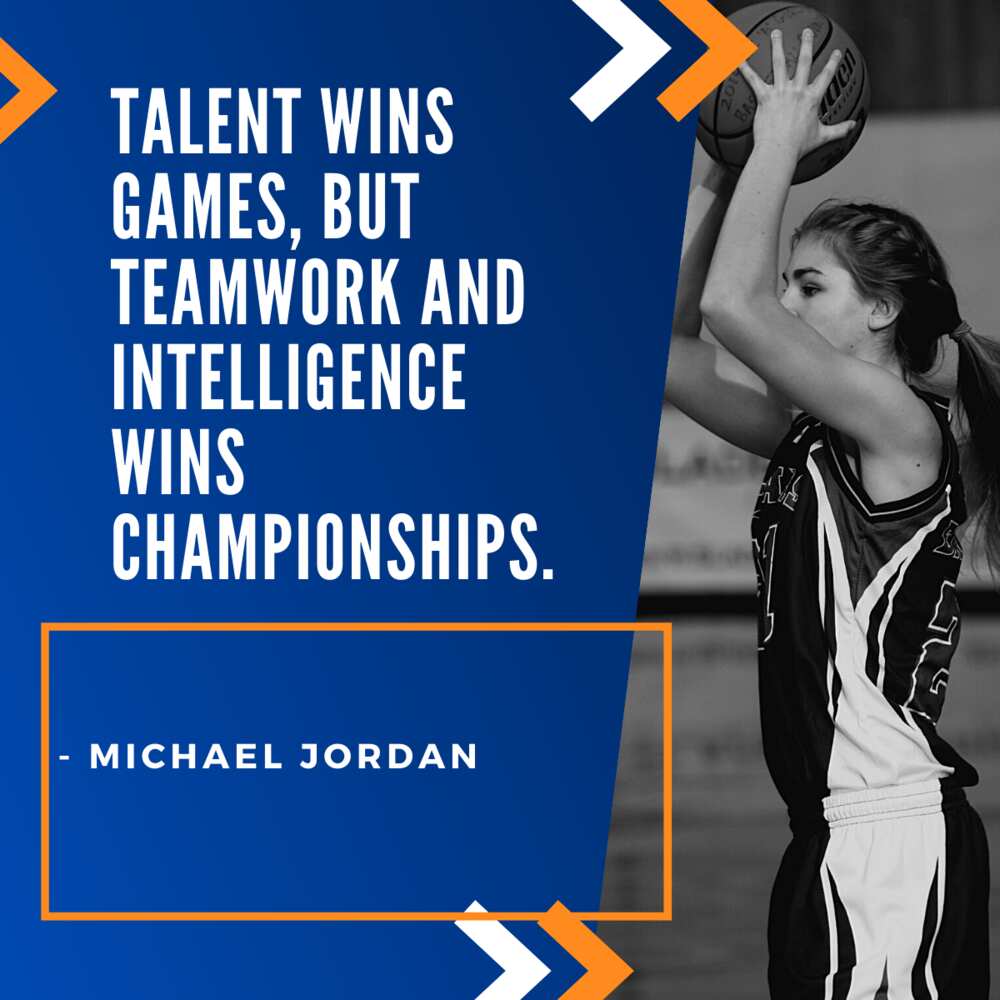 Talent wins games, but teamwork and intelligence wins championships. - Michael Jordan
I love basketball and I'm committed to it, but if I have to lock up my spirit because of basketball, it ain't worth it. - Steve Nash
Basketball team quotes
The following motivational basketball quotes emphasize the importance of teamwork both on and off the court.
The strength of the team is each individual member. The strength of each member is the team." ― Phil Jackson
One man can be a crucial ingredient on a team, but one man cannot make a team. ― Kareem Abdul-Jabbar
X & O's aren't worth a d**n without a team. If your team isn't with you it doesn't matter what you draw up. The team must respect what the coach is asking them to do – Hubie Brown
Great players are willing to give up their own personal achievement for the achievement of the group. It enhances everybody. — Kareem Abdul-Jabbar
Create unselfishness as the most important team attribute. – Bill Russell
Ask not what your teammates can do for you. Ask what you can do for your teammates. — Magic Johnson
Basketball is a team game. But that doesn't mean all five players should take the same amount of shots – Dean Smith
The most important measure of how good a game I played was how much better I'd made my teammates play. – Bill Russell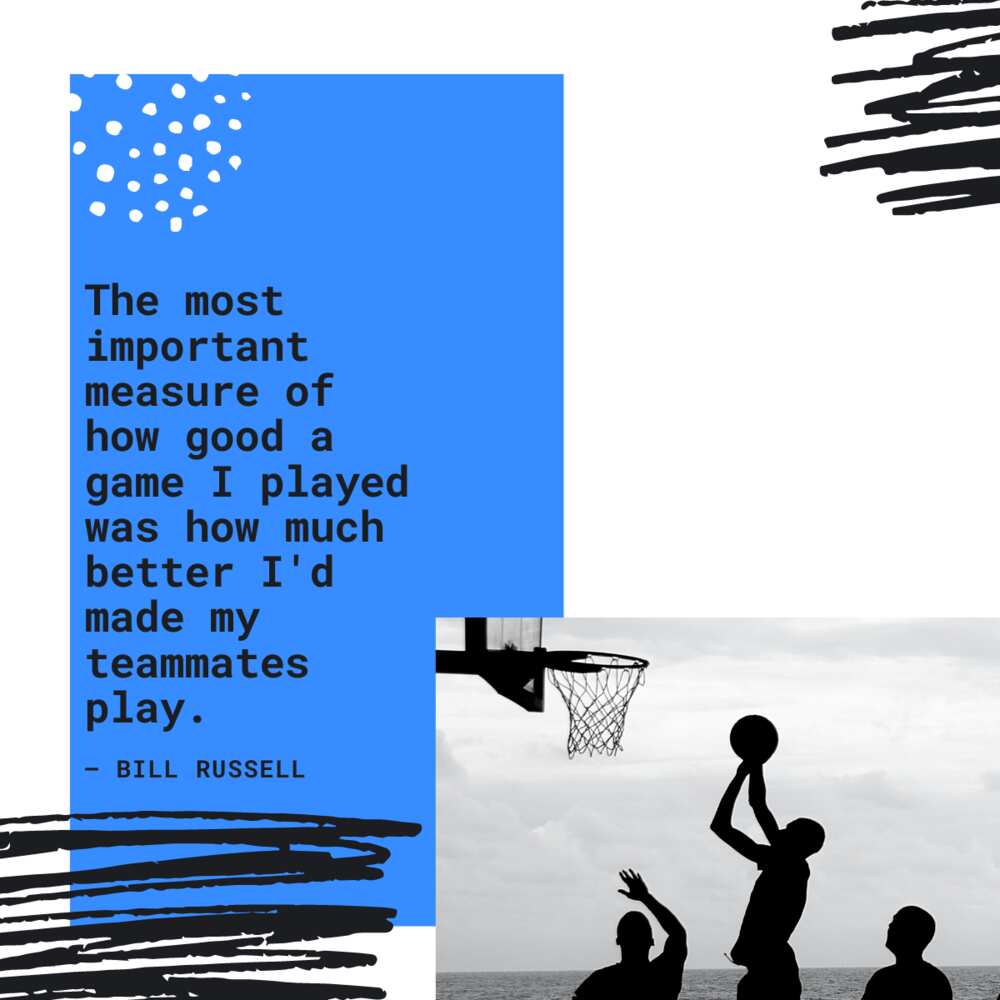 One player's selfish attitude can poison a locker room and make it hard, if not impossible, to establish team work. – Dean Smith
Team work is the beauty of our sport, where you have five acting as one. — Mike Krzyzewski
Recognize and reward players who put the team first, not just the gifted ones – Don Meyer
How good can we expect to be if our best player is not our best teammate. – Brad Stevens
Practice shared suffering. If one guy messes up, everyone runs. If one guy does well, everyone benefits. – Don Meyer
Teams that play together beat those teams with superior players who play more as individuals. – Dr. Jack Ramsay
We believe in people executing their role and caring about the team more than anything individually. – Gregg Popovich
You have to lose yourself in the team and you have to lose yourself in the game. – John Calipari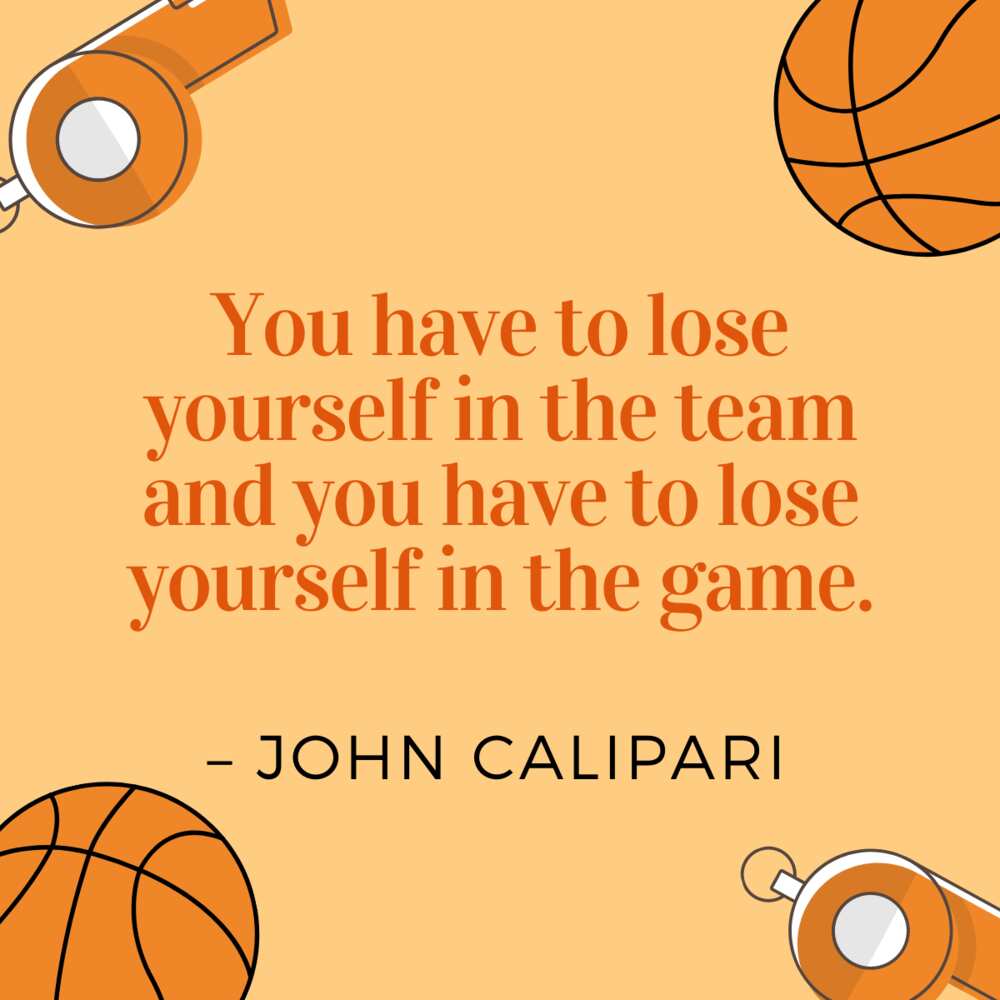 Basketball game day quotes
If you are a coach who would like to motivate your players before a game, then these sayings are exactly what you need. Pick one and use it as a quote for basketball games- you may even use it as your team slogan.
Nervous means you want to play. Scared means you don't want to play. ― Sherman Alexie, The Absolutely True Diary of a Part-Time Indian
Everyone has the fire, but the champions know when to ignite the spark. ― Amit Ray, Enlightenment Step by Step
Push yourself again and again. Don't give an inch until the final buzzer sounds. — Larry Bird
You should always sub a player out when you see them not going full speed or they're playing selfish basketball. – Dean Smith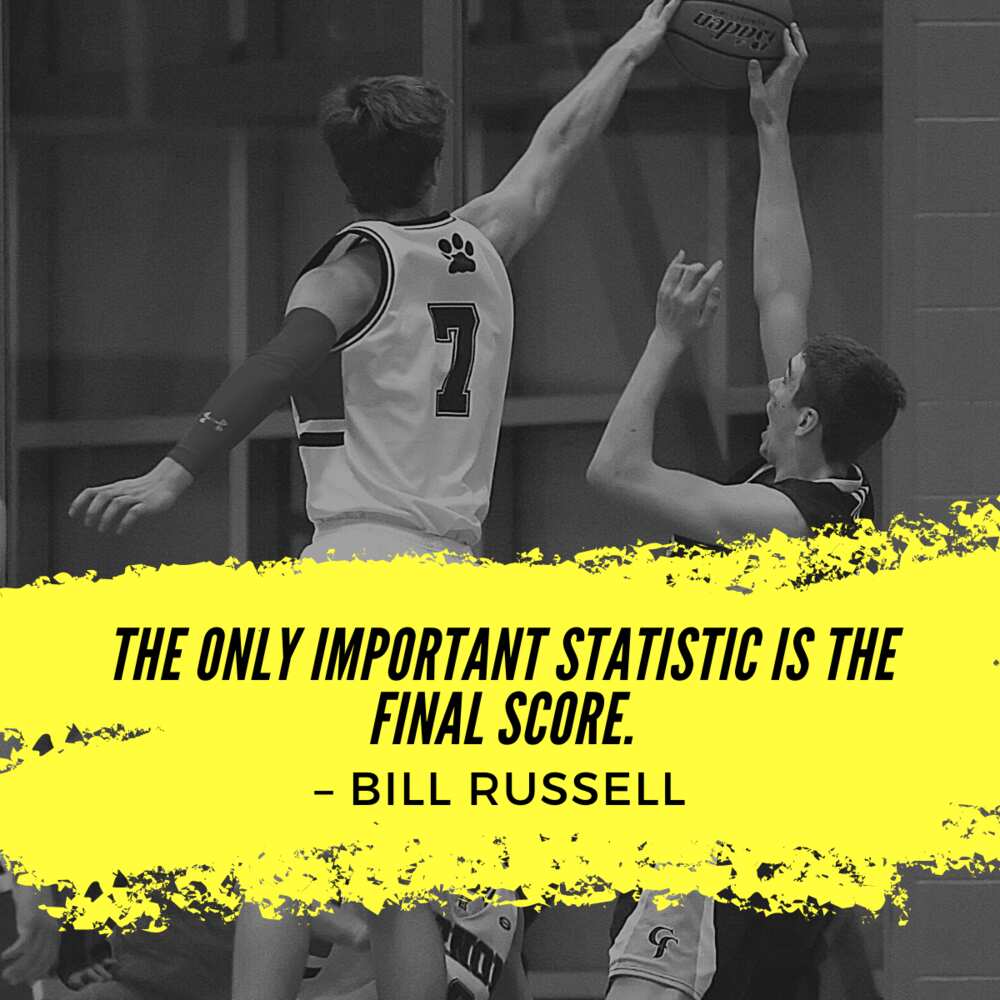 The only important statistic is the final score. – Bill Russell
The idea is not to block every shot. The idea is to make your opponent believe that you might block every shot. – Bill Russell
These basketball quotes prove just how intense the game can get. But, amidst all the tension, something so beautiful is created, and that is the magic of basketball.
READ ALSO: Natalia Diamante Bryant bio: age, height, education, family
Legit.ng recently reported about the life of Natalia Diamante Bryant, the oldest daughter of the late Los Angeles Lakers legend Kobe Bryant and model Vanessa Bryant.
Just like her father, Natalia is also an athlete. She played volleyball in high school and currently plays volleyball for Mamba Sports Academy.
Source: Legit.ng