Opinion: A look at wind-driven preventive alternatives to tackle COVID-19 by Amaso Jack
Editor's note: A member of faculty at the Nigeria Institute of Journalism, Amaso Jack, suggest that a look at wind-driven preventive alternatives could be effective in halting the spread of COVID-19.
Read below:
COVID-19 is not airborne, but wind can bring it within private human space.
WIND SOLUTION 1: SNEEZING SUCTION KITS:
COVID-19 spreads by a plant dispersal system, which for us is sneezing. This problem has by itself defined its own solution.
Operations
The device should be designed with sensors that are sensitive to the eye or any other part of the body that can serve as an early warning system, such that just before sneezing or coughing, the sensors trigger off a powerful suction force of an estimated 2 feet radius, to achieve the following:
1. Suck up every single droplet.
2. Compressed them.
3. Stored in special containers or with two options.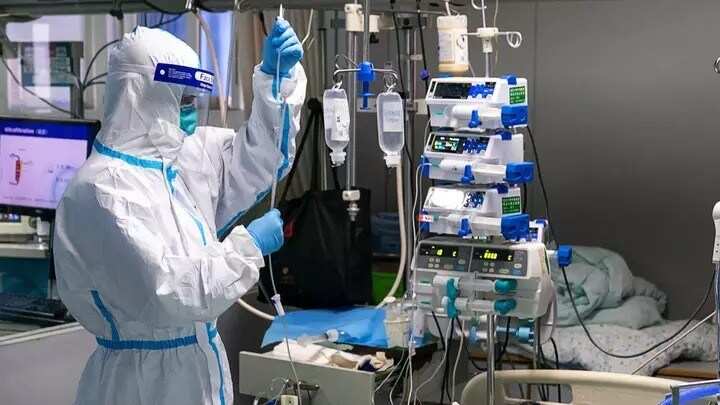 PAY ATTENTION: Get the Latest Nigerian News Anywhere 24/7. Spend less on the Internet!
Option A: A filter that separates the discharges, from the air currents that transmitted them.
Option B: The entire discharge and the air are kept in special airtight disposable bags, to be disposed of in special bins.
Variations.
Variation of this could be installed in:
1. Restrooms.
2. Sneezing conners in halls.
3. Mass-produced and built into aircrafts seats.
4. Installed on cinemas seats with neon lights.
5. Adapted to trains, tramps and mass transit buses, with the worst scenario of overcrowding in view.
Health precautions and temporary measures:
When the trains return, only seating should be allowed to reduce crowding and the seats should be redesigned with sneezing "pods." This will arrest the immediate spread.
OBSERVATION: These pods should be made of materials the virus can say on to resist suction. The suction force should remain for an additional 30 seconds after sneezing.
Public health protocol:
Alcohol-based sprays should be applied after use as a double protective measure.
The entire concept should be subjected to wind tunnel tests under various conditions to determine particle behaviour under suction force.
Urgency
This should be passed over quickly to research facilities with comparative advantage and vast experience in wind management, organizations like.
1. NASA's Jet Propulsion Laboratory.
2. Boeing
3. General Electric corporation
Work must start; Immediate work in the race against the virus, so these devices can be manufactured in large quantities in a short time to save lives, while researchers battle to get a vaccine, as they stay at home time runs out and doctors are capitulating to fatigue.
Deadline: six months!
Wind solution 2: Door function pump at the entrances of malls, airports elevators
Based on information from the World Health Organisation, who informs that conventional alcohol and chlorine sprays have no effect on COVID-19, once it gets into the body, these sprays are dangerous to eyes, mouth and clothes.
Research Requirements:
Researchers should develop an appropriate spray that is not harmful in any way but can destroy the virus on clothes.
These sprays, when developed will be installed in:
1. Doors of malls
2. Airport doors
3. Door of places for religious activities.
The Idea
The idea is, as people approach a door the door opens and the spray is activated to tackle droplets on clothes.
Design specifications and options:
1. Blow fans from the left or above and suction pumps on the right or below to absorb.
Caution: The nuzzles of the pumps should be automated to vary with the height of people to avoid respiratory accidents.
Research requirements: Tests should be carried out to determine particle behaviour under suction.
This should be passed to Ottis elevators to start work immediately.
Wind solution 3: Convention left handheld fans for the tropics
COVID-19 is not airborne, but wind currents can bring it within the private space of individuals.
Most people are right-handed. Convention left is about holding a handheld fan close to the face at 90° such that wind currents are blown away from the face in the event of anyone sneezing and or coughing within the distance of two feet.
Research requirements:
Wind tunnel tests should be carried out to monitor particle behaviour with dispersal, both in the open and enclosed areas at various particle speeds, to determine the efficacy of handheld fans in particle dispersal.
Alternate variation:
Another variation would be to install powerful fans on the left of rooms such that wind is directed in a consistent direction in the event of sneezing and or coughing, this will replace ceiling fans with either standing or wall fans.
Research requirements:
Wind tunnel tests should be deployed to determine exact particle behaviour.
Wind solution 4: Hand-held fans and wind vanes
Research requirements:
Wind tunnel testing should be deployed to determine particle behaviour in private and public space and the dispersal efficacy of handheld fans to disperse particles based on information from wind vanes.
Observation: The essence of wind vanes installed in the cities is to serve as early warning wind directional devices, that detect the direction of wind per time because wind can drive the particles within private space.
The Idea:
Whatever direction the wind blows all the handheld fans will be moved in that direction…This may be clumsy, but wind tunnel tests would be necessary to establish what strength of wind the fans can resist and the behaviour of particles.
Wind solution 5: Digital hand-held fans with phone wind vanes apps:
Advancement of the point above, the addition is a phone app to replace the wind vane entirely
Research requirement. Testing is necessary.
Wind solution 6: Digital wind vanes ''curved'' caps with extendable nuzzles
In the event of sneezing and or coughing, these caps would be designed with nuzzles that are triggered to disperse counter-air currents that can repel the discharges up to a foot.
The duration of activation, the length of blowing time will be worked out by designers.
Research requirements: Wind tunnel testing again should be deployed to determine particle behaviour under various conditions, and the harmful effects on others who don't have it!.
Your own opinion articles are welcome at info@corp.legit.ng— drop an email telling us what you want to write about and why. More details in Legit.ng's step-by-step guide for guest contributors.
Contact us if you have any feedback, suggestions, complaints or compliments. We are also available on Twitter.
Stay with Legit and keep track of the latest news in Nigeria!
Coronavirus: Nigeria's health minister speaks on chloroquine as cure for COVID-19 | Legit TV
Source: Legit.ng