Sabrina Ionescu bio: height, family, highlights
One of the college basketball players who have made a name for themselves is Sabrina Ionescu. As a young female college basketball player, she has written her name in the history of American basketball. At 22 years old, she has it on record as the first and only National Collegiate Athletic Association (NCAA) Division 1 basketball player who has 2,000 points, 1,000 assists, and 1,000 rebounds in a career.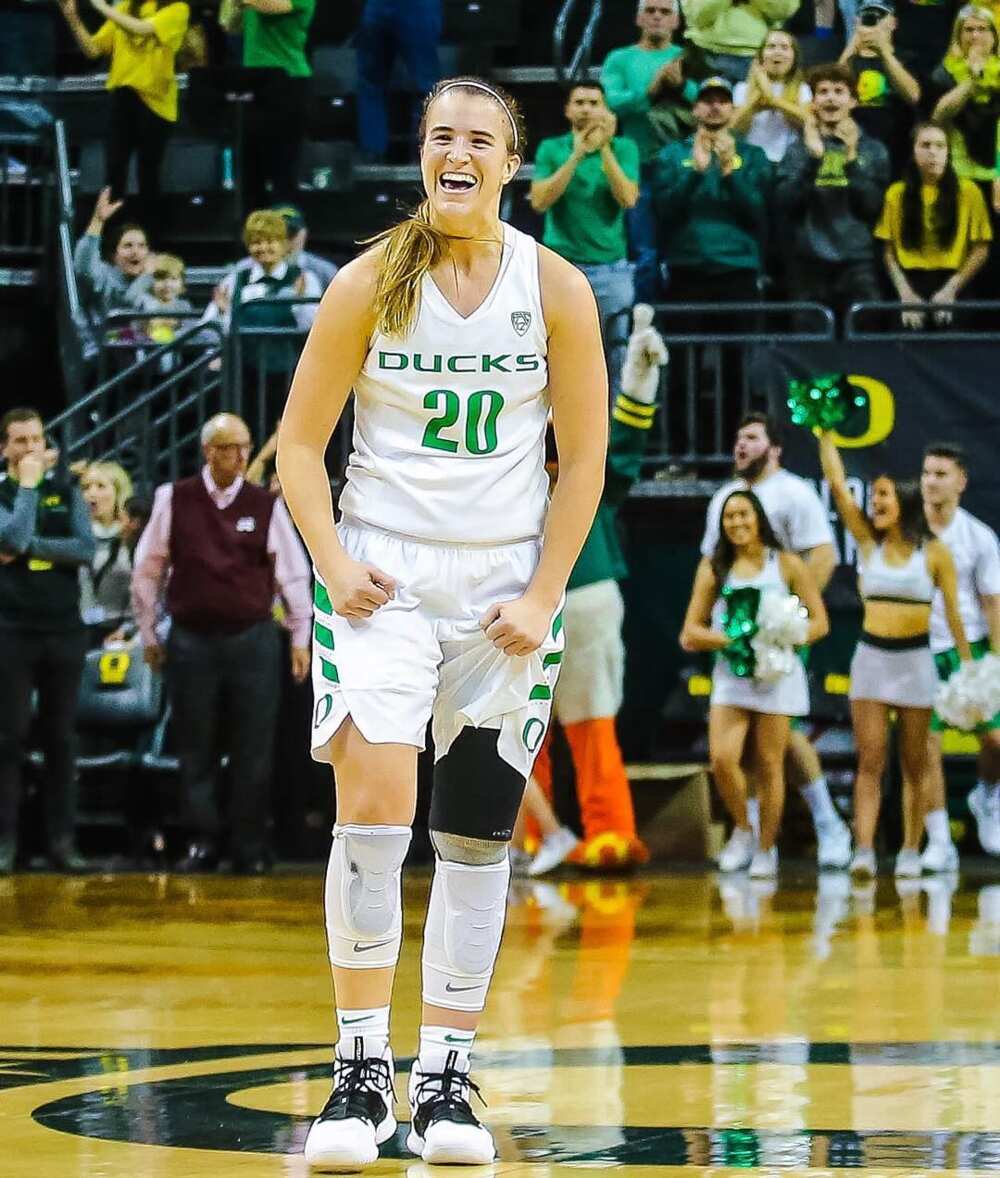 This highly talented basketball player currently plies her trade as a point guard for the Oregon Ducks of the Pac-12 Conference. Sabrina's recorded achievements have solidified her status as one of the greatest in the game. The star basketball player is not only one of the hottest personalities but also one of the most sought after players in America basketball today.
Sabrina Ionesco profile summary
Full name: Sabrina Ionescu
Date of birth: 6th of December, 1997
Age: 22 years old
Zodiac sign: Sagittarius
Place of birth: Walmart creek, California
Nationality: American
Marital status: Single
Height: 5 feet and 11 inches
Position: Point Guard
High school: Miramonte (Orinda, California)
College: Oregon
Parents: Liliana Blaj (mother) and Dan (father)
Siblings: Andrei and Edward
Background information on Sabrina
Sabrina Ionescu was born in Walmart creek, California, in the United States of America. What nationality is Sabrina Ionescu? She is an American national, although her parents are of Romanian descent. The talented basketball player has a twin brother named Edward. He was born eighteen minutes after her. Sabrina Ionescu brother, Edward, is also a basketball player. He once played at the City College of San Francisco before moving to Oregon, where he joined the Ducks men's team in 2019-20.
What high school did Sabrina Ionescu go to? She finished at Miramonte High School in Orinda, California. As a fresher in high school, she recorded an average of 13.8 points, 3.9 assists and 3.9 steals to help her team earn a 27-3 record. Consequently, they finished as the runner-ups in the Northern California Section Division 2 during the 2012/2013 season.
While as a junior, she averaged 18.7 points, 7.7 rebounds, 4.2 assists and 4.7 steals, to help her team achieve a 30-2 record and also make it to the CIF open division semifinals from 2014-2015. The basketball player then inspired her team to a California Interscholastic Federation open division title game as a senior in 2015-16. Also, she averaged 25.3 points, 8.8 assists, 7.6 rebounds, 4.5 steals, and 1.3 blocks per game.
Additionally, in 2016, USA Today and MaxPreps named her the National Player of the Year. She also earned the MVP of the McDonald's All-American Game after achieving a record of 25 points; and also a Jordan Brand Classic participant. The skilled basketball player left Miramonte with a career loss record of 119-9 and a school record of 2,606 points. The talented player is also the all-time leader in assists (769), steals (549), and doubles (21).
Sabrina Ionescu age
Sabrina was born on the 6th of December, 1997. She is currently 22 years old and will turn 23 on the 6th of December 2020. Her zodiac sign is Sagittarius.
How tall is Sabrina Ionescu?
Sabrina Ionescu height is about 5 feet and 11 inches (1.8m). There is no denying that her fitness level and athletically buildup have contributed to her success in the game of basketball.
Sabrina Ionescu family
Sabrina Ionescu parents are Dan Ionescu and Liliana Blaj. They were Romanian immigrants. Sabrina's father fled Romania during the 1989 revolution and then sought political asylum in the United States of America.
Afterwards, his wife joined him in the United States in 1995. They both had three kids over the years, and Sabrina happens to be their only female child. Now a famous basketball player, Sabrina's siblings are Andrei and Edward.
Sabrina Ionescu highlights
In 2016, shortly before the commencement of the summer semester, the basketball star became committed to Oregon. Since she made the decision, Sabrina Ionescu stats have been very impressive. In 2017, she became Pac-12 Freshman of the Year, as a newcomer. By winning the award, interestingly, that became the first honor that Oregon would be proud to have since 1999. It also became the second honor that they have recorded so far. Additionally, Ionescu achieved a record of four triple-double.
Furthermore, with an average of 5.5 assists, 6.6 rebounds, and 14.6 points that she scored in every game, she took second place in the rebounding team and first place in the assists. As a result of this, she emerged as the nation's top freshman of USBWA National Freshman of the Year. In her second year, by the selection, she became espnW's College Basketball Player of the Week. Sabrina Ionescu Oregon won their third league crown of all-time in a regular season and for the first time seeded as No. 1 in the Pac-12 women's basketball tournament.
She led the Pac-12 in the scoring standings (19.2) and assists and also recorded 7.8 assists per game, which is the fifth-highest in the country. Subsequently, she was named Pac-12 Conference Women Basketball Player of the Year and ESPN's first all-American team. Also, she was named Nancy Lieberman's Top I Point Female Guard Award winner and as well ended as a finalist for the Nysmith Award at the end of the season.
So far in her career, the superstar basketball player has seven assists, 11 rebounds, and 37 points in her name. Because of this, she has successfully broken the record of scores made by Alison Lang by scoring Oregon record of 2,252 points in the third quarter. After playing against the state of Oregon on the 24th of January, 2020, as usual, she recorded four tackles, nine assists, and 24 points. With this impressive record, she broke NBA and State of Oregon star Gary Peyton's Pac-12 938 assists recorded.
On the 14th of February, 2020, she earned her 1000th career assist in the game against #7 UCLA. This makes her the only player, alongside Courtney Vandersloot, in the history of NCAA basketball for men and women to move with 2000 plus points and 1000 plus assists.
Sabrina Ionescu Kobe Bryant
The star player was one of the keynote speakers at the memorial service of Kobe Bryant and his daughter Gianna Bryant. The 22-year-old speech at the event was quite touching. During her speech, Sabrina revealed that she had always wanted to be like the late basketball legend and how his greatness inspired her basketball career. She also mentioned sharing a special relationship with his daughter. She described Gianna as equally talented as her dad.
Sabrina Instagram page
The college basketball player enjoys the acceptance from her fans, including social media. A proof of this is seen from more than 240 thousand followers that she has on her official Instagram page given as @Sabrina_I. Through this platform, she communicates more with her fans on a personal level and also shares lots of exciting posts to entertain them.
Sabrina Ionescu WNBA
It is being reported that the star basketball player will be drafted to the WNBA after the end of her final season. It is presumed that she will be the first name called by the New York Liberty a month before her professional debut.
Finally, Sabrina Ionescu is not only regarded as the best college basketball player in America but also in the world. She has a unique talent that has helped her achieve some amazing records and stats in the game of basketball. Little wonder she is currently considered as one of the best draft prospects of WNBA since Breanna Stewart.
Source: Legit