Olsen twins bio: age, net worth, career
There was a time when the Olsen twins were living a life most teenagers could only dream of. Being talented actresses who first appeared on TV at only nine months, their celebrity status was guaranteed. Years later, the two are not active in the industry. Why did the Olsen twins stop acting?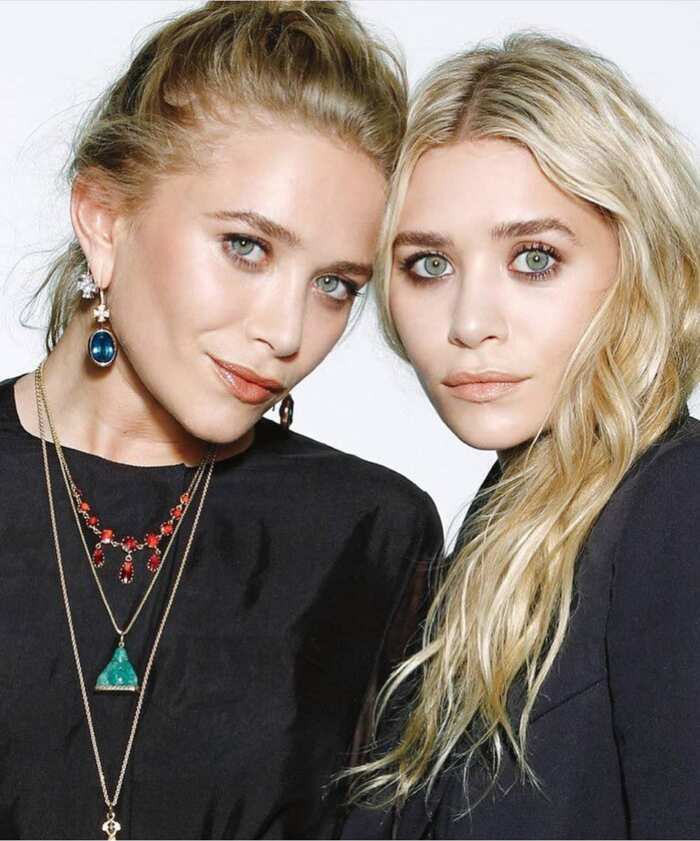 The twins each quit acting for different reasons. While Mary-Kate was dissatisfied by the absence of control over creative aspects of the shows she acted in, Ashley lacked time to further her acting career. What do Mary Kate and Ashley Olsen do now? Here is a breakdown of the duo's past and present life.
Profile summary
Name: Mary-Kate Olsen and Ashley Olsen
Date of birth: 13 June 1986
Olsen twins age: 33
Birthplace: Sherman Oaks, Los Angeles, California, United States
Parents: David and Jarnette Olsen
Siblings: Trent, Elizabeth, Courtney, and Jake
Occupation: Actresses, fashion designers
Background
Born in Sherman Oaks to Dave and Jarnette Olsen, the twins are second in a family that has four kids. Their elder brother is called Trent, while their younger sister is Elizabeth. Their parents got divorced, and their father remarried. From this marriage, the twins have a stepsister Courtney, and a stepbrother Jake.
During their TV debut, Mary Kate and Ashley Olsen age was nine months old. While auditioning for Full House, the babies barely cried. Their calm demeanour convinced producers to hire them, signalling the start of their acting career.
How old are the Olsen twins now? They are 33 years old.
It is quite easy to tell the fraternal twins apart: Mary-Kate is an inch taller than her sister. She is also left-handed, while Ashley is right-handed. During their career, Mary-Kate acted in comic scenes, while Ashley acted in dramatic ones.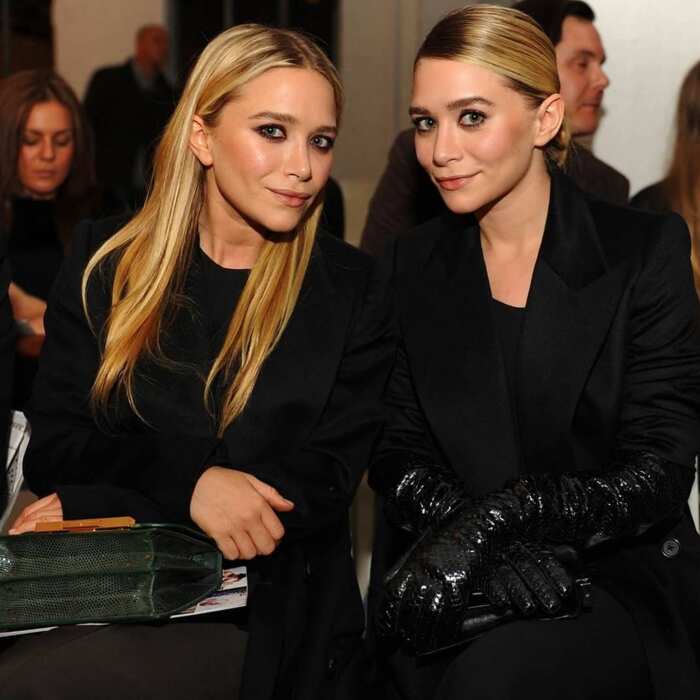 Career
After their debut on Full House, the twins' career took off with appearances in many movies and TV shows. The most notable Mary Kate and Ashley movies and series were:
1992 – Played Michelle Tanner in Hangin' with Mr. Cooper.
1994 – Played a teenage duo that solved various mysteries in The Adventures of Mary Kate and Ashley.
1995 – Landed roles in their first feature film titled It Takes Two.
1995 – 2000 – Appeared as the title characters in You're Invited to Mary-Kate & Ashley's.
1997 – Joined the cast of All My Children as guest stars.
1997 – Joined Tia and Tamera Mowry in Sister Sister as guest stars.
1998 – Starred in Two of a Kind.
2000 – Made an appearance in 7th Heaven.
2001 – Played the titular characters in Mary-Kate and Ashley in Action!
2004 – Starred in New York Minute. This was their last appearance together in Olsen twins movies.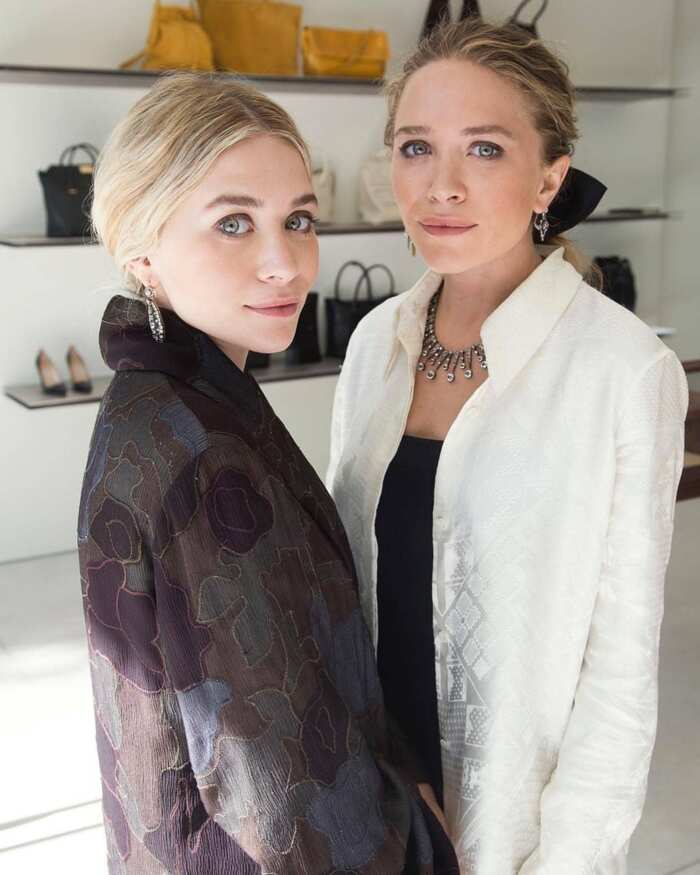 Ashley retired from acting in 2004 when she developed interests in fashion. Mary-Kate continued acting until 2012 when she also quit. Her solo career saw her make appearances in Factory Girl, Weeds, Samantha Who?, The Wackness, and Beastly.
The sisters formed the Dualstar Entertainment Group when they were 6. The company produced various movies, DVDs, and collectables under the Mary-Kate and Ashley brand. Their products dominated the pre-teen market and cemented the twins' success.
The duo's fame grew to the point that they had a fan club. Millions of teenagers would pay a subscription to get books, fragrances, clothes, dolls, and posters that were branded with the Olsen's names. In 2004, the sisters turned 18 and took over control of the Dualstar company.
In 2012, both girls announced that they would focus on their careers in fashion. Mary-Kate pioneered the now-famous "homeless" look in the fashion industry. Together, the sisters have built an iconic fashion label, The Row.
They have three other labels; Elizabeth & James, Olsenboye and StyleMint. In addition to that, they have a clothing line for girls aged 4 to 14. The clothes in this line are sold in Wal-Mart stores across the US. Their work in the fashion industry has earned them recognition from the Council of Fashion Designers of America.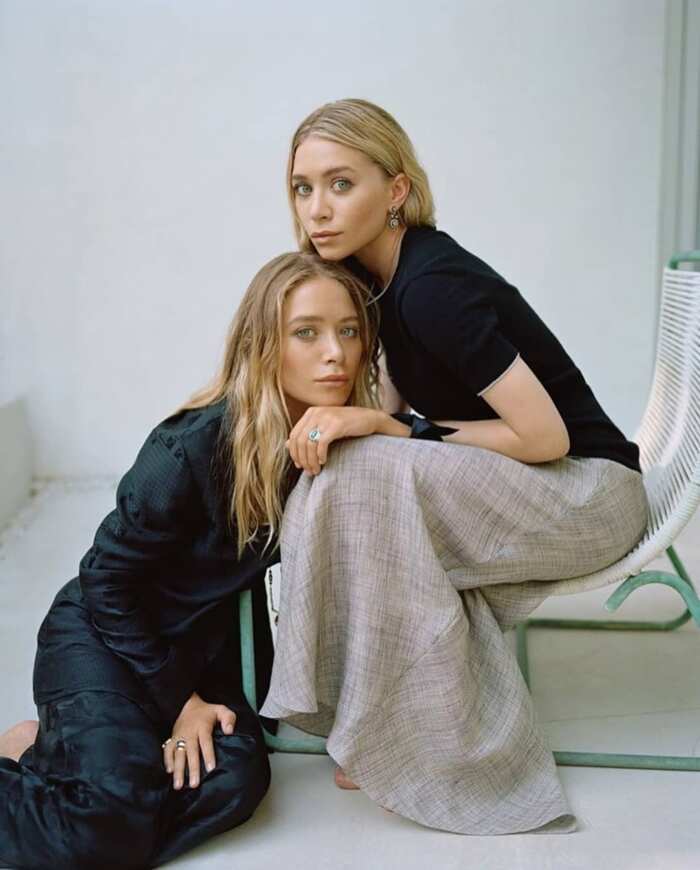 The Olsen family life
The Olsen sisters are both in loving relationships. Mary Kate Olsen husband is Olivier Sarkozy, a 50-year-old banker who is also the brother to France's former president Nicholas Sarkozy. Although Mary-Kate has not had any children yet, she is the stepmother to Olivier's kids from his former union.
Ashley is dating Louis Elsner, a 31-year-old artist. Not much is known about the sisters' relationships because they keep off social media. Unlike most celebrities, the two do not have any accounts on Instagram, Facebook, or Twitter.
Olsen twins net worth
They have achieved so much since they rose to fame at a young age, but are the Olsen twins billionaires? As of 2019, the two had a combined net worth of $500 million. They are among the wealthiest women of their age. They have had multiple revenue streams over the years – salaries from acting, income from their fashion lines, and partnerships with various renowned brands.
Their initial salary was $2,400 per episode while on the set of Full House. This amount went up to $25,000 mid-show and $62,000 by the end of the show. Their fashion line has also been successful, bringing in more than $50 million in sales by 2015.
Contrary to popular opinion, the Olsen twins have worked hard to build their brand. While their talent might have set the stage for their success, it is their determination that has put them among the wealthiest women in the entertainment industry.
Source: Legit