Tunde Tdot - Sweet Loving makes PEC Records' leading artist trend again. The brand new song is titled "Sweet Loving" and has been produced by a respected Nigerian team of fast-rising hitmakers called "Killertunez". Tunde was a former Styl-Plus member that has gone on to deliver even on his own. His prowess on this beat shows how he does his thing effortlessly, something that contributes immensely towards making this track a hit.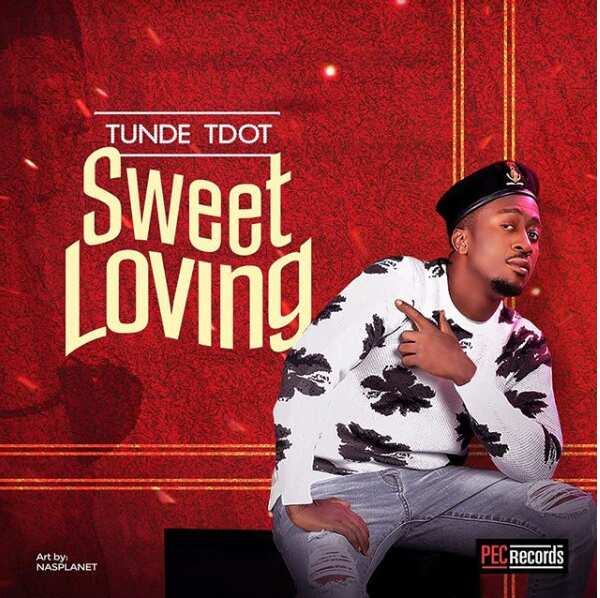 The Nigerian Afro-pop superstar Tunde Tdot is doing so much better on his own. The former member of now seemingly defunct, award-winning trio group Styl-Plus is back. His brand new song, Sweet Loving ,continues to prove that he is, indeed, a talent to watch out for. If you love cool music, then this track with its very strong romantic undertones will get to you.
Tunde Tdot - Sweet Loving description
Released: 28th May 2019
Genre: Afropop
Producer: Killertunez
Label: PEC records
Format: Audio
The tune was released on 28th May 2019 and posted on SoundCloud as audio. While we await the video, if it will be out, we can all enjoy the audio of this romantic song. Download it from SoundCloud and save it on your phone for easy access.
READ ALSO: Kcee - Doh Doh Doh: video, lyrics, reactions
Reactions and reviews
As you enjoy Tdot's best hit so far, you may find yourself humming in response to the addictive tune. Going by people's reactions, you will definitely find yourself checking out the tune online. Even though It's not on YouTube, fans are already talking about the hit on other social media platforms including Instagram. Here are a few comments from those that have listened to the song and loved it: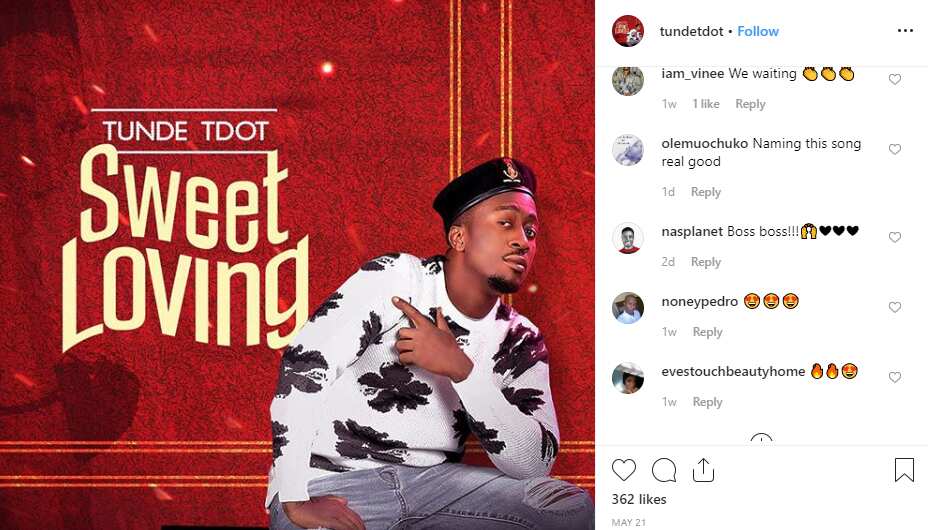 This beat is fire and the fans seem to agree with this fact.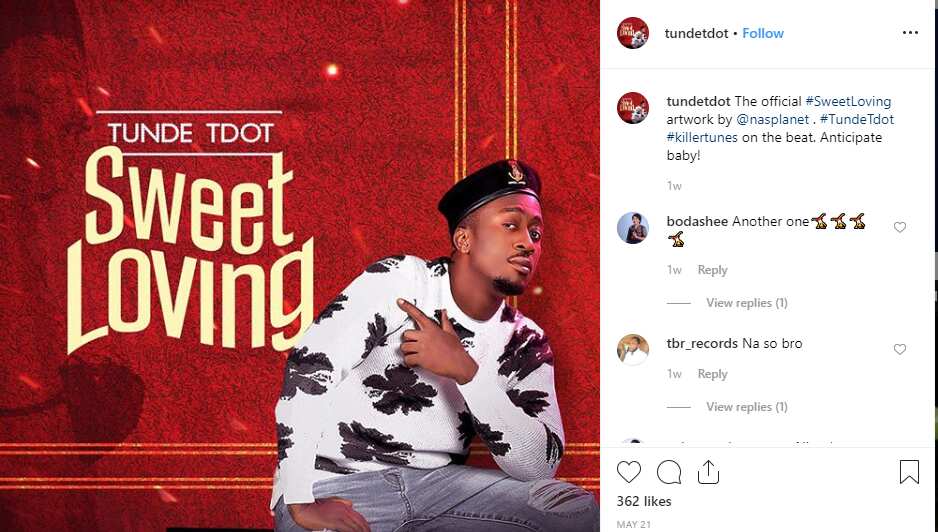 When a jam is on point, fans are quick to acknowledge it. This is exactly what this tune is about.
Tunde Tdot - Sweet Loving may still be new but it is already hitting the waves. With a lot of fans already appreciating it, this is a jam that will soon be blowing up. If you are looking for an excellent hit, hen you should consider downloading this one. You will not regret making the move.
READ ALSO: