50 romantic good night love message ideas for her
Be more creative in the way you wish your girlfriend a good night. Add some spark into your relationship by crafting a romantic and heart-felt good night love message that she will definitely love.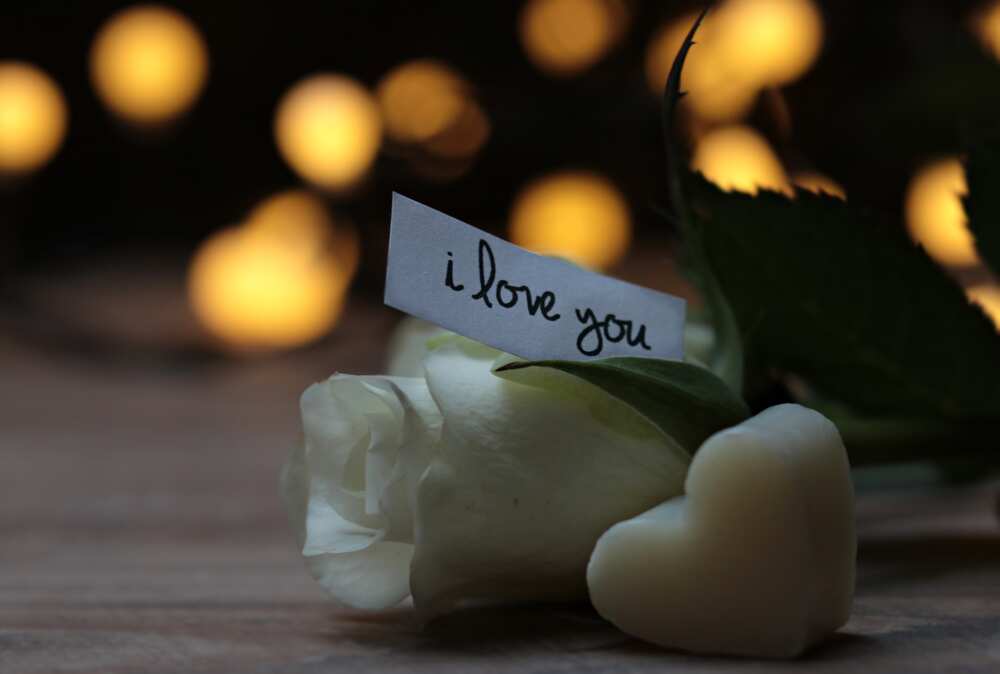 Be sure to write something personal, special for both of you, and use examples as a source of inspiration. You will definitely create a message with beautiful words, and perhaps your beloved lady will keep it on her phone for a long time, and maybe even remember it for the whole life.
Good night love message for her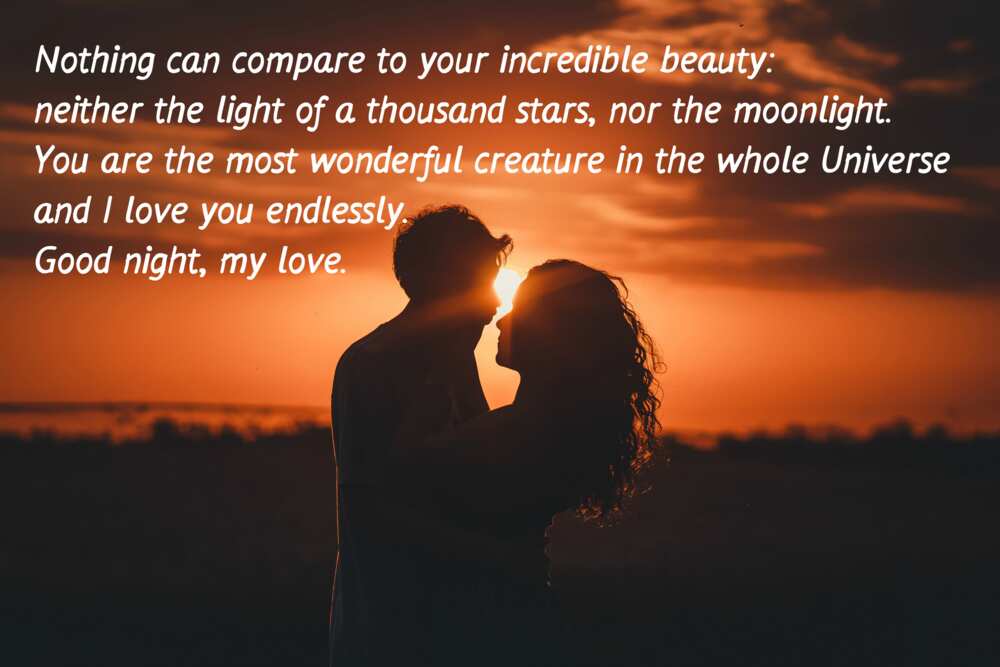 You are my attraction, and you are my inspiration, you are my best gift of life, you are my treasure! I will cherish you every night and day.
Honey, I wish you to go to one of the most mysterious phenomena of humanity - a dream!
It turns out that not all people have vivid dreams! May you have a bright and lucid dream! Miss you all the time.
No distance will prevent me from loving you! I am looking forward to meeting you in a dream and wish you the sweetest dreams.
Darling, go to bed and close your eyes soon. I will come to you in a dream with a gently hug, kiss and will protect you all the time!
Only at a distance I keenly understand how I need you! I miss you and wish you sweet night-night, my dare.
There is nothing worse than a time spent without you, my love! Madly missing you, and I look forward to seeing you.
If you could see my face now. It is in misery, longing and, loneliness without you! I look forward to the long-awaited meeting.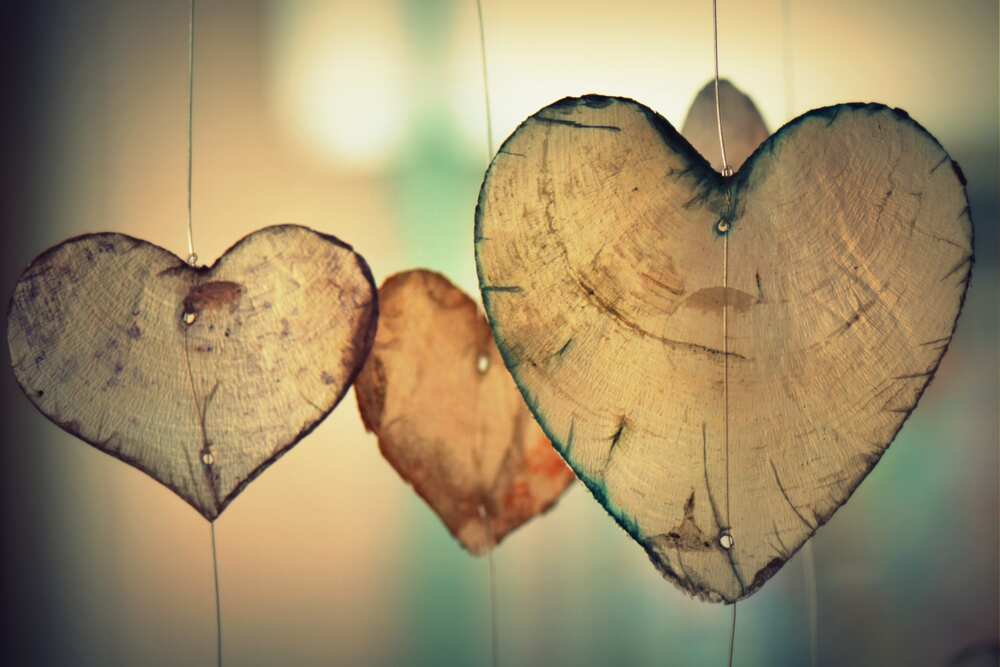 Tonight I imagine covering you with a warm blanket, gently kissing you on the cheek, whispering a tender confession in your ear.
My Pretty girl, I want to be with you now. I hope that soon you will fall asleep in my arms!
Every minute that we do not spend together is like a punishment for me. I will try to quickly fall asleep to wake up again to hear your voice.
Baby, you are not near me now, and I miss you madly. I wish you sweet night-night and a vigorous morning!
Along with wishing you good rest, I send you the most tender hugs and one long, passionate kiss for the nighttime.
Sweet dreams my sweetheart! Let you dream a beautiful and kind fantasy, the same as you are.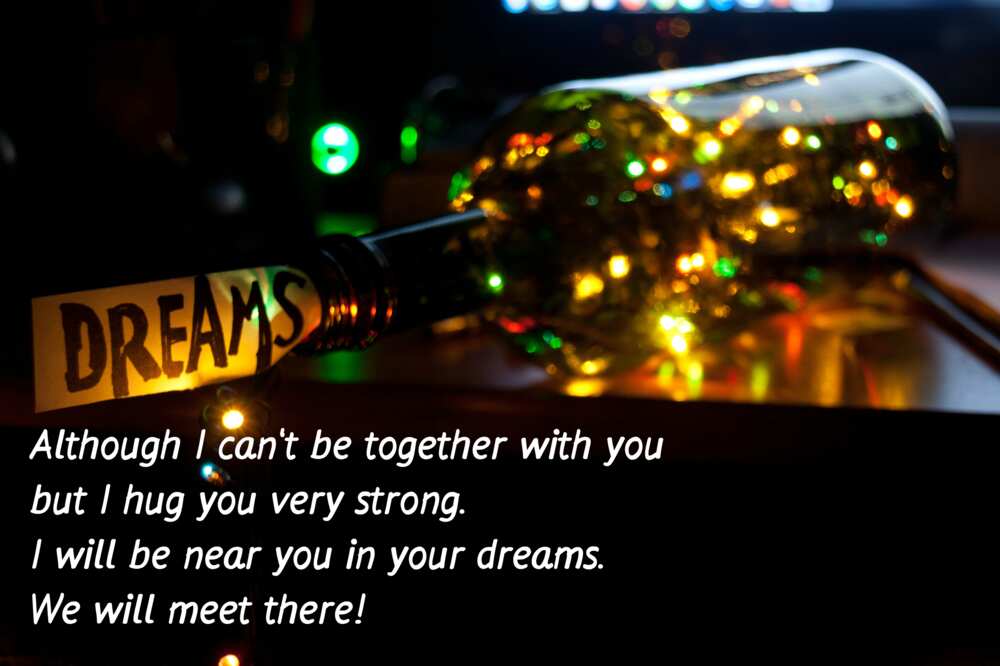 A third of life we spend in a dream. I wish that your every nighttime was bright and inspired, but today let it be special.
My most beautiful diamond, I wish you a peaceful and quiet rest!
My pretty girl! I wish that today's dream will be special, the same as you.
In love and inspired by the beauty of a girl, a simple guy, wishes the beautiful queen of his heart pleasant dreams!
READ ALSO: 50 romantic messages and love quotes for wife
Since I cannot personally put my little princess to sleep, I wish you my 1000 kisses for the night!
Sweet dreams my dear girl! I miss you very much, and I am waiting for your morning SMS!
You are the most incredible and fantastic girl I have ever met in this life! I sincerely wish you good bedtime, quiet sleep and a vigorous morning!
My cutie, I want this night to wipe out all the bad things from your memory! And tomorrow morning, you will wake up even more beautiful, cheerful and full of energy!
All I want now is to be near you and gently embrace the whole night!
I am far away, but you are by my side now and forever. Thinking of you and wish you a quiet rest and pleasant dreams.
Sleep well sweetheart. Know that you are not alone, I am always there, wherever you are!
My beloved baby, it is a pity that now I am not with you. I wish you sleep well and keep thinking of you.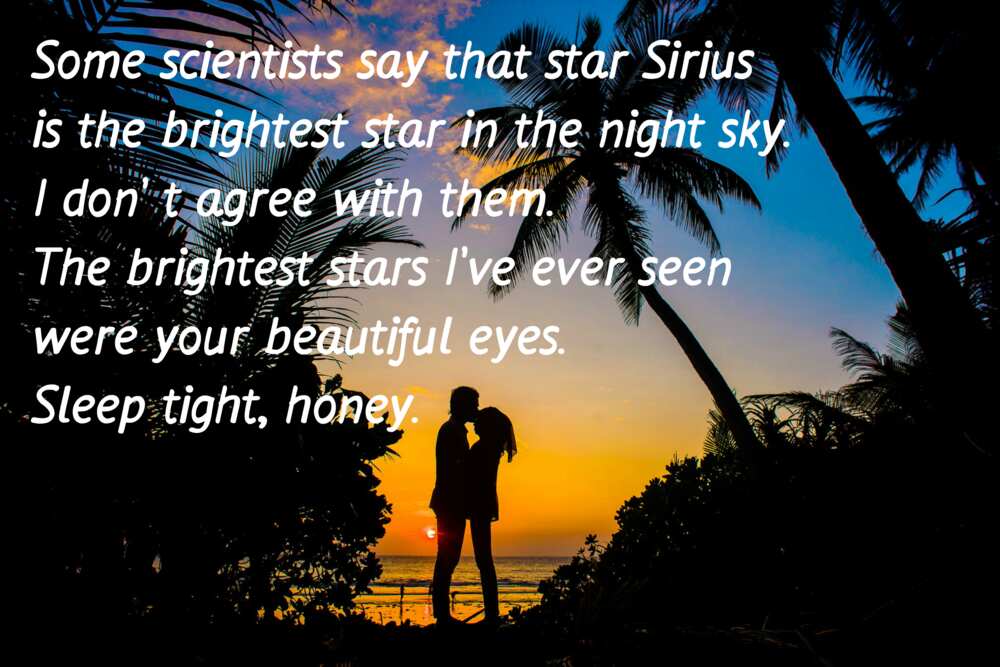 My most beautiful girl, forget about everything and have a good bedtime, tomorrow with new forces, you will conquer this world!
Your incredibly charming smile does not give me rest and prevents me from falling asleep.
A night without you is a real test, but I, like a real man, is not afraid of difficulties and will overcome them.
No matter how far you are now, just know that I am thinking of you, miss you and wait insanely to see you again!
I send you a hundred passionate kisses and a gentle one with a post pigeon. I hope they will fly to you soon, but for now, I wish you a good bedtime!
One day spent together and my night is sleepless. You are the best girl on this planet, and I wish you the most magical dream!
My sweetie, I do not want to say goodbye to you even for one night. Therefore, I wish you to plunge into the darkness of the night to see a beautiful dream.
I like it when you are lying next to me. I love hugging you before bedtime. I like kissing your tender lips. And I do not want to be away from you at all.
I always considered myself a lone wolf, but now I understand that I no longer want to be alone. I want to fall asleep with you every night, hugging you, kissing, and protecting.
May this rest be the quietest and longest, so that my queen can sleep properly! Sleep tight, my love!
READ ALSO: Top 50 cute quotes and love messages for husband
I send a gentle kiss to my sweet, kind and incredibly charming, as well as attractive and fantastic girl!
I go to bed with excitement and think about our meeting with trepidation. You have become very dear to me! Baby, you are beautiful, and no girl is better!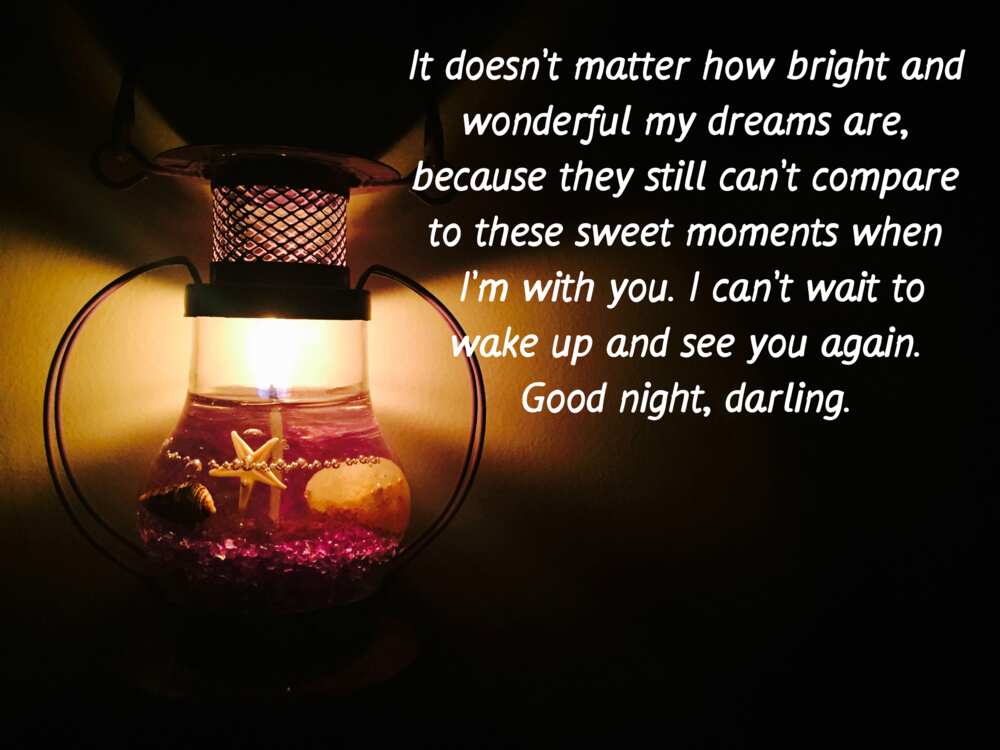 Every night I write the same thing, wishing you sweet dreams. It looks like a habit, but no! I want to do this, and it is vital for me to know that you will go to bed under my protection.
I just want you to know that before you fall asleep, I mentally kiss you, gently hug and whisper in your ear: "Sweet dreams, my little, beloved girl!"
Baby, nights without you are unbearable, and they are long and dreary. The morning without you is gloomy, and the day is grey. Only in the evening, I begin to revive in anticipation of our meeting!
I am so happy at the thought that you are next to me! I think about you, miss you and want to see again as soon as possible!
The sun, also, must sometimes rest, so, my love, go to bed, and tomorrow with new forces go to light this world!
You gave me a beautiful day and a magical evening, which will be remembered for a long time!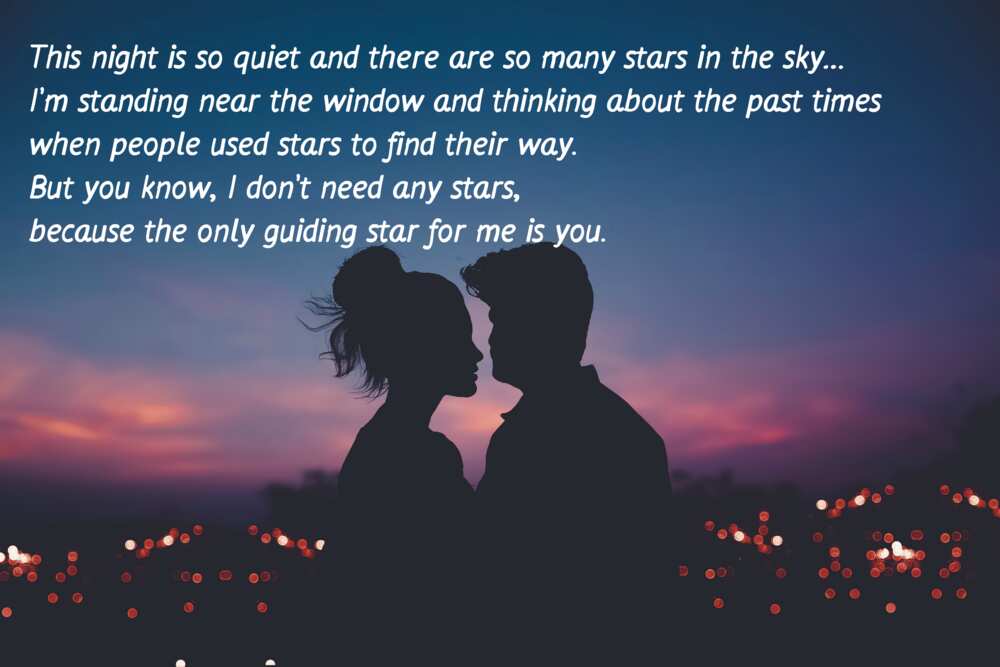 A good rest is a key to a great start of the day! I wish you sweet dreams and a lovely rest. See you tomorrow, darling!
I wish my little, but an incredibly smart, beautiful girl good rest and gentle dreams! I wish you to wake up in a great mood.
I lie and thinking about your incredibly beautiful smile. I miss you so much, baby.
My love, I want to plunge into your arms now. You give me so much happiness. Sleep tight, and remember I am always there.
Today I couldn't concentrate on affairs and only because I was thinking about you all the time. Even now, instead of sleeping, all thoughts are about you my beauty.
I let nothing disturb you tonight! I wish you sleep well, my darling.
Hopefully, over time, the sweet tradition of writing good night love message for her will not be forgotten, and you will continue to wish each other sweet dreams with warm words, even after tens of years of living together.
READ ALSO: 75 romantic good morning my love quotes and messages
Source: Legit.ng