20 awesome faux hawk hairstyle ideas for men and women
Ladies have long borrowed short haircuts from men, and one of them is the faux hawk hairstyle. It is a very unique style and can emphasize the beauty of female facial features. For men, it looks stylish and courageous, adding enthusiasm to their appearance. Both males and females should pay attention to this trimming to look fabulous in 2019.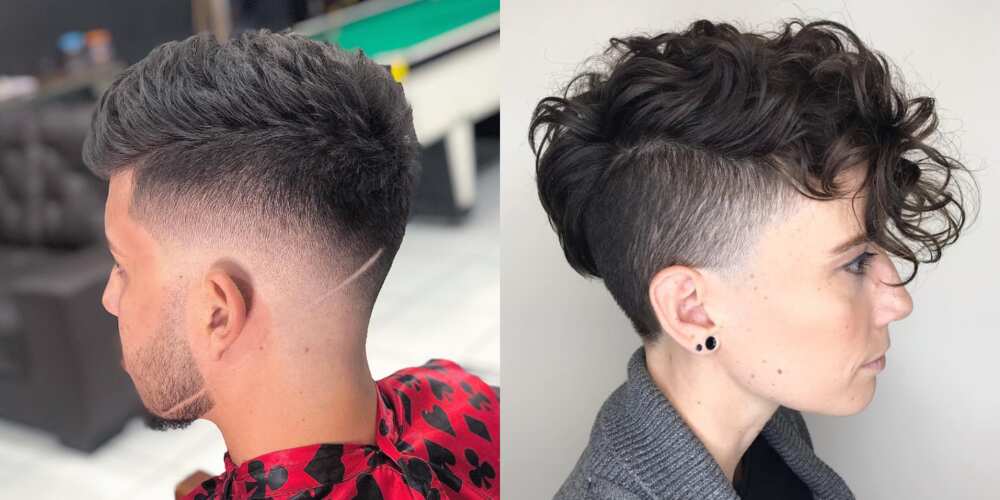 A faux hawk is a hairstyle that you should choose first if you like a combination of simplicity and beauty. It is a perfect choice for those who want to look amazing without any extra effort.
Mens faux hawk
A faux hawk haircut is a stylish and at the same time, practical solution for men who eager to appear courageous and elegant. Combining a sporty chic and sophisticated elegance, it is ideal for both young and adult men who are thoughtful of their appearance and lead an active lifestyle.
Being primarily a classic haircut, the faux hawk, however, does not limit its owner in styling, allowing it to be performed in different ways – elegantly, in retro style or messy. We offer to your attention top ten best male looks.
1. Trimming with a simple pattern
Here is a wonderful example that each haircut can look even better with some pattern. Even if it is that simple, you will look different and handsome.
2. A rock star style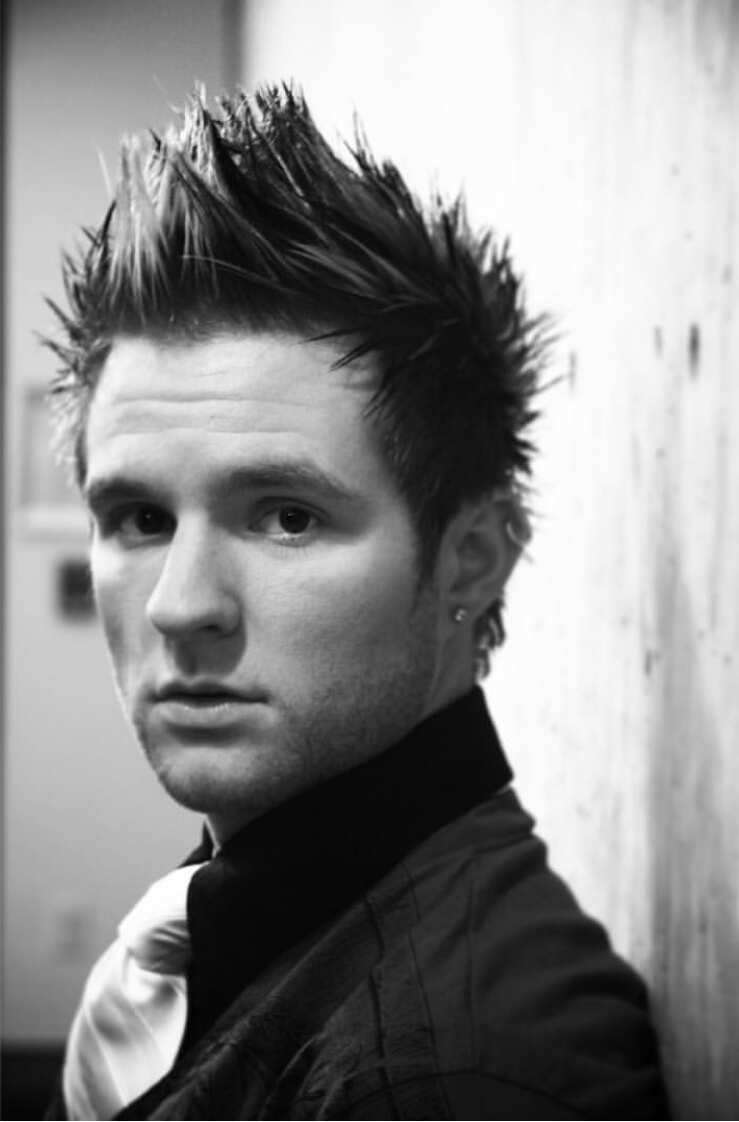 You will need to get some styling gel if you want to look like a real rock star. If this style is what you like, you should definitely try out this option.
3. A haircut with a high fade
This option is perfect for those men, who prefer simple but at the same time stylish haircuts. A fohawk with a high fade looks exclusively good and will suit a lot of gentlemen.
4. A messy style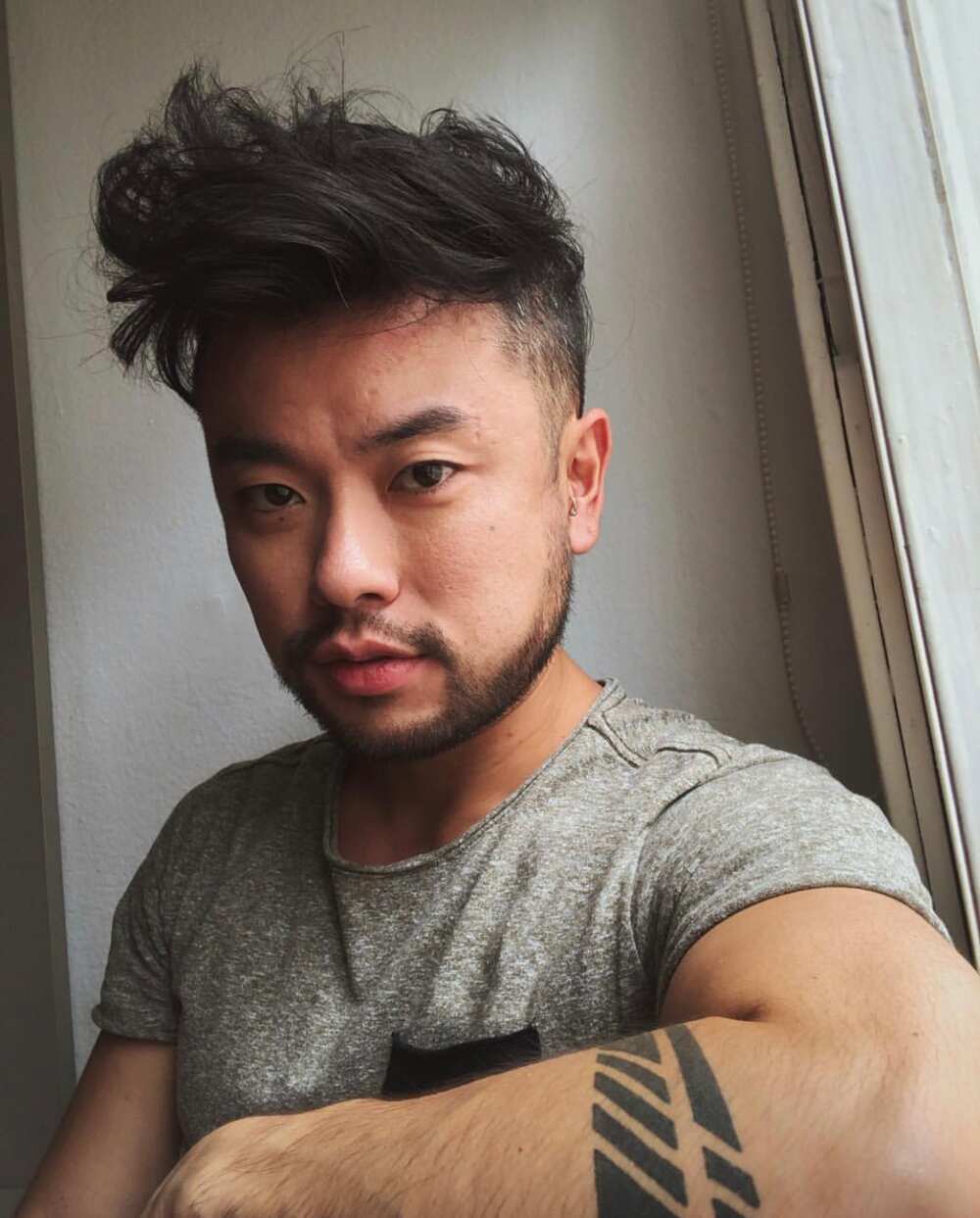 Try this messy styling and get the appearance of a lady-killer. Any lady will no be able to resist noticing such a handsome man.
5. Trimming with a low fade
You should try this variant of a haircut if you like to keep it simple. A neat styling and low fade will make you look smart and attractive.
6. A haircut for curly hair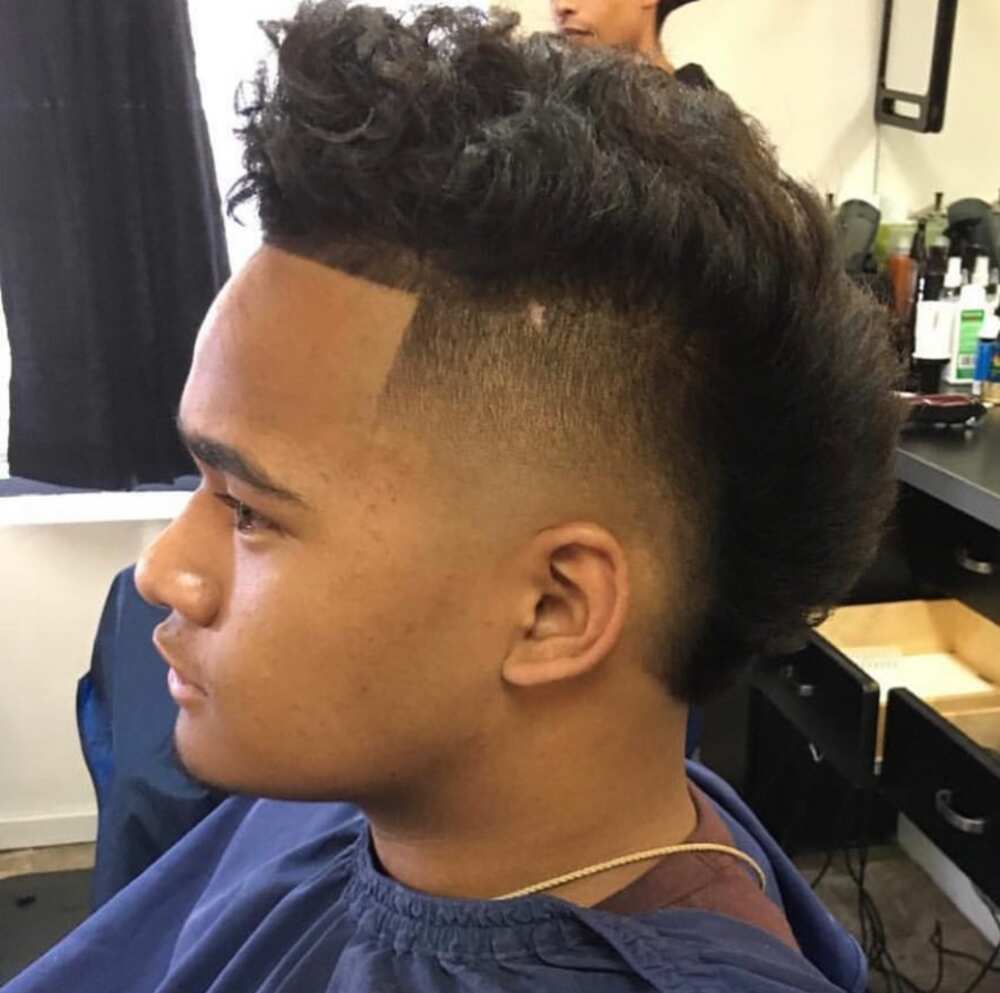 Owners of curls should not neglect this trimming. It will look exceptionally good and snappy with such hair type. So you can try it without even the slightest hesitation.
7. A faux hawk with an original trimming
If you are a fan of original patterns on your head, you can choose one for your fohawk trimming. Just look how amazing it looks.
8. A bleached haircut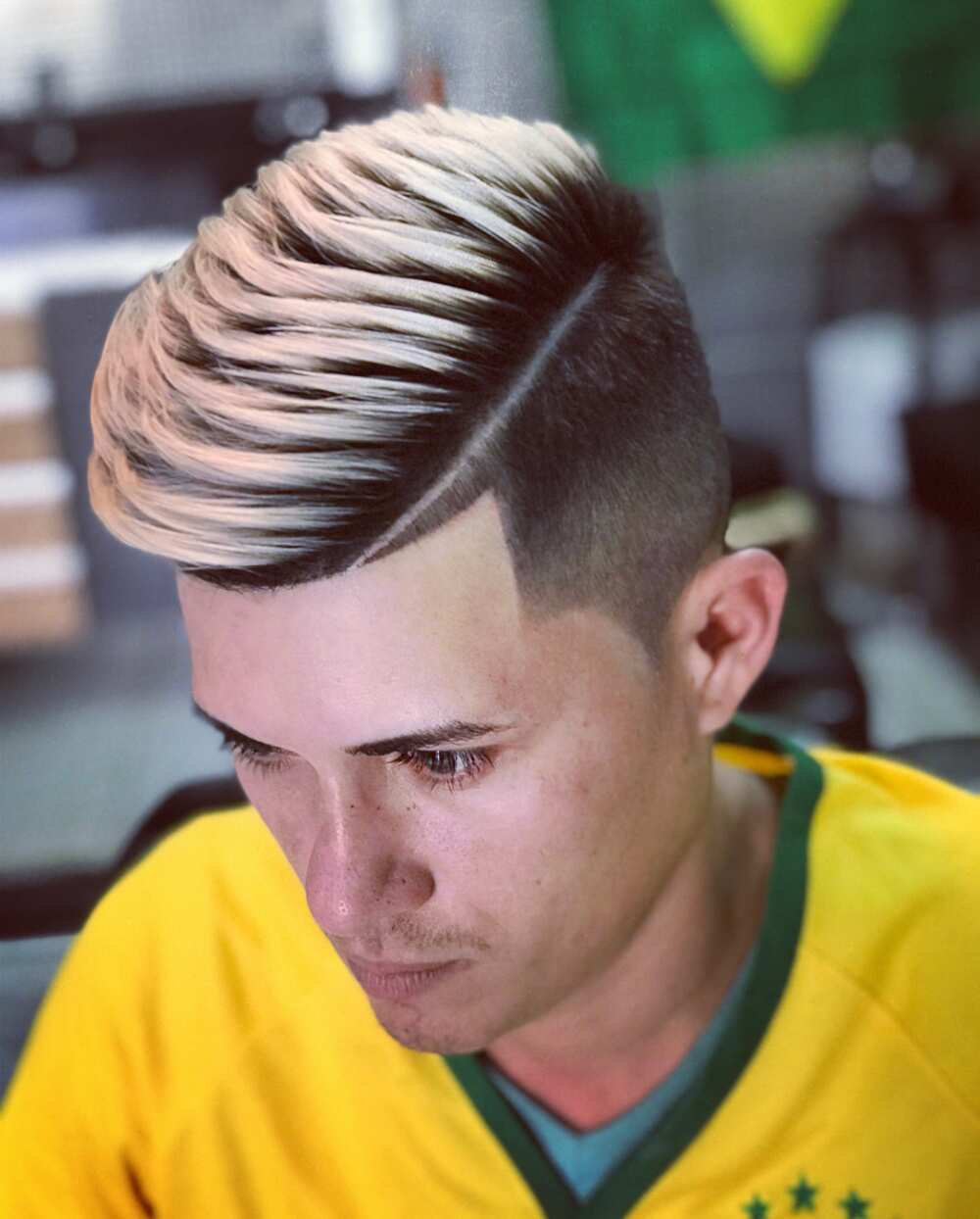 Bleaching is always an option in situations when you want to look different. Try it, and be dressed to kill.
9. A blue trimming
Adding some colour to your hair can become a game changer. If you are a bright person who loves to experiment with your appearance, go on and do it.
10. A short style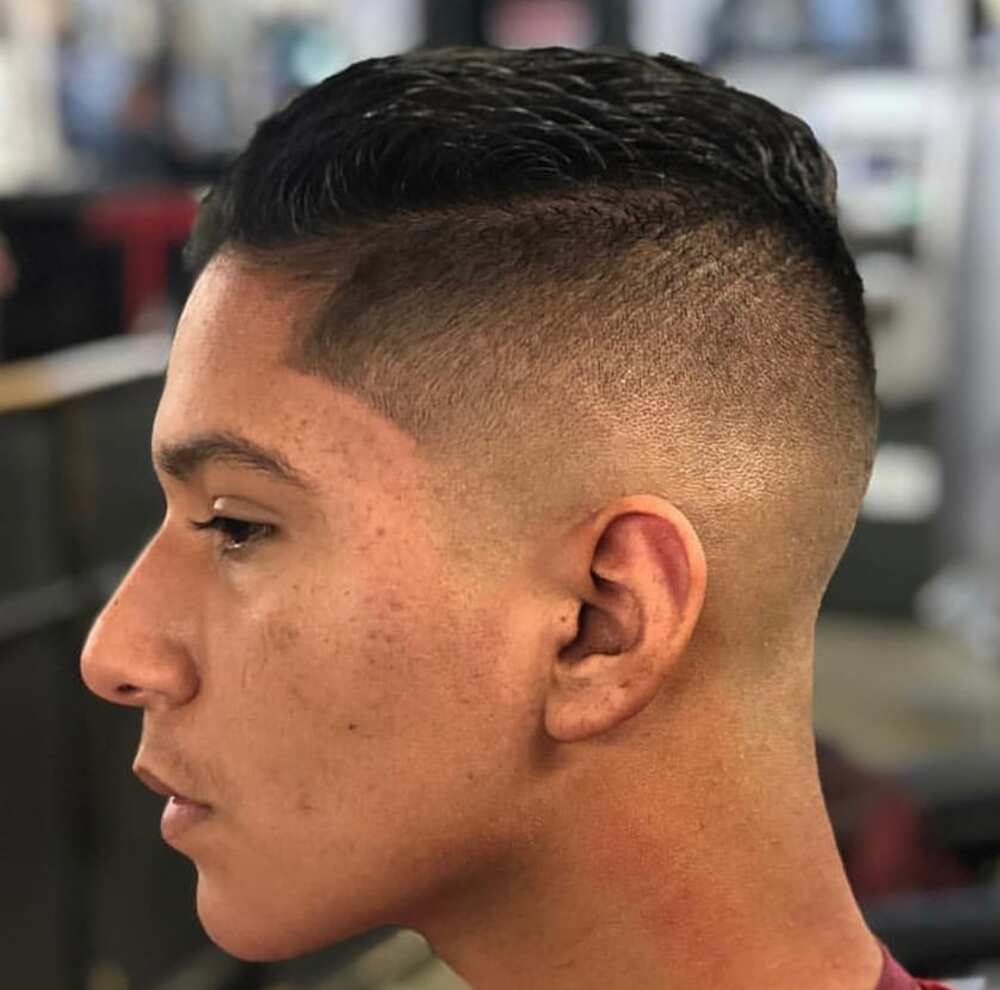 A fohawk trimming is universal and can be suitable for any lifestyle. So if you do not fancy wearing long bangs, you can try this short haircut and enjoy its advantages.
Female faux hawk
Traditionally, a faux hawk is considered a male haircut, but lately, it is often seen on women. Ladies borrowed this haircut from men, trying to look bright, independent, and stylish.
READ ALSO: 35 inverted bob hairstyles to rock in 2019
An extraordinary faux hawk is easy to tell from the mass of typical female haircuts. In its female variations, it is typical to use the extended length of strands. The difference between the temples and the bangs is more prominent, and the lower part is predominantly cut short rather than shaved.
1. A fohawk with braiding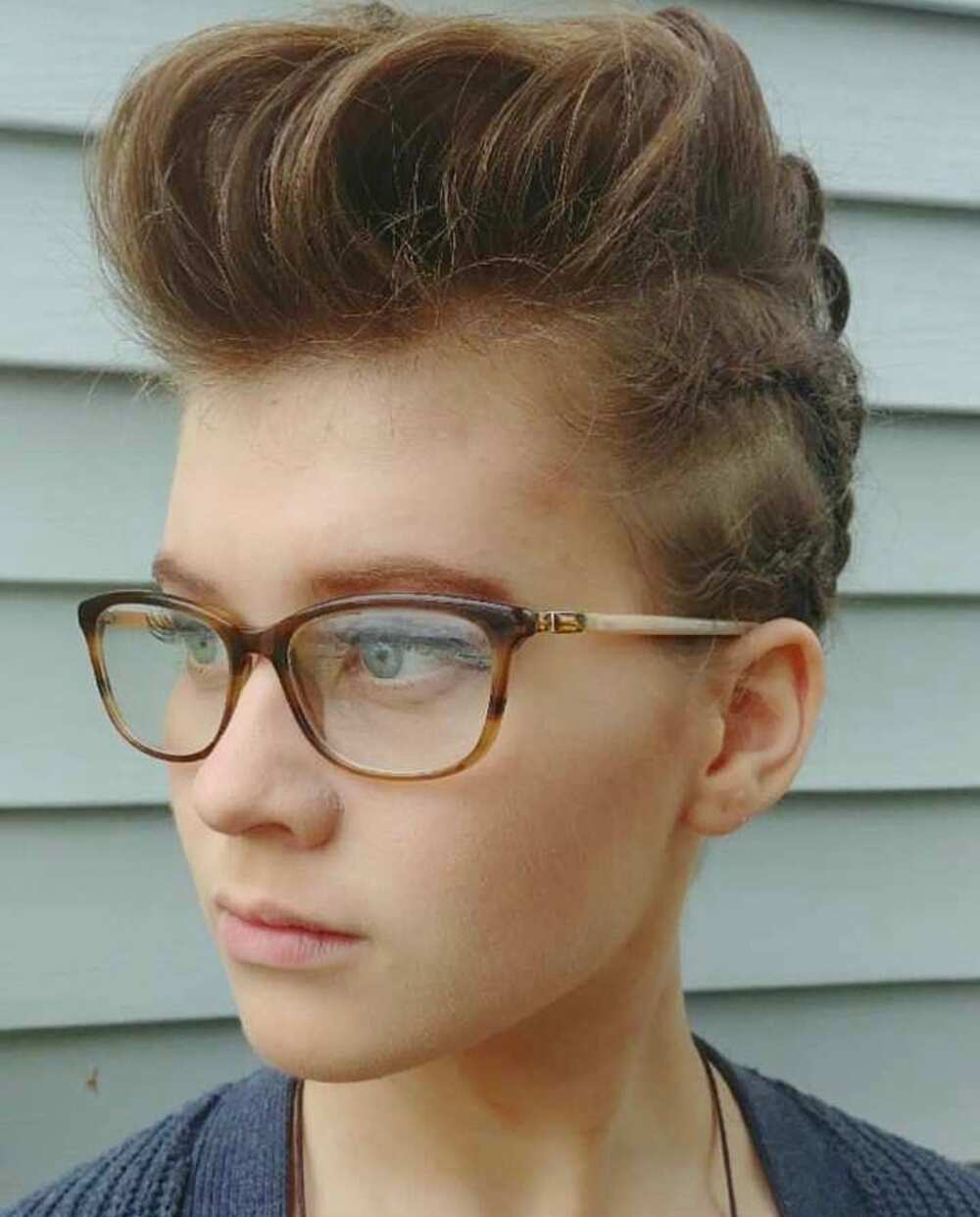 There are a lot of options for styling a female fohawk. Try this on if you are a fan of braiding.
2. A snow white bleaching
This option can be your perfect match if you want to shine like a star. Perfectly white bleaching will help you to slay this look.
3. A curled style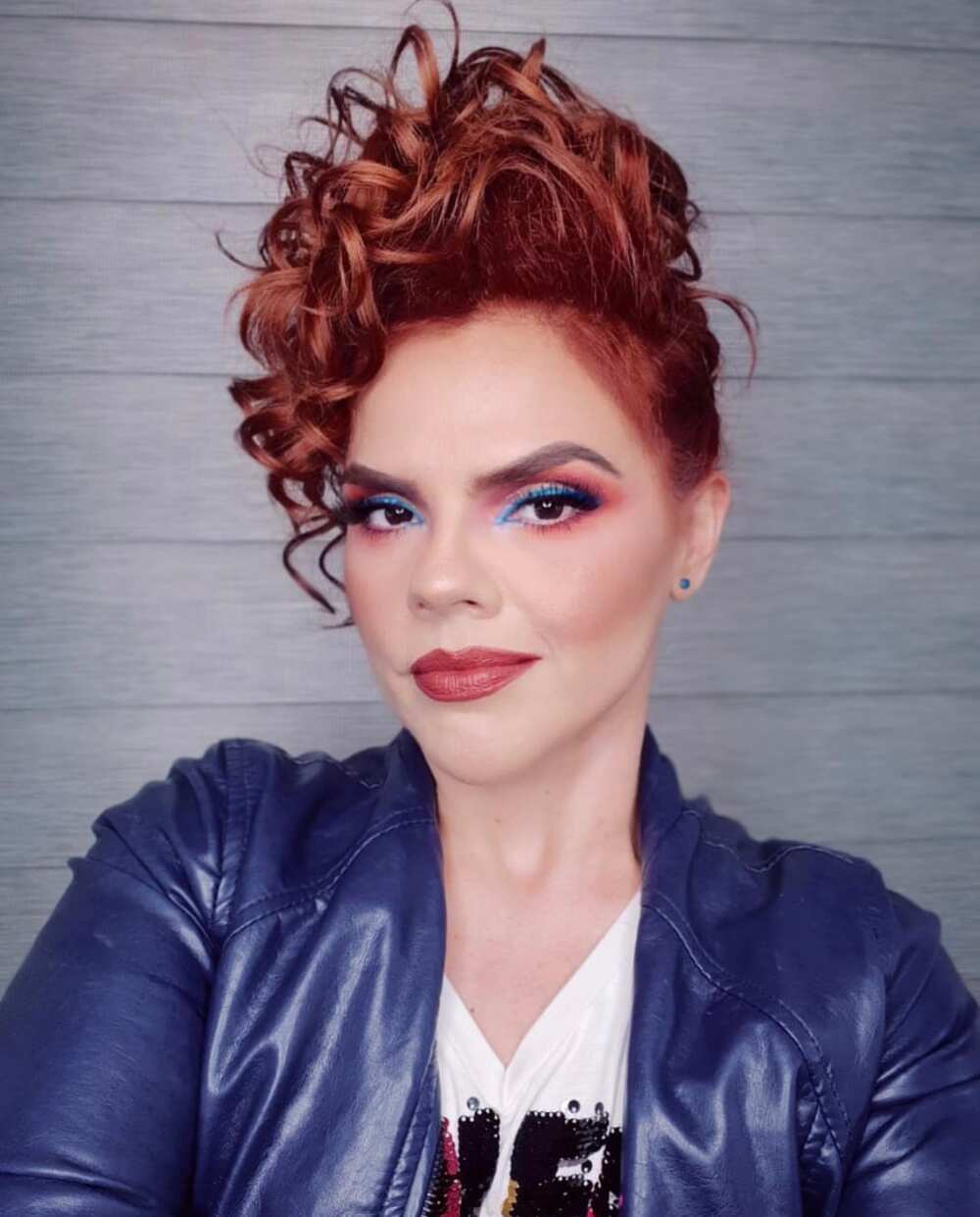 Curling your hair will become a wonderful idea to make your look even more bright and stylish. Fortunately, a fohawk is perfectly matched with playful curls.
4. Trimming with a bleached fringe
Every lady comes up with a decision to bleach her hair some day or other. If you have a fohawk, then it is definitely a must for you. Some bleaching will complete your look and make you as amazing as never your life.
5. An ombre fohawk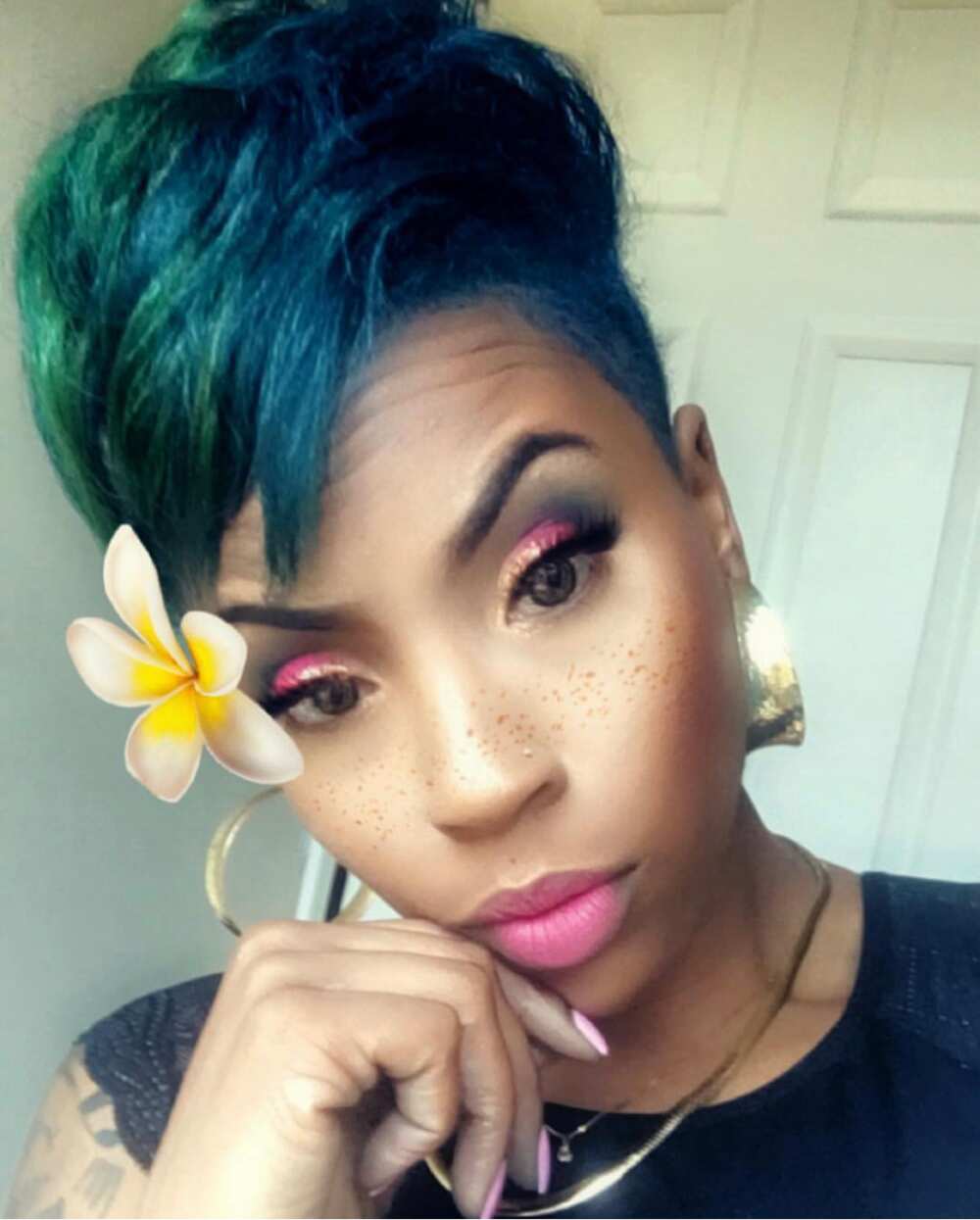 When you look at this picture, you might think that this trimming is meant for a colourful dying. You are totally right. Try this green and blue ombre to get a fascinating look.
6. A hairstyle with knots
If your hair has already grown a bit, do not hurry to cut it off. This can become an amazing opportunity to try some interesting styling ideas. For example, look at this fantastic hairstyle with knots.
7. A pink colour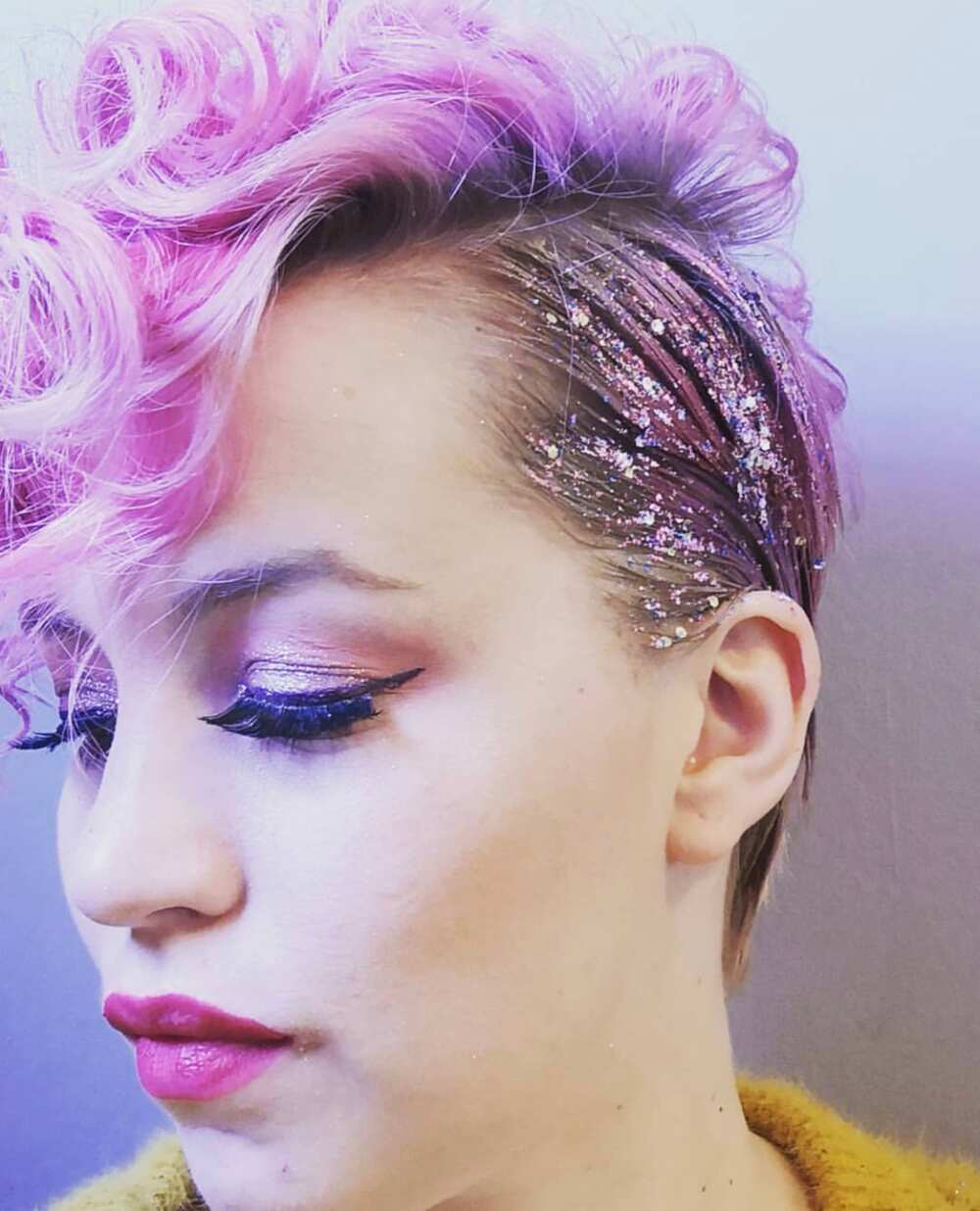 If you are planning to dye your hair some colour, consider this fantastic pink shade. It will be perfect for a bright and awesome look with a fohawk trimming.
8. A fohawk with patterns
A female trimming with some patterns looks as good as for men. You can choose any image you like and decorate your haircut in an interesting way.
9. A red fohawk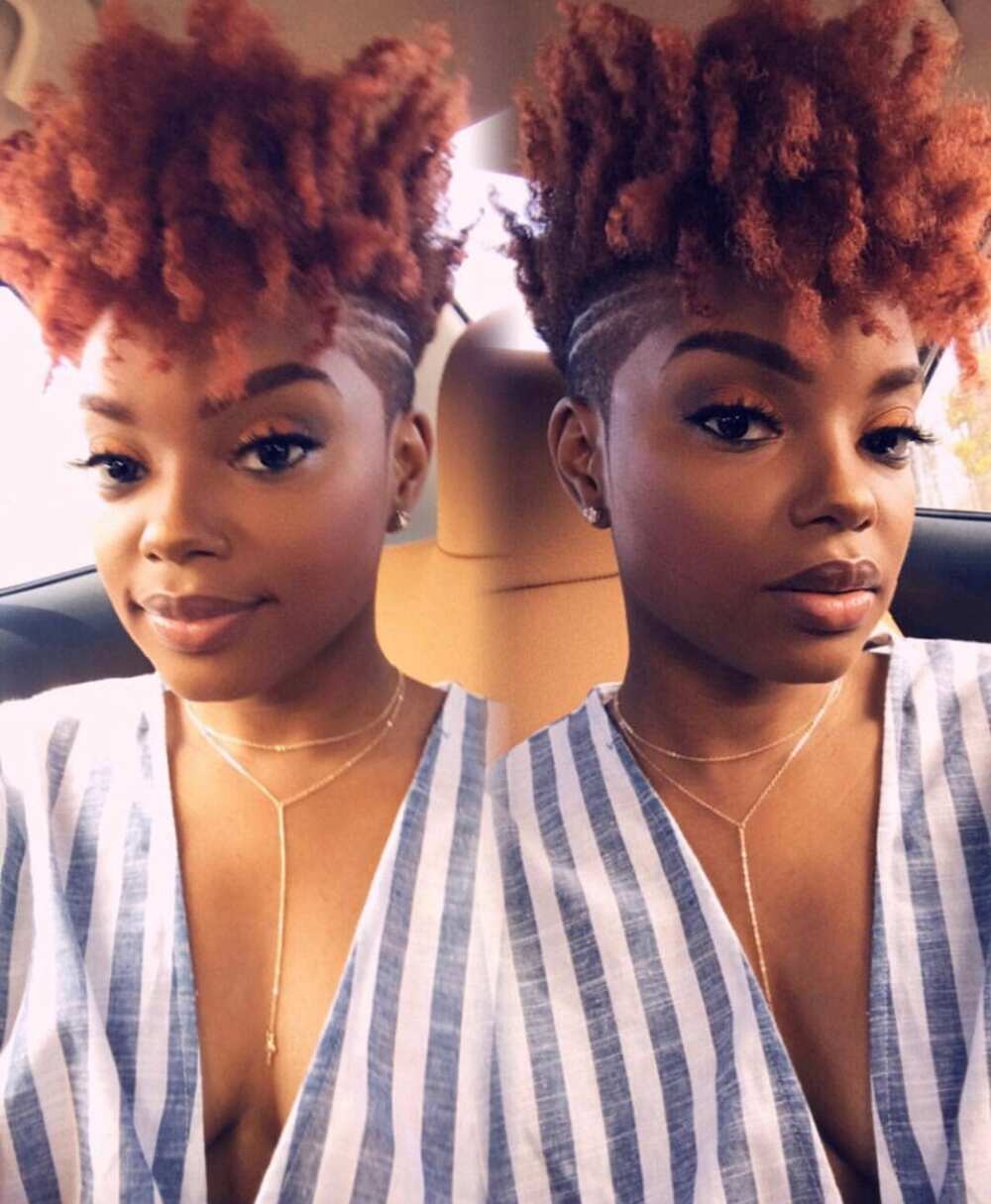 The red colour is always what you need to stand out from the crowd. In this variation, a faux hawk trimming looks amazingly stylish and chic.
10. An acid-greed trimming
Here is another decision for confident and bright ladies. Vivid and acid colour on your hair will become a neck-snapping element of your look.
A faux hawk haircut will definitely make you stand out from the crowd, regardless of whether you are a man or a woman. It will help you to maintain a bright and extraordinary look. The hairstyle does not require complicated styling and care, which should convince you to choose it for your new and unforgettable look.
READ ALSO: 20 flat top haircut styles for men of all ages
Source: Legit.ng