Killing Eve Fiona Shaw bio: top 10 facts about the actress
We know Fiona Shaw due to her appearance onscreen as Carolyn Martens in "Killing Eve" and Petunia Dursley in a series of films about Harry Potter. However, this Irish actress has an impressive list of other roles on her personal record. What is more, she has a range of secret facts that only few people know about her. If you want to discover them right now and if you want to make clear some controversial rumours about this actress, this is your chance!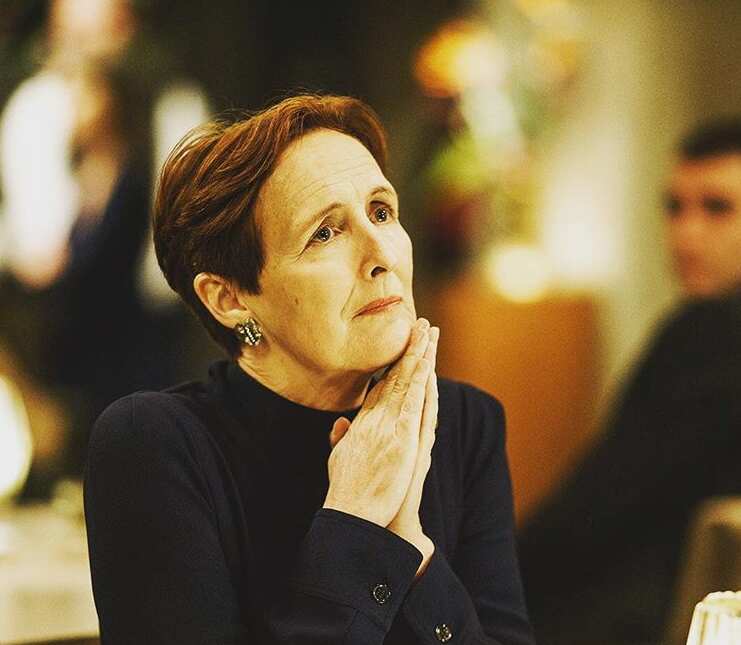 In spite of the fact we mostly know Fiona Shaw actress, this charming and very charismatic lady is also a successful director of stage performances in theatre and opera. The list of her screen appearances on TV and feature films consists of 74 roles (including 3 ongoing filming processes). Besides this, Fiona is a talented maker of news due to her unusual personal relationships.
Birthdate: 10 Jul 1958
Ethnicity: Irish
Height: 5 feet 8 inches (173 cm)
Occupation: actress and director
Relationships: married
Net worth: as estimated, $5,000,000
Trademark: her special smile
Most popular Fiona Shaw movies: Killing Eve (TV series) (2018-2019), True Blood (TV series) (2011), Harry Potter film series (2001-2010)
Top 10 facts about Fiona Shaw Killing Eve star
Born almost 61 years ago in Ireland, a little girl named Fiona Mary Wilson could hardly imagine how famous she would become one day. Still, her truly Irish nature has made her brave and adventurous enough to start an acting career. Even though her appearance is far from the canonic beauty of Hollywood stars, she has always had a particular charm and enough courage to give no attention to what people think about her.
This woman once pretended to be a king
It happened in 1995 when the star was cast to play Richard II in National's Cottesloe Theatre, London. This play directed by Deborah Warner was something incredible and controversial. A king played by a woman? The 1990s were not yet the time when people speak about the third gender freely or legalise same-gender relationships. Still, it was simply a new look at the Shakespearian tragedy, and Fiona coped with it marvellously.
READ ALSO: Shameless Levy Tran bio: age, height, sister, tattoos, boyfriend
Her manner of playing, always so intelligent and sharp, has not only enchanted visitors but also woken up a massive storm of controversial reviews from observers and critics. Did Ms Shaw ever mind turning heads and having all eyes on her? It seems, no. Anyway, the play will remain in history as something unexpected and absolutely brilliant.
She possesses one of the highest awards
In 2001, Ms Shaw was awarded one of the highest remarks a person in the United Kingdom can expect. She is now called Dame Commander and possesses the Most Excellent Order of the British Empire. What is it? It is an old British chivalry title given to the ones who have outstanding achievements in the field of social or public services, science, art, or charity.
The list of holders of this order is quite long and involves other honoured people who have glorified Great Britain with their work. Among them, there are such stars as Elton John, Rowan Atkinson, Eric Clapton, and others.
Fiona is ridiculously intelligent
It is visible from her very appearance that Ms Show definitely possesses a smart and witty brain. She has proof of her academic successes and true excellence. It comes in the form of an academic degree given to her by the National University of Ireland (namely, the famous Trinity College in Dublin) in 1997. Since 2001, she has been the Honorary Professor of Drama, able to teach students her exceptional skills.
Fiona Shaw lesbian views are no longer a secret
Ms Shaw has been openly homosexual to every fan who keeps an eye on her life and career since the relationship with Saffron Burrows. The two actresses were together around the 2000s: Saffron opened the truth in an interview in 1999. The Saffron Burrows Fiona Shaw romance did not last for a long time, and they separated. Later, Saffron who has always considered herself bisexual started a new relationship with a woman and consequently got married to her.
Since then, the woman was allegedly single until she met Dr Sonali Deraniyagala. The famous economics expert was totally devastated by her own terrible grief: a natural catastrophe on Boxing Day killed her husband and two sons. The colossal tsunami drowned the jeep in which they were trying to escape. Sonali was not with them at the moment because of attending her native Sri Lanka.
READ ALSO: Morgan Freeman net worth, age, height, religion, what happened to his hand?
The two women have got married recently. The actress speaks about her current relationship as a marriage that is supposed to put an end to all the rumours and empty talks about her personal life. She says that she has finally found a quiet moment of happiness she has never had before due to her work. Hopefully, the current Fiona Shaw partner will also have her soul healed after the horrible loss.
The actress has turned into a director
Many actors and actresses have tried their hand at directing, and many have become successful directors of movies. However, the woman has taken a big step forth and moved to directing operas. It is incredible how much talent she has and how versatile it is. Ms Show is sure that operas are more interesting than regular stage performances. No wonder that she does so well, then. Her opera directing experience includes such great plays as The Marriage of Figaro, one of the most prominent classical operas ever.
Fiona likes working to failure
A list of 74 roles in movies is quite impressive. There are bigger ones, some people may say. However, it is necessary to remember that screen appearances have not been the actress's primary occupation over many years. She used to combine performing on film sets at daytime with working hard in theatre at night. This is how it was so hard to be Fiona Shaw girlfriend at the moments of the highest workload she used to undertake.
This lady has always been a tomboy
Irish women are raised in very precise traditions. Most of them are family and childbirth oriented. The Catholic beliefs they are taught often influence the way they live. In the case with this marvellous actress, it was not so. She has practically always looked like a tomboy with mostly short hairstyles.
However, it has not influenced her skill to behave in an utterly feminine way when necessary in her life or for her role. Ms Shaw is a true classical stage actress who can play any part and wear any personality, which is confirmed by her cooperation with the Royal National Theatre and many other classical theatres.
She has a good collection of awards
Within her career, Ms Shaw has collected a good set of awards and nominations. The first nomination for Olivier Award came in 1986 for "As You Like It" supporting role. Ms Shaw did not win it then but received it four years later, in 1990, as the best actress in "Electra". In 1992, she was nominated again but did not win for the role of Hedda Gabler. Her work in "Machinal" was nominated (and won) twice for Evening Standard Award and Olivier Award – both as the best actress. "The Waste Land" brought her Drama Desk Award in 1997 for her outstanding solo performance.
The 2000s were rich with nominations. Fiona's work in "Medea" was nominated three times: Evening Standard Award in 2001 (best actress; won), Drama Desk Award in 2003 (outstanding actress; nomination only), and Tony Award (best actress; nomination only). "Happy Days" brought two nominations: Olivier Award for the best actress and Drama Desk Award for outstanding acting. In 2017, "Channel Zero" brought her a nomination as the best supporting actress from Fangoria Chainsaw Awards.
The actress is said to be a millionaire
Net worth is one of the most interesting topics when we speak about movie stars and other celebrities. Ms Shaw is said to possess about $5 million. Her appearance in the series of films about Harry Potter has replenished her bank accounts significantly. There is no need to mention TV series like "True Blood" or "Killing Eve" that have become very popular with the audience.
Pictures of Fiona Shaw young will surprise you
We are used to seeing her as she is: almost no makeup, a simple and convenient hairstyle, comfortable clothes, and her very special smile. Still, some rare pictures of her youth may surprise you.
It is hard to recognise the actress in this picture, so young she is. Still, you can clearly see her specific Irish features and her irresistible green eyes!
How many faces does this woman have? Indeed, she is a great actress. She can be whoever you want: an elegant lady, a tempting girl, or just a woman who enjoys being herself.
Incredibly beautiful! This picture looks just so vintage. It is easy to believe that the woman in it is a random model posing to an art nouveau artist.
These gorgeous eyes make up a big part of the actress's beauty. They talk even when her lips are silent.
These were 10 most interesting facts about one of the most prominent British and American stars, Fiona Shaw. They show us that movie stars are not only what we see when they play somebody else. They, too, have deep and interesting personalities and lives that are more exciting than a movie plot.
READ ALSO: Jack Black net worth, age, height, Jablinski games, wife and kids
Source: Legit.ng